WordPress Static Page With Blog Posts
Tired of seeing an unorganized feed of your latest posts on your homepage? Configuring a WordPress static homepage lets you control exactly how your homepage looks for each and every visitor.
That lets you control visitors' experiences and present your site in the best way possible. But to do it, you'll need to tweak WordPress' default settings.
To that end, I'm going to spend this post showing you how to create a WordPress static homepage. Then, once I've done that, I'll give you a few tips for how you can add advanced functionality or styling to your brand new homepage.
Ok, let's start with the basics:
Here's how to actually tell WordPress to display a static page as your homepage instead of a feed of your most recent posts. And this part is pretty painless – don't worry. It's styling your homepage that takes most of the time.
To set your static homepage, you first need to create a new page to use as your homepage. To do that, just go to Pages → Add New. To make it easy to find, name it something like "Homepage" and make sure to Publish it:

Next up, assuming you still plan to write blog posts, you need to create another page and name it something like "Blog". Again – the name isn't important. It just makes it easier to find for the next step.
Once you've created both of those pages, go to Settings → Reading. Here, change the Front page displays option to A static page. Then select from the drop downs:
Front page: Select the page that you named "Homepage"
Posts page: Select the page that you named "Blog"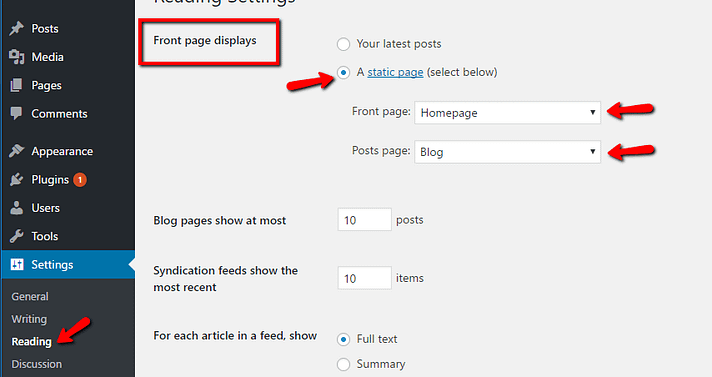 Congrats, you've just created a WordPress static homepage! When you go to your homepage, you should see a blank page called "Homepage".
tyling your WordPress static homepage
Now you've got a WordPress static homepage…but there's nothing there yet. So how do you actually add content to your homepage?
Well, the easiest way is to just use the regular WordPress Editor. You can edit the page you named "Homepage" just like you would any other WordPress post or page. Any changes you make to that page will be automatically displayed on your static homepage.
For example, this:

Becomes this on your homepage: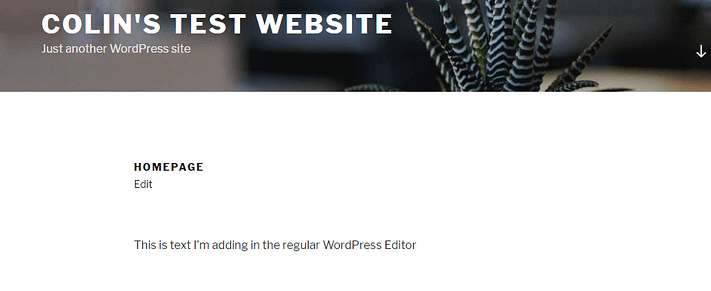 Simple enough, right?
But what if you want to add a few advanced elements that aren't allowed by the WordPress Editor? For example, here are a couple of elements that can be handy to have on your static homepage:
Email newsletter signups
A small grid of your recent posts
So to help you add some extra functionality to your new homepage, here are some free plugins that can help you with those elements.
Adding a newsletter signup form
If you want to add a newsletter signup form, you can use the free Optin Forms plugin.
Once you install and activate the plugin, you can head to Optin Forms in your dashboard sidebar and configure your form. Then, grab the shortcode from the Form tab and insert it into your WordPress static homepage: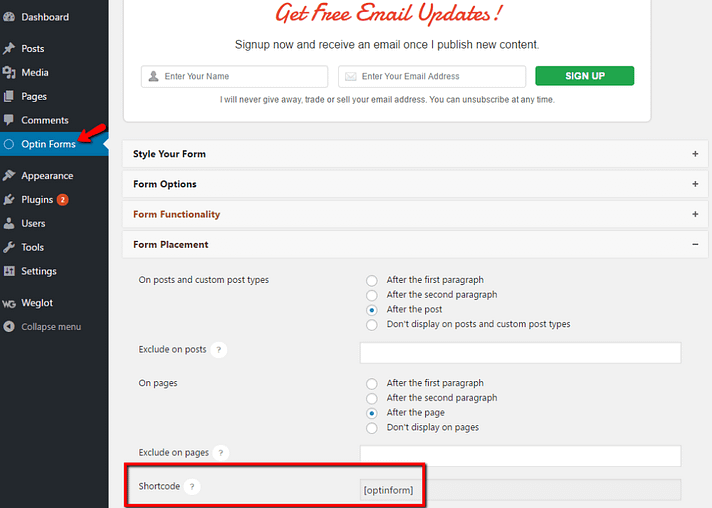 You'll also need to configure your chosen email marketing service in the plugin's settings. Your email marketing service is what will actually manage the email addresses of people who sign up to your newsletter. Personally, I'm a fan of MailChimp because it's free as long as you don't exceed 2000 subscribers.
Adding a grid of your recent posts
Even though you made the switch to a static homepage, it can still be nice to display some of your recent posts to get visitors to read your blog. To do that, you can use a free plugin called Post Grid.
Install the plugin, then head to the Post Grid tab. You'll need to grab the shortcode to paste into your WordPress homepage. And you can also configure all of the details about your post grid by clicking through the other options: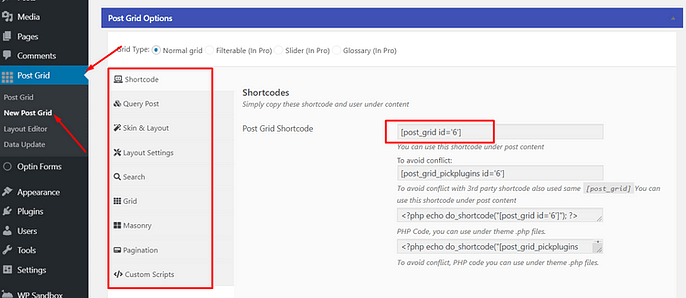 Putting it all together
With just those two plugins, you can create a homepage that has:
Unique text and pictures added through the normal WordPress Editor
A newsletter signup form
A grid display of some of your recent posts
Example: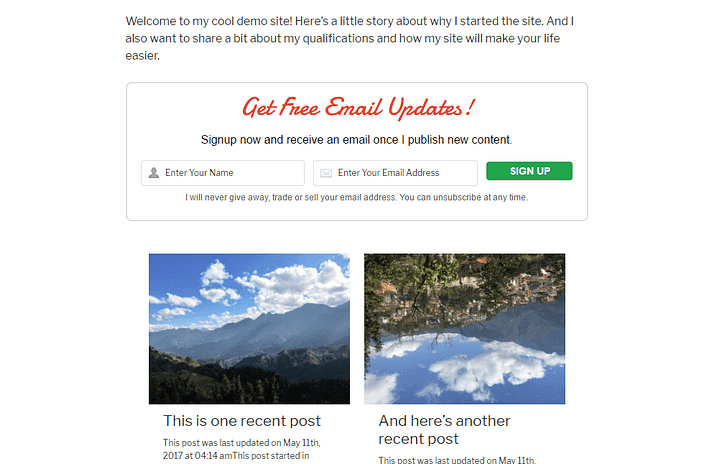 But if you want to truly create a unique WordPress static homepage, I recommend trying out a page builder plugin.
Adding advanced styling with a WordPress page builder
While the above tips are great for adding piecemeal enhancements, to truly create a unique WordPress static homepage, I recommend using something called a page builder. A page builder allows you to create complex pages without needing to know any code.
As luck would have it, we actually have a detailed post on how you can use a free page builder plugin called Page Builder by SiteOrigin to build a stylish homepage.
Wrapping things up
Creating a basic WordPress static homepage really couldn't be simpler. Remember, all you need to do is:
Create a new page for your static homepage
Create a new page to house your blog posts
Tell WordPress to use those new pages by going to Settings → Reading
The only part that might actually take some time is styling the content that goes on your homepage! If you just want basic content with a few additions, you can use the WordPress Editor with some of those extra plugins I mentioned.
Conclusion
This is a great way to have your blog posts page than what you can see on the WordPress site. This is an easy way of setting up a page on your site with just the blog posts and not the sidebar. The way that you would do this is by going to the Settings of your WordPress site and then into the Reading Page. From there go to the Front Page Display setting and set it to "A static page" and Change the Page While It Is Being Displayed from "Nothing" to "A static page." Be sure when you are creating the separate page that you have it set as the Homepage with: Set As Default Landing Page.