When people google something, they receive a list of websites to visit. But where do they stop? Nine times out of ten, the website attracts their attention with clear and good-looking navigation areas. The most useful tool, in this case, is a menu that can be made with WordPress menu plugins. It performs functional and aesthetic purposes at one stroke.
Even if you are a WordPress website owner, the default menu isn't likely to help you reach the desired effect. That's why you must look for the best menu plugin with the necessary features and learn how to make a menu.
The range is wide because there are many WP menu plugins. Making this list of the best menu plugins WordPress developed, we keep in mind the well-known demands on the website menu. This collection of free & paid menu plugins for WordPress will complete the task of creating a well-structured menu.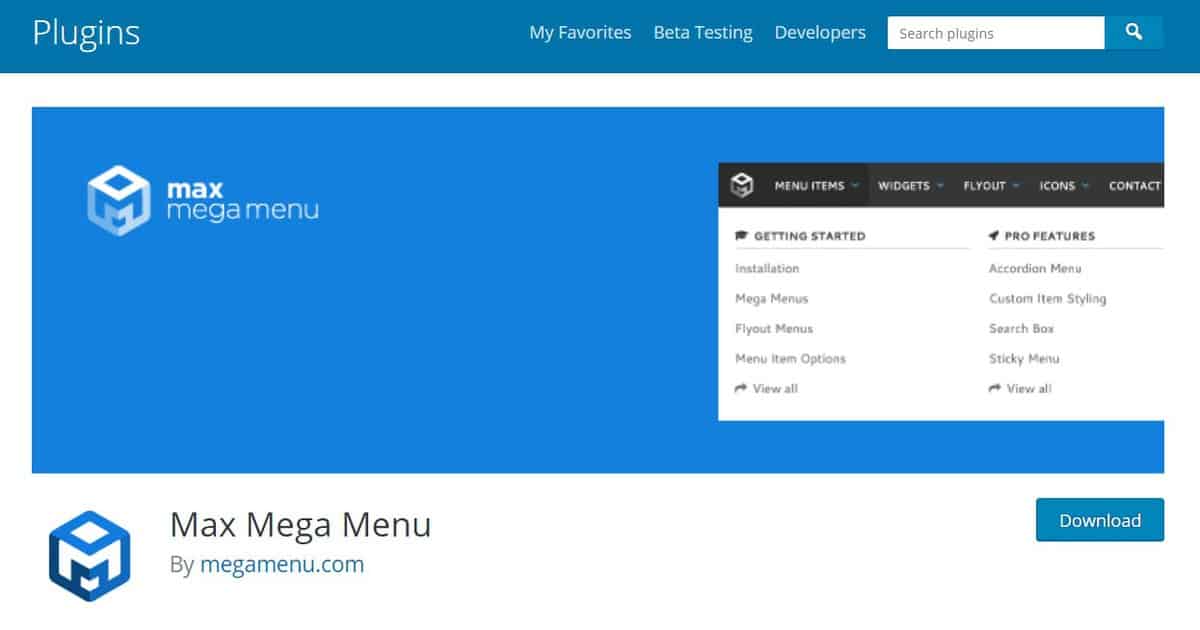 Max Mega Menu will automatically replace the default menu of your WordPress theme. This WordPress menu plugin offers a variety of menu customization options and allows you to add various interactive elements to the theme you are using, like embedding Google maps or pitching sales forms.
It provides a fast, responsive menu that uses less than 2kb of JavaScript. The configuration is super easy that all you need to do is just click a few options and everything will be ready to use!
The Max Mega Menu is available for free. However, you can purchase its paid version for $26 to $99 per year.
The paid version gives you the flexibility to use Google fonts, custom icons, and Woocommerce integration. You will also get regular updates and priority support to ensure the optimization of plugins when used on your website.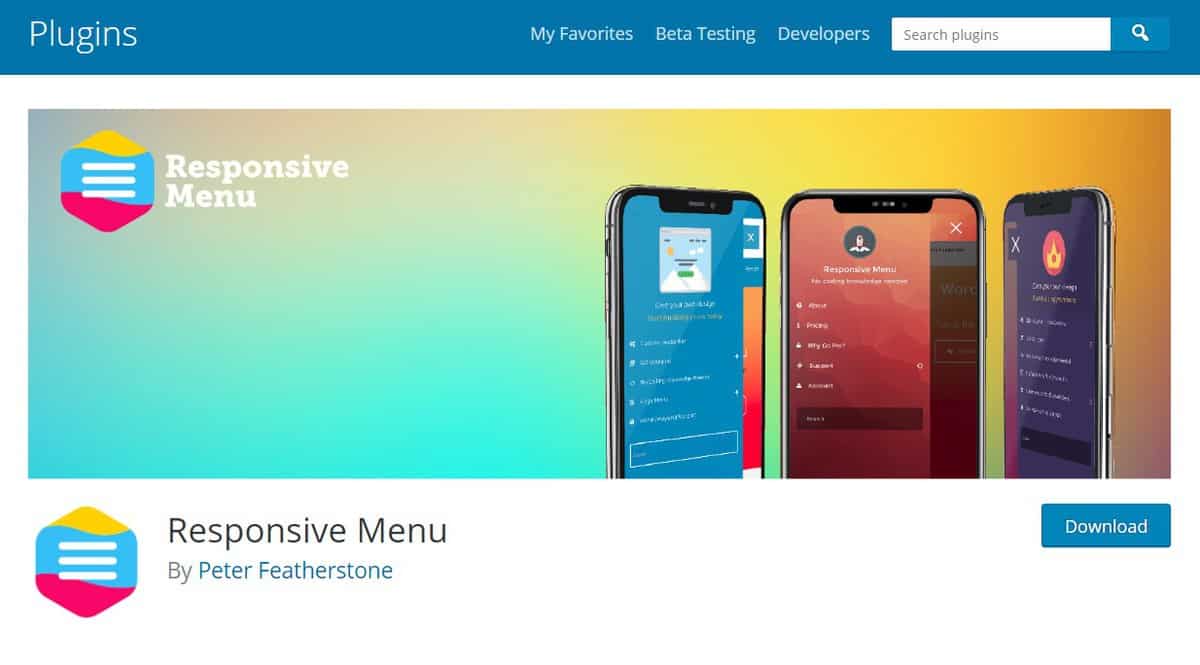 Responsive Menu offers more than 150 customization options that can be combined to create a function that suits you. This plugin uses a lightweight and simple interface that is easy to use, even for WordPress beginners.
The premium version of a plugin allows you to enhance the look of the menu by providing text, background, and border color customization. You can also choose the animation used for displaying the menu as well as uploading your own logo for each menu icon.
Responsive Menu offers two different lifetime-plans: single license ($14.99) and multi-license ($49.99). The later option provides priority support for a lifetime and allows you to use the plugin in 100 sites simultaneously.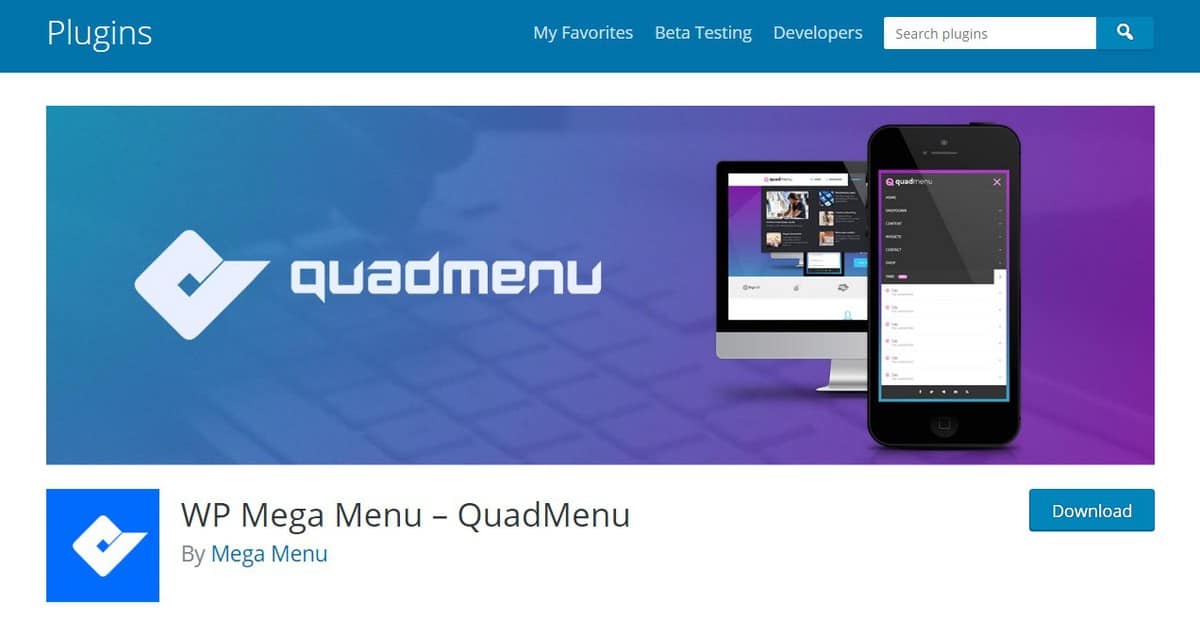 QuadMenu provides fast integration to help you create various types of menus in the WordPress theme that you use. This WordPress plugin does not change many things, but it is able to enhance the default menu settings in WordPress.
QuadMenu is equipped with tons of features and filters to let you customize the behavior and appearance of your WordPress site.
It has an automatic core integration, hundreds of free menu themes, and customizable animation for the menu display. It also supports Font Awesome Icons, child themes, and visual composer drag and drops function.
QuadMenu is available for free. Nonetheless, you can upgrade it to the premium plan by paying $15 to $60 for a lifetime license. The premium plan will grant you a lot of extra features, such as carousel menu builder, personalized support from the developer, and free lifetime updates.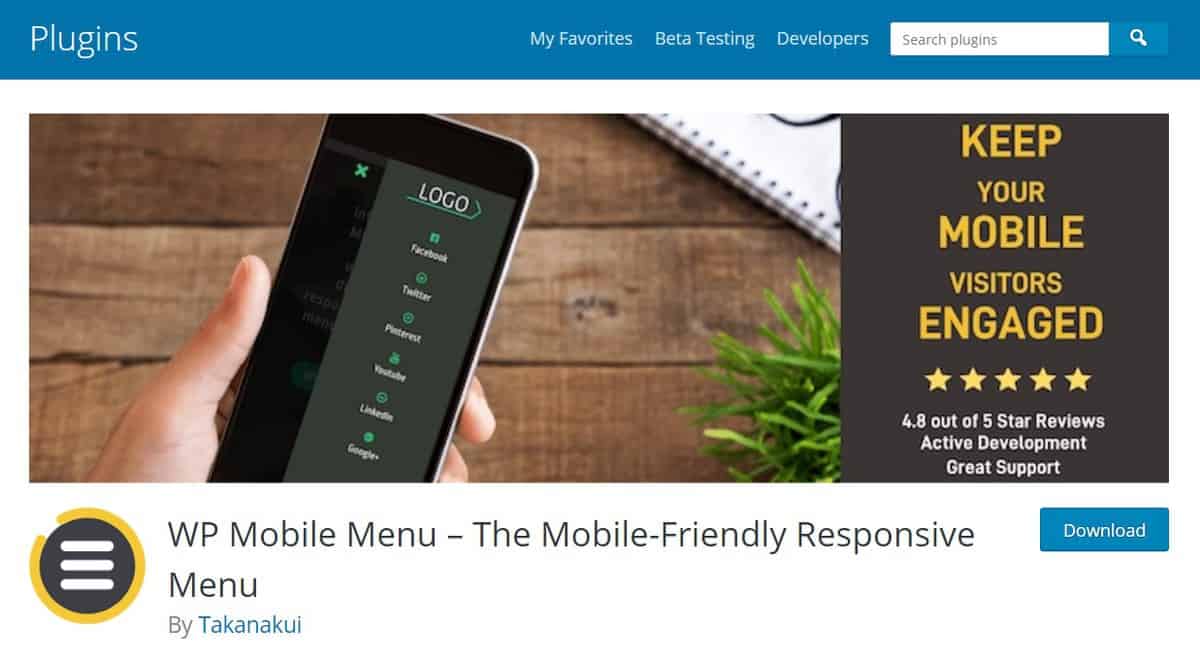 For those of you who want to optimize the website menu for mobile devices, WP Mobile Menu Plugin is the best solution. This plugin offers a fast, simple, and responsive menu that is designed specifically for enhancing your site's experience in mobile devices.
WP Mobile Menu plugin is a great tool for blogs, e-commerce sites, and business websites. It has multiple supporting features, such as free customization styling for menus, text or logo branding, and 3 depth menu level.
While it is available for free, we advise you to purchase one of the premium plans that cost between $4.99 to $29.99 per month. These plans offer a great deal that will surely bring the plugin's usability to the next level.
Some of the premium features that you would get are full support of WooCommerce (including menu cart icon, checkout page, and chart buttons), live search, and thousands of free fonts and animated icons.
Furthermore, you can use the 14 days-trial for the premium version first to see whether this plugin is worth your money.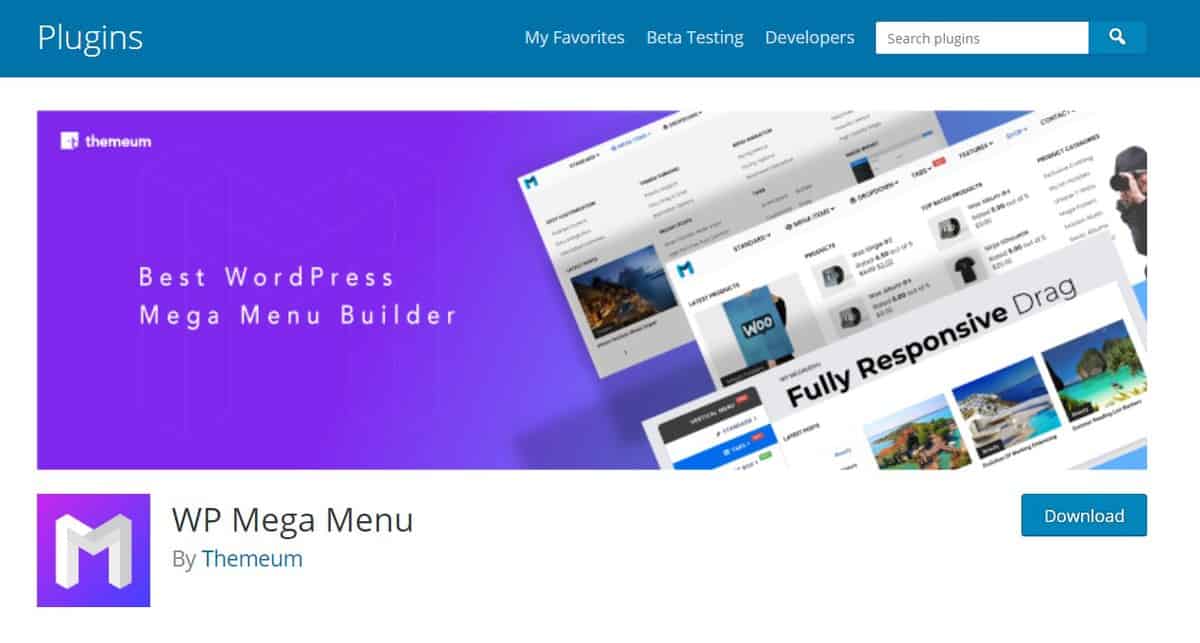 Building a stunning, fully-functioning mega menu is way easier with WP Mega Menu plugin. This tool has everything you need to elevate those dull and lifeless default menus of WordPress.
WP Mega Plugin features a lot of customization options, including logo branding, social icons, and free WordPress themes. It also supports Dashicons and Font Awesome Icon that could give you unlimited icon styling.
WP Mega Menu can be used for free, but it is also has a pro version with tons of additional features and professional support. The pro version costs only $19 per year.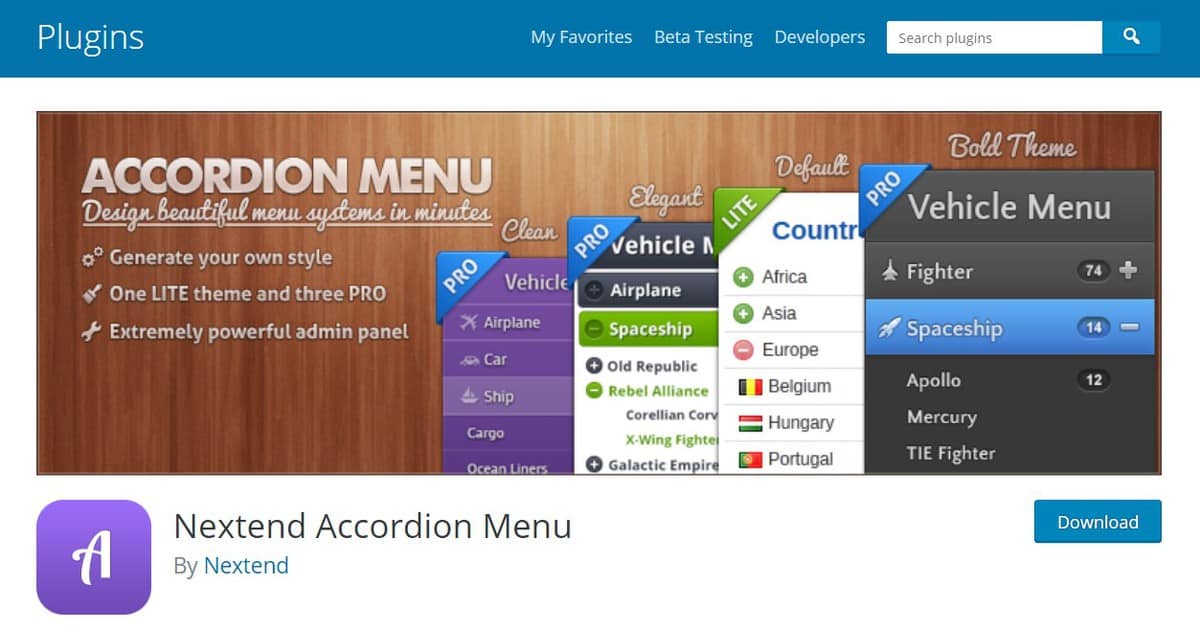 Nextend Accordion Menu is ready to bring your "accordion" type menu to the next level. This amazing plugin gives you the freedom to create custom menu icons and behavior using its default theme (you can also get another three amazing themes by purchasing the paid version of this plugin).
Nextend Accordion Menu offers a variety of features that are claimed to be far better than its competitors.
Some of its excellent features are the font manager with Google fonts integration, total customization options for the default theme of Nextend Accordion Menu plugin, and the use of caching methods in Java coding and CSS (it could boost your website speed!).
This plugin is available for free and has a paid version. The paid version cost $30 for personal plan (it lasts for a year and need renewal fee for $10 per year), $50 for business plan (it lasts for a year and also need renewal fee for $10 per year), and $100 for lifetime plan (unlimited plan, no need to pay for the yearly renewal fee).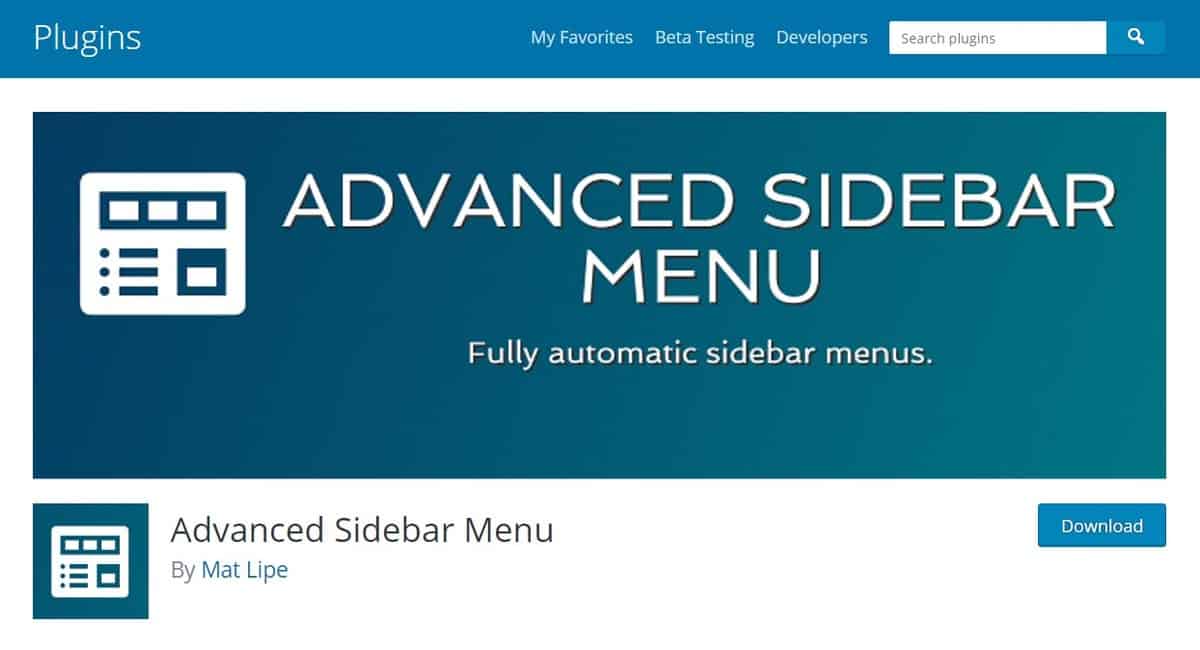 Advanced Sidebar Menu will make sure that your website menu is well-organized. It is able to create, replace, and manage your parent and child menu while providing a lot of useful options to help you customize the look of your sidebar menus.
Some of its main features are the ability to separate categories or pages by embedding a comma between them, show a single post category in a widget, and quick child categories integration.
The plugin also gives a customizable widget styling. However, the functions are very limited for the free version. You need to purchase Advance Sidebar Menu Pro for $54 to be able to use the advanced customization options, such as custom background styling, bullet style section, and accordion menu optimizations.
Moreover, the pro version will also grant you priority support and free updates.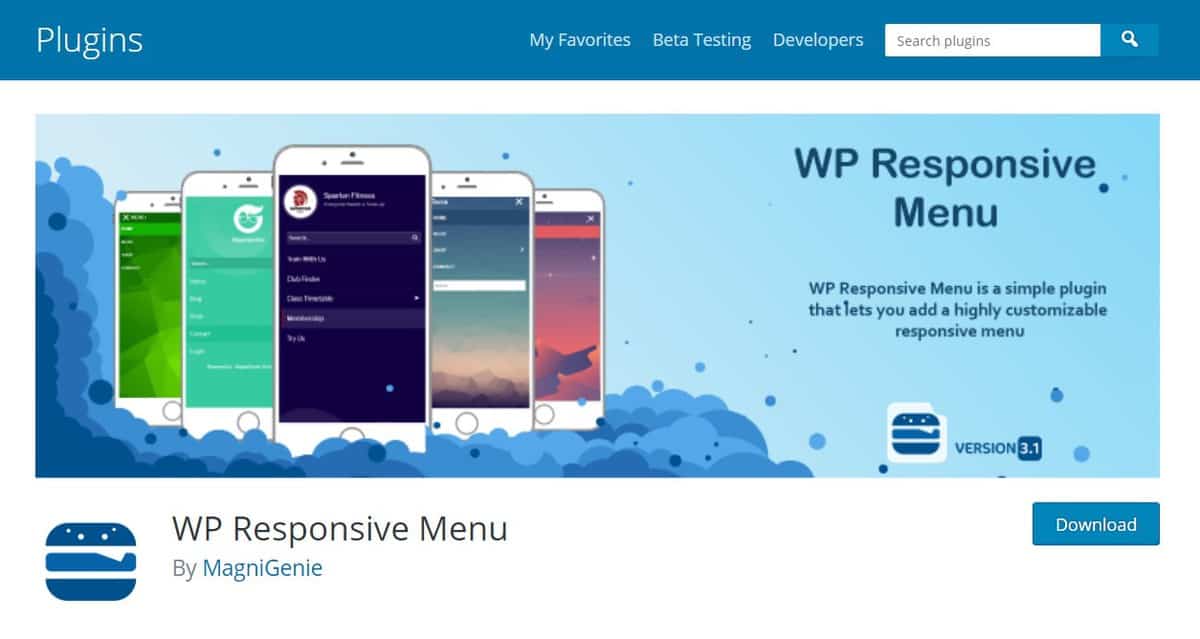 This plugin offers a simple menu display that is perfect for minimalist wordpress themes. But don't get us wrong – while it could be categorized as a minimalist display, you will still get a lot of customization options, such as slide menu, replaceable icons, and a beautiful-looking menu bar.
As the name suggests, WP Responsive Menu does give you of a fast, responsive menu bar that can be used instantly without needing any additional tweak or coding. It is compatible with all kinds of themes, from the simple to the super sophisticated one like H-Code.
The WP Responsive WordPress menu plugin is free to use. Nonetheless, it is also available in the pro version which costs between $25 to $149 per year. The pro version gives a lot of additional features, such as swipe gesture, responsive search box for mobile menu, and more styling options.
In addition, it will also give you exclusive developer support for a year.
Conclusion
To sum up, you have an opportunity to look at the menu plugins WordPress designed for multiple purposes from different angles and explore deeper the topic of how to make a menu. We made a mix of free and premium plugins offering you plenty of options. The main task of this post is to encourage you to make the navigation on your website creative and, maybe, fun.
Even the most interesting website can be missed because of the boring and unattractive menu. After monitoring the WordPress menu plugins order online one of them and continue work on your website improvement!