Have you ever wondered what are the best WordPress plugins for blogs? It is almost certain that it has come to your mind if you have a blog or want to start a blog. Along with a large variety of WordPress blog themes for design, there are also WordPress plugins for blogs to help with its functionalities.
Blogs are one of the most popular and important types of websites as they help you to promote your business and interact with your visitors. But, you will need to make them as effective as possible. Fortunately, there are many WordPress plugins for blogs to help you with it which we will be listing in this article.
There are hundreds of thousands of free and premium WordPress plugins out there. It can be overwhelming to find the best plugins among all of those choices! And when you're just starting a blog, you might not even know what plugins to look for.
At the start, you'll need a few essential plugins to launch your WordPress blog, create a contact form, start growing your blog traffic, and more.
Below you'll find some of the best WordPress plugins (paid WordPress plugins and free plugins) that you can install to make your blog instantly better.
MonsterInsights is the best WordPress plugin for Google Analytics. You can use this plugin to connect your blog with Google Analytics in one click. It allows you to monitor your blog traffic and other important stats within your WordPress dashboard.
Why You Need It: Smart bloggers use analytics to understand their audience, get better blog post ideas, and make more money from their blogs. With actionable analytics, you can see what's working and make data-driven decisions to grow your blog.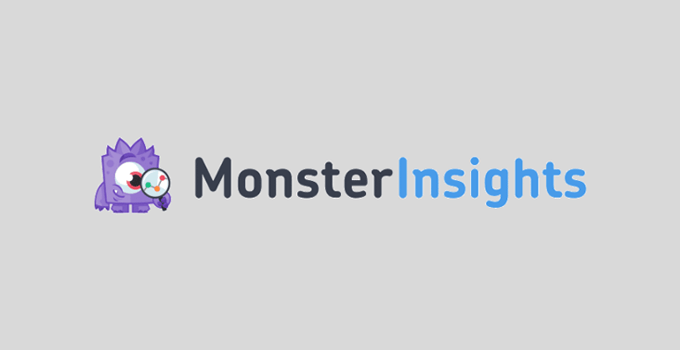 Check out some of the most important features of MonsterInsights WordPress Google Analytics plugin:
Step-by-Step Installation Wizard
Real-time stats for blog traffic
Custom WordPress dashboard reports
Audience demographics data
SEO headline analyzer
File download tracking
Robust Pro features
And more…
Pricing:
MonsterInsights Lite is FREE. To unlock more powerful features though, you can get the Pro version of MonsterInsights starting at $99.50 per year.
Alternative: ExactMetrics
WPForms is the most beginner-friendly and by far the best WordPress contact form plugin. It lets you create a simple contact form so that you can connect with your readers.
Why You Need It: As your blog grows, people are going to want to get in touch with you to talk about guest posting, display ads, partnerships, and other exciting opportunities. The last thing you want to do is share your email address on your blog, though, because your inbox will be filled with spam.
WPForms will help you quickly create a customized contact form that protects you from spammers.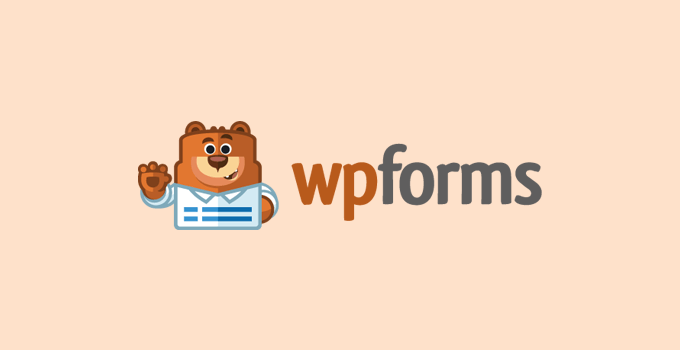 Let's take a look at the important features of WPForms WordPress contact form plugin:
Easy drag and drop form builder
Customizable form fields
Ready-made form templates
Integrates with popular email marketing services
Prevents spam through its anti-spam feature
Looks great on the frontend
Pricing:
WPForms Lite is FREE to use. You can upgrade to the Pro version of WPForms for more features like surveys and polls, smart conditional logic, payment integrations with PayPal and Stripe, and more.
OptinMonster is the best WordPress lead generation and conversion optimization plugin. It allows you to create beautiful optin forms to convert your abandoning blog visitors into subscribers.
Why You Need It: Did you know that on average, 70% of the people who visit your website will forget about it and never come back? That means that all the time, money, and effort you spent on getting that traffic is going to waste.
That's why it's so important to get those visitors to subscribe to your email list. And OptinMonster makes that easy with its beautiful popups, floating bars, and other campaigns.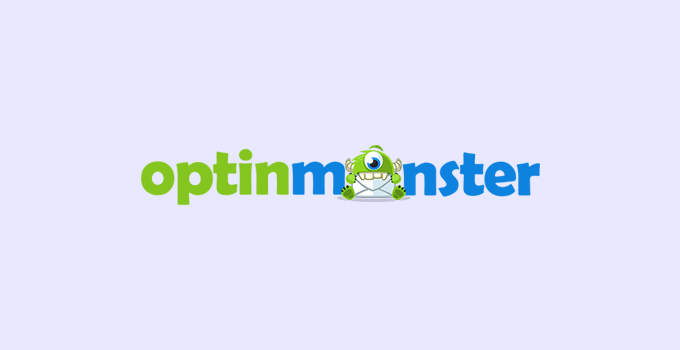 Check out these most important features of OptinMonster that you don't want to miss:
Drag and drop optin builder
Multiple campaign types for actionable marketing
Powerful Exit-Intent® technology
Seamless integrations with popular services
Detailed insights to improve your campaigns
Pricing:
Starts at $9 per month for the Basic plan.
SeedProd is the best WordPress landing page builder plugin. Bloggers can use this plugin to easily create beautiful landing pages. You can create sales pages, webinar landing pages, squeeze pages, coming soon pages, and more.
Why You Need It: Many bloggers struggle to increase their conversions. But landing pages are specifically designed to convert visitors into subscribers, leads, or sales.
Unlike your blog's homepage, which has lots of information on it, a landing page is focused on a specific campaign. For example, you can create a landing page to get more signups to your webinar. Because there's nothing else on the page to distract visitors, they're more likely to sign up.
So, whether you want to get more email subscribers or increase sales, you can do that by creating high-converting landing pages with SeedProd.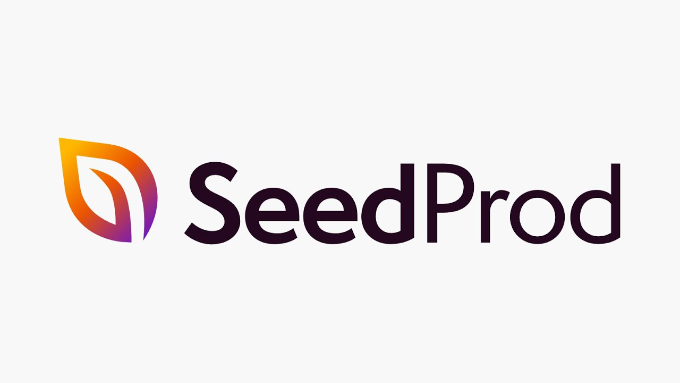 Here are a few powerful features of the SeedProd landing page builder plugin:
Drag and drop builder with live preview
Pre-designed landing page templates
Pre-made landing page blocks like countdown timers, social sharing buttons, and more
Built-in email autoresponder
Search engine optimized and mobile-friendly
Pricing:
You can get started with SeedProd for only $39.50 per year. If you're on a budget, check out the free version of SeedProd.
Smash Balloon is a complete social feed plugin suite that lets you easily integrate various social media feeds to your WordPress site. It is the best social media plugin for WordPress in the market.
To generate user-generated content from social media, they offer 4 different social feed plugins:
Why You Need It: Displaying user-generated content on your website is one of the best ways to increase trust, conversions, and sales. Since the content is originally created by real users on social media, it increases the trust factor and establishes yourself as an authority in your niche.
With its seamless integration with various social platforms, you can easily display social feeds content, customer reviews, and more. All you have to do is authorize the plugin, insert the shortcode within your articles or widgets and display the content instantly.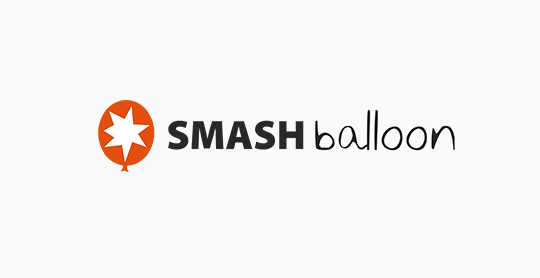 Take a look at the key features of Smash Balloon that you don't want to miss:
Easily integrate social feeds to your website
Customize the feed the way you want
Filter content by word or hashtag automatically
Social content is seamlessly blend in with your site content
Pricing:
Starts at $49 per year per plugin. Or, you can get the All Access Bundle which comes with all 5 plugins for $299 per year. You can also try out the free versions of Smash Balloon.
All in One SEO (AIOSEO) is one of the best WordPress SEO plugin. At Blog Tyrant, we recommend it over Yoast SEO. AIOSEO is an all in one plugin that you can use to improve your website search rankings and drive more traffic to your blog.
Why You Need It: Starting a blog can be easy but building an audience takes time and resources. You'll need to drive readers towards your blog and for that, you'll need to use a plugin like All in One SEO. This plugin attracts visitors from Google, Bing, and social media websites to boost your readership.
It helps you in writing content with proper keywords that ranks in the search engines. Plus, AIOSEO uses its TruSEO On-Page Analysis to provide you with an actionable checklist to optimize every post and page on your site. With your entire site optimized for SEO, you can unlock maximum traffic.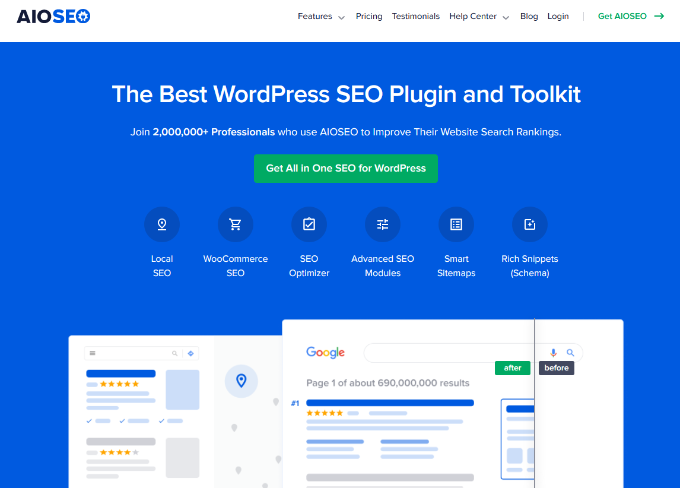 Let's see some of the important features of All in One SEO WordPress plugin:
Analyze your entire website with SEO audit checklist
Helps create smart XML sitemaps
Support for rich snippets schema
Tools to improve local SEO
Helps improve SEO for WooCommerce
Social media integration
Set SEO custom user roles
Pricing:
There is a free version of AIOSEO. To get more powerful features, you can use the Pro version of AIOSEO starting at $49.50 per year.
PushEngage is the best push notification plugin for WordPress on the market. This tool lets you send targeted push messages to users after they leave your website so you can drive traffic, boost engagement, and increase sales.
Why You Need It: If you want to encourage people to come back to your blog, you can use PushEngage to send personalized messages to users. These messages are sent straight to their web browsers or mobile devices, even if they're currently browsing on a different website.
You can set it up to send new blog post notifications, abandoned cart reminders, price drop alerts, and much more. Push notifications are a great way to stay connected with your readers after they leave your site.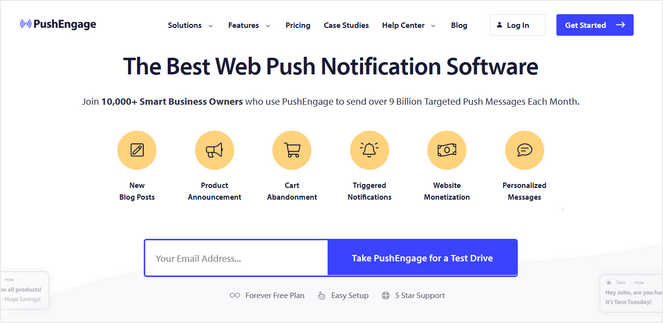 Check out these key features of PushEngage Web Push Notification plugin:
Create drip campaigns for a series of notifications
Trigger notifications based on visitors' action
Analytics to track performance
A/B testing
Smart opt-in reminders
Pricing:
You can get started with PushEngage for free! The free plan allows you to send 120 notifications per month to up to 2500 subscribers.
If you have more subscribers and want to send more push notifications, you can upgrade your plan starting at $25 per month.
MemberPress is the best WordPress membership plugin. It allows you to restrict visitors' access to specific pages, posts, and custom post types. It comes handy in managing your content perfectly. Also, when your blog grows, you can use this plugin to restrict access for guest authors.
Why You Need It: Do you want to turn your blog audience into an active community with forums? Maybe you're looking for a way to monetize your blog with premium content for subscribers only?
MemberPress is the easiest way to turn your blog into a membership site, with all the powerful features you need to grow your membership and make more money online.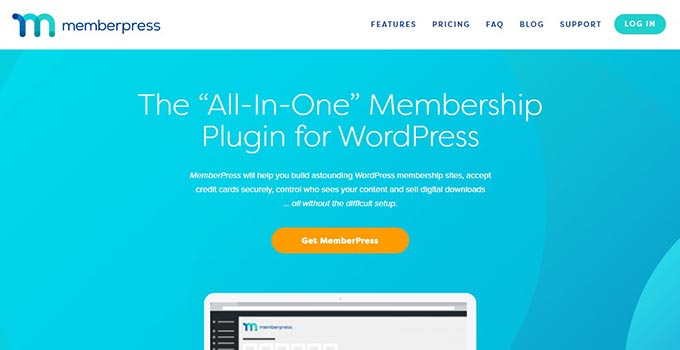 Let's see some of the most important features of MemberPress plugin:
Powerful user access rules
Advanced reporting
Visual course builder
Integrates a wide range of payment gateways like PayPal and Stripe
Compatible with popular WordPress plugins
Integrates with email marketing services like MailChimp, Drip, ConvertKit and etc.
Pricing:
Starts at $179 per year for the Basic plan.
WP Mail SMTP is a free WordPress email SMTP plugin. This free plugin helps reconfigure the wp_mail() PHP function to use the proper SMTP provider. In simpler words, it makes sure that your e-mail delivers to the intended recipient.
You can integrate it with the email subscription and marketing services to promote your blog.
Why You Need It: Have you ever had issues with WordPress not sending emails when someone fills out your contact form, or if you try to reset your password? That's because, by default, WordPress isn't set up for reliable email deliverability.
Luckily, you can easily fix that with WP Mail SMTP.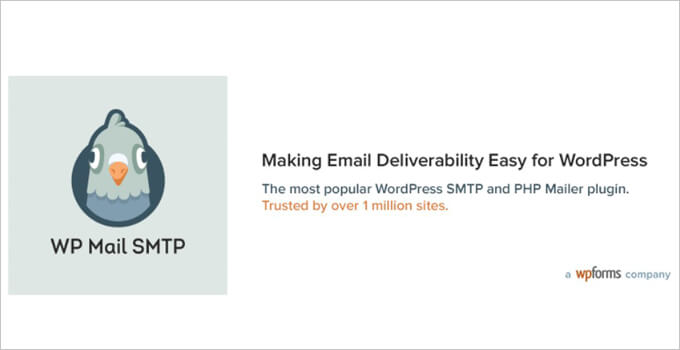 Take a look at these amazing features of WP Mail SMTP WordPress plugin:
Fixes all WordPress not sending email issues
Send bulk emails easily
Send transactional emails
Ensures email delivery
Native integration with SMTP services like SendGrid and Gmail
Pricing:
Free.
And if you don't want to deal with the technical details of setting it up, you can get the premium version, WP Mail SMTP Pro, which includes white glove setup and amazing customer support. The premium version starts at $49 per year.
RafflePress is the best WordPress plugin for giveaways. It allows you to set up viral giveaways on your blog to increase traffic, get social media followers, and build your email list.
Why You Need It: Running a viral giveaway on your blog is a powerful tactic to boost your traffic and grow your email list. But managing the logistics of a giveaway contest can be a huge challenge.
Enter RafflePress. It's a user-friendly plugin that asks your visitors to earn entries by following your social pages like Facebook, Twitter, Instagram, etc.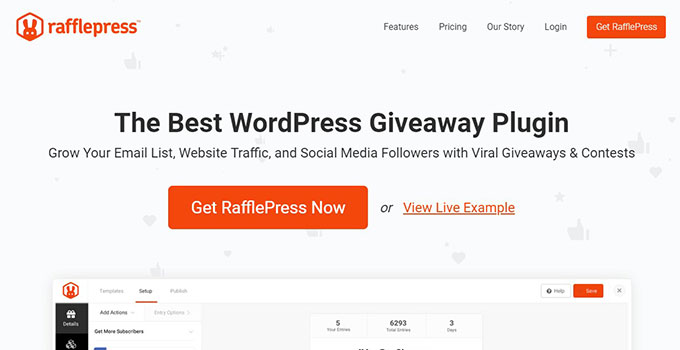 Here are some of the amazing features of RafflePress WordPress giveaway plugin:
Drag and drop giveaway builder
Pre-built giveaway templates
Powerful social media integrations
Highly optimized giveaway landing page
Advanced tracking and retargetting
Pricing: There's a 100% free version of RafflePress on WordPress.org! The Pro version starts at $39.20 per year and comes with more advanced features. 
Conclusion
These were some of the best WordPress plugins for blogs that we have gathered.
We hope that you use the ones that you need to get the best results for your blogs. However, we encourage you to not use all the plugins at once as all of them are not entirely necessary for your blogs. Using all of them at once might increase the load on your blog website and make it even slower.