WordPress Plugin Blog Social Share
Social media is an integral part of any online or offline business today. Ignoring it would mean losing out on attracting a broad audience who could turn out to be repeat customers.
To promote your website and build a following online, you'd need a WordPress social media plugin. These plugins integrate social media functionality into your site that allows visitors to share your content with others in their network.
For any type of business having interaction with your visitors is the key to success. What is WordPress? Well, WordPress is the most flexible website builder in the world and it currently powers more than 34% of the website on the internet.
Thus, by adding the right plugins you can either remove or add features to your website. Staying connected and constantly promoting your presence on social media could lead to your visitors following your business on those platforms.
In this article, we would like to introduce the top best social sharing WordPress plugins that you can use to add a social share to your website. Keep in mind, some of the plugins are free and some of them are purely premium.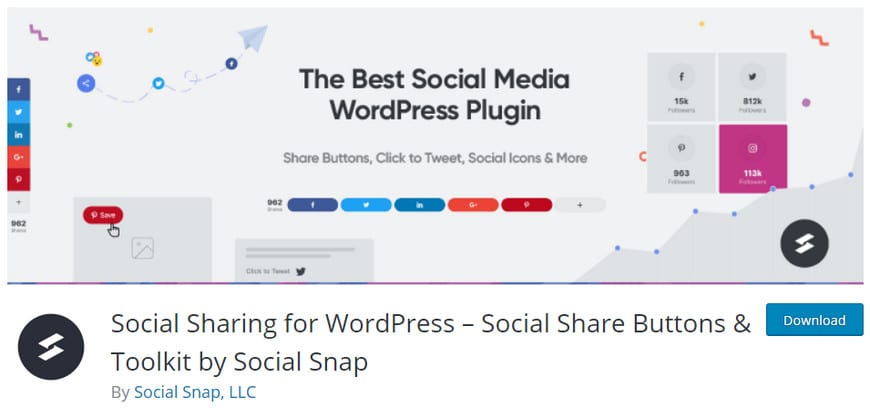 Social Snap is a fairly new social share WordPress plugin. It is very well designed and has tons of features. Much like most premium plugins in WordPress, Social Snap is also available in the free version. The free version is fairly limited and most of its features are only available for premium users.
Social Snap allows you to add 30+ social network buttons in different spots of your website. Other than the usual placement options like a floating sidebar or inline buttons, it also enables you to add a shared hub or sticky bar.
Furthermore, you can choose different sizes, colors, and shapes for each button. In addition, Social Snap supports both individual and total share counts. Besides, if you ever switch domains or move to HTTPS it allows you to recover your old share counts. In some ways, you could say this plugin works similarly to the Better Social Counter plugin. Both of these plugins can be used to count your social media followers.
Social Snap even allows you to edit your social media metadata and control how your content looks when it's shared amongst different platforms. Additionally, in the dashboard, you can see how many times and often your content has been shared.
This plugin is compatible with the latest version of WordPress and currently has over 10,000 active installations. The premium version of this plugin starts at $39.
Perhaps in our social share WordPress plugin list, the Sassy Social Share plugin is the only plugin that has unique button styles and customization options. Sassy Social Share supports more than 100 sharing platforms.
These buttons can be both added before and after content. Besides, you can add share buttons to a specific page or individual content. In this plugin, everything is responsive and you have the option to enable or disable both horizontal or vertical floating buttons for mobile devices.
Much like the plugins mentioned above, Sassy Social Share also counts your social media followers. This plugin is totally free. However, it has paid addons that go for $9.99 each.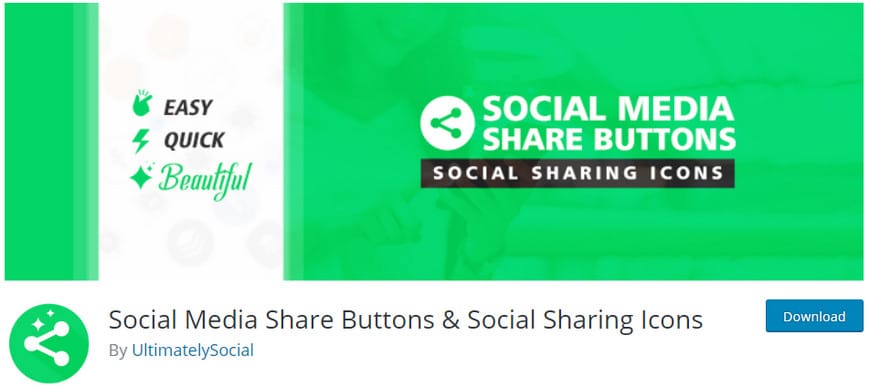 Social Media Share Buttons come with social sharing icons for Twitter, Facebook, LinkedIn, Pinterest, email, RSS, Instagram, and even YouTube. However, this plugin isn't limited to the social media platforms mentioned above, it covers more than 200 other social media platforms.
Social Media Share Buttons are available in both free and premium versions and the premium version offers a ton more features. It has 16 different designs for your social media icons, adds counts to your social media buttons, and many more.
This social share WordPress plugin is very easy to use and all you need to do is download it directly from your WordPress dashboard or the official WordPress website. Once it's installed and activated you can begin picking designs and configuring the plugin however you wish.
AccessPress Social Share is a free social share WordPress plugin that allows anyone to share a website's content to major social media platforms such as Facebook, Twitter, Pinterest, LinkedIn, and Digg. The plugin is designed to dramatically increase your social reach.
AccessPress Social Share enables you to select the social media platform you want and select a design out of its 5 pre-designed themes. Currently, Facebook, Twitter, Pinterest, LinkedIn, and Digg are available in the free version of the plugin.
This plugin is fully responsive, user-friendly, and comes with regular updates. The premium version contains two plugins. One is AccessPress Social Counter and the other is AccessPress Social Share itself. AccessPress Social Counter displays the number of followers on each of your social media accounts that you have connected to the plugin and displayed on the website.
Meanwhile, AccessPress Social Share allows everyone to share your website's content (post, page, image, media) on major social media platforms. The supported social platforms are Facebook, Twitter, Instagram, YouTube, Soundcloud, Steam, Dribbble, Flickr, Envato, Twitch, and 17 more. The pro version comes with 42 templates for inline buttons and floating displays.
Furthermore, it is fully responsive and shortcode & translation-ready.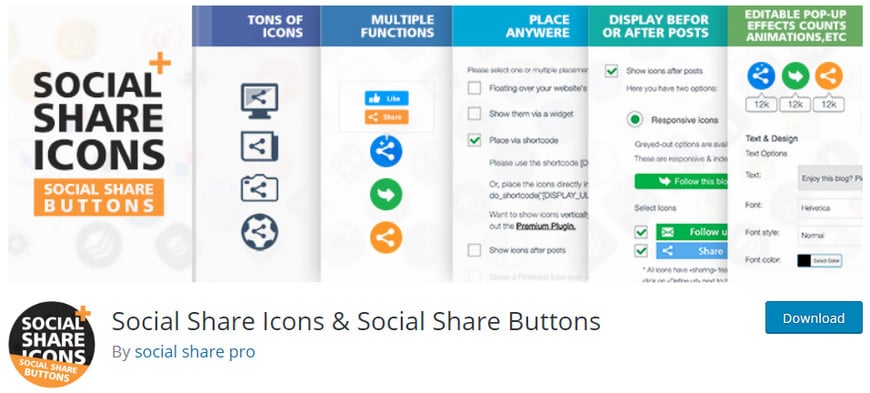 The next social share WordPress plugin on our list is Social Share Icons & Social Share Buttons. By using this plugin, you can add a social share to your website with just a few clicks after the initial download and activation.
Social Share Icons & Social Share Buttons is a free plugin that can be fully customized to match your needs. In addition, it has been translated into different languages. This plugin supports Facebook, Twitter, RSS, Instagram, YouTube, LinkedIn, and 200 more social platforms.
This plugin is very flexible and you can add social share icons & buttons in a variety of positions. For example, before or after posts, floating over your web pages, via shortcode and even widget. In addition, it comes with 16 designs for social share buttons and even they can be animated.
Social Share Icons & Social Share Buttons are available in both free and premium versions. Whilst the free version comes with tons of features for social sharing, the premium version comes with even more features. For example, a more social share button is added for different social platforms like Amazon, Spotify, Yelp reviews, etc.
Besides, the pro version is optimized for mobile sharing. Currently, this plugin has over 60,000 active installations and it's compatible with the latest version of WordPress.
 6. Novashare
Novashare is a premium social sharing plugin for WordPress, developed from the ground up with a performance-focused approach. Simplicity and scalability make this plugin an excellent way for any business type, small or large, to increase its social shares without bringing the site to a crawl.
Novashare is built and maintained by the same team that created the Perfmatters performance plugin. They deliver an easy-to-use UI with native WordPress stying, so you don't have to re-learn a whole new control panel. You can get Novashare and up going on your site in just a few minutes.
Add share buttons for all your favorites social media networks and display share counts for each post, page, or custom post type. Drop your share buttons in your content or use a floating bar (or both!). Change the colors, shapes, and alignment with the click of a button to match your branding. Set breakpoints where you want them so it looks beautiful across desktop and mobile devices.
Novashare also includes the data and options you need as a marketer. Configure your UTM parameters for Google Analytics and enable link shortening with Bitly.
Some more awesome features in Novashare include:
Lightweight and fast – Scripts don't run where they shouldn't; it uses inline SVG icons and is under 5 KB on the front-end! It uses a staggered approach for refreshing data, delivering the best of both worlds for marketing and speed.
Share count recovery – If you've moved domains, changed protocols (HTTP/HTTPS), or permalinks, you can quickly recover your old share counts. The same goes for updating old content and changing URLs. Add the previous URL in the editor to make sure your shares come along.
Click to tweet block – Make your tweets stand out with the beautiful click to Tweet boxes. Easily add with the Novashare block in the Block Editor or roll with the Classic Editor.
Follow widget – Increase your followers by adding the social follow widget to your site's sidebar or footer. Choose from 52+ buttons and networks while using the easy drag and drop interface.
Pinterest image hover pins – Add hover pins to your images so visitors can pin them to their Pinterest boards as they scroll through your amazing content.
Developers/agencies – Use shortcodes, pass in your own share count refresh rates with filters. Novashare also supports multisite in the unlimited version.
GDPR-friendly – No trackers, no cookies, and no collection of personally identifiable information (PII).
Conclusion
In this article, we introduced the top social share WordPress plugins that you can use to add a social share to your website without having any programming knowledge.
If you are struggling with adding social share buttons and icons to your website, by installing the plugins mentioned on our list, you can somewhat connect your desired social media platform account to your website.
Thus, visitors can follow you on social media platforms and stay updated with your business and the offers that you come up with.