WordPress Free Blog Review
WordPress.org is an open source Content Management System used to power millions of websites and blogs. From its beginnings as a blogging platform, WordPress has grown into a viable full website solution. Apt Solutions offers this free blog review to help you decide if using WordPress would be right for you. We'll take a look at how the basics work, install it on your own web server, and discuss the best themes and plugins available.
Free web-based software that supports thousands of bloggers, offers built-in web hosting, and lets you publish your blog within minutes. The blog world is a crowded one, especially if you're competing with free blogs (as many do). WordPress is the most popular blogging platform on the Internet, attracting 30 million users a month. Using our WordPress Free Blog Review can help you to decide whether this software is for you, but more importantly we'll teach you how to start your own blog in less than 10 minutes.
You Can't Alter Page Structure
With WordPress.com, you can change things in the body of your page (the middle part), but you don't have direct access to the HTML source and sections of your page. You also don't have access to the PHP files (the files that WordPress itself is made from) you would normally have access to on a self-hosted WordPress.org installation. What this also means is that you can't add CSS or JavaScript links to your webpage as you normally would. It's less customizable and you have less control, is what I'm trying to say.Any JavaScript code added to the body of your page is cleanly removed when you update the page. So how can you add in that cool new JavaScript widget you use on all your other websites? You can't. You are limited to whatever widgets WordPress.com provides you with. It's a bummer, but from their perspective, it helps keep things secure.When it comes to displaying multiple images there are 2 options – as a slide show and as a gallery.
Thinking of embedding an <iframe> from another site as a workaround? It won't work. WordPress.com has a list of external sites it allows connections to and chances are your site is not one of them.
So how do you add custom behavior to your WordPress.com website? You can choose from a list of embeddable options such as YouTube and Google Maps as well as a list of supported widgets. There are a number of widgets you can use but the list is by no means exhaustive.
Customizing Your Website Appearance with WordPress
When making a website with WordPress, you get access to thousands of free WordPress themes that are able to give your website a professional look in an instant. Simply browse WordPress themes to find one that matches your brand and with 1 click your site is transformed.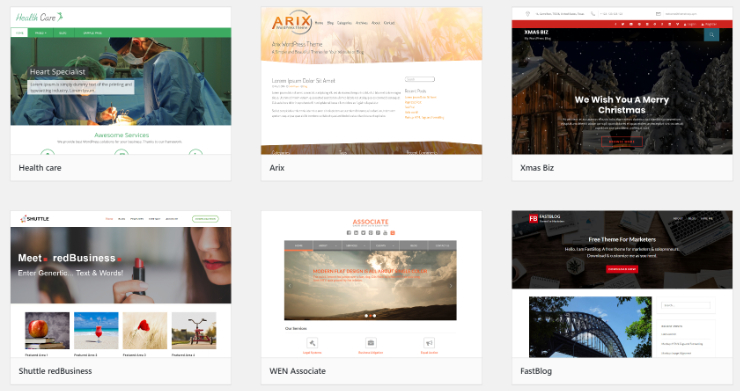 Most WordPress themes are highly customizable as well. Of course, you're able to edit the theme text and add your own images and logo. But, many themes also allow you to change theme colors, layouts, fonts, and much more.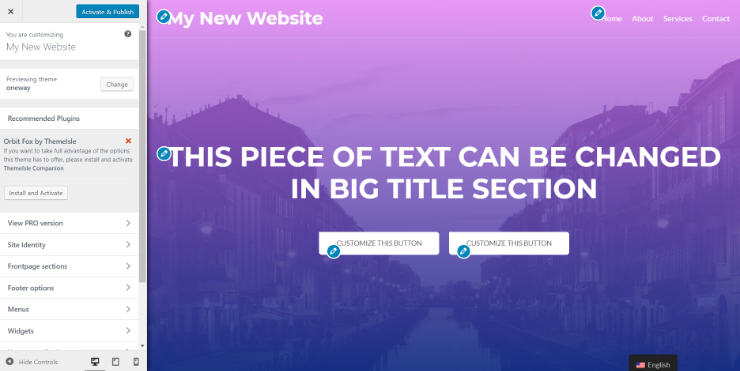 There are also many third-party premium WordPress themes available on the market. So, if you want a higher-quality theme that not everyone is able to get, you have that option as well.
Alternatively, you can use a drag and drop page builder to create a custom theme that's all your own. We recommend using SeedProd. It comes with an easy-to-use visual page builder, over 100 templates, and ready-made blocks like optin forms, countdown timers, buttons, and much more.
Limited Themes & Plug-Ins
Plugins are one of the many features that makes WordPress a pleasure to use. How about if you wanted to install some plugins? You can't do it.
It's as simple as that.
With a self-hosted WordPress.org site, you can install as many themes as you like and from any source such as Theme Forest. With WordPress.com you are constrained to the themes they allow.
There are tons of themes on WordPress.com. Some are free and others are premium (they cost money). With WordPress.org, the number of available themes is endless.
Because you can't change the structure of the page, you are somewhat dependent on the pre-defined structure of your theme and the features that the author allows you to change. This becomes an issue because each theme has different options you can and cannot change.
Some have footers you can change, some do not. Each has a different size header image. It can be quite tedious to find a theme that is both suitable in layout and functionality.
Adding Content to Your WordPress Website
Next, you can easily add content to your WordPress website such as web pages and blog posts, using the WordPress post editor.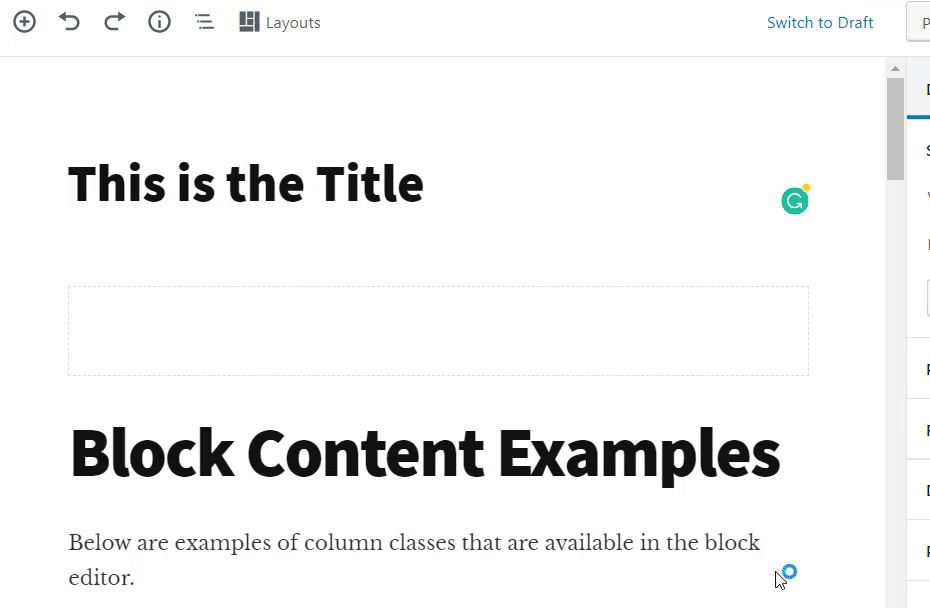 Whether you're creating a page or a post, the WordPress editor looks the exact same. You can use the WordPress post and page editor, like in the image below, which is also known as Gutenberg editor or Block editor. Here, you add blocks of content elements to create a content layout.
This is what the new block editor looks like: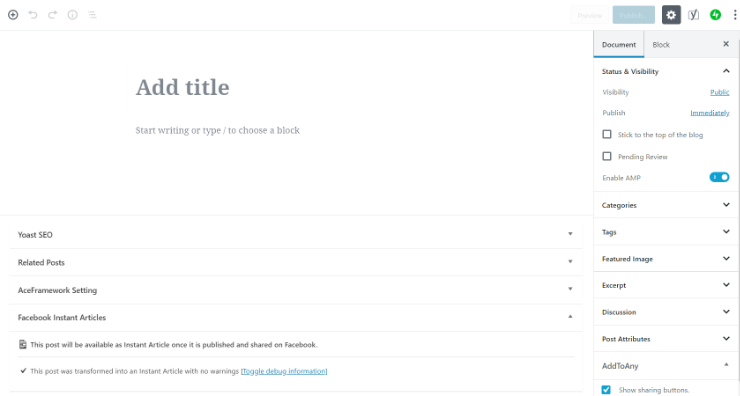 For example, you can add blocks for headings, paragraphs, images, lists, columns, buttons, and much more.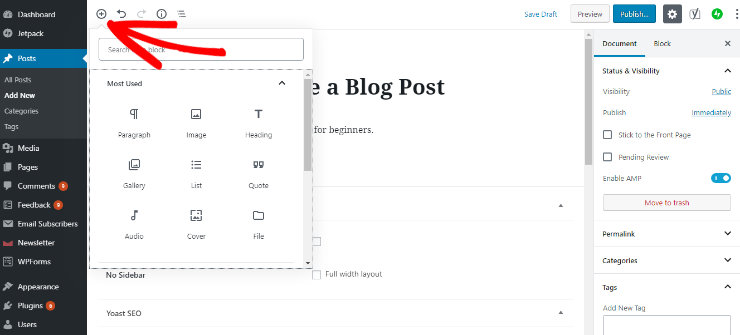 By default, Gutenberg starts you off with a heading and a paragraph block. But to add a new block, simply click on the add new block button. The add new block buttons show up in the top left hand corner of the editor, on the left side of a block, or below an existing block.

Each block also has its own toolbar and settings for formatting. For instance, with a paragraph block you have options such as bold, italic, text alignment, and more.

If you want to use the legacy WordPress classic editor instead of Gutenberg, check out this tutorial on how to disable Gutenberg and keep the classic editor in WordPress.
The legacy classic editor comes with 2 different editing screens: visual editor or the text editor which allows you to format your posts by adding HTML.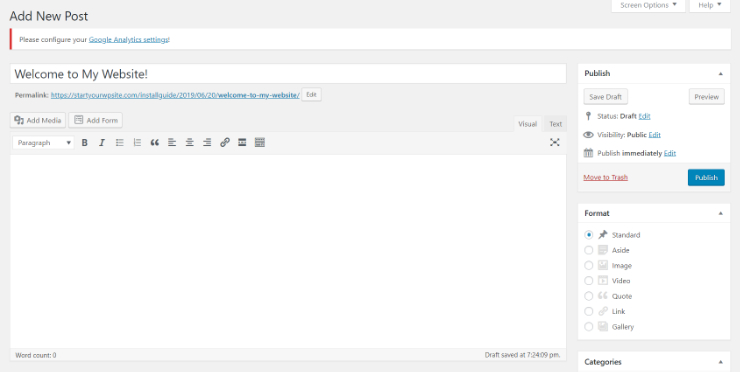 So, does WordPress have a drag and drop builder? As we mentioned previously, WordPress does not have a drag and drop builder. But adding images, video, bulleted lists, and other elements is as easy as 1 click of a button.
If you'd still prefer to use a drag and drop builder to create content, you can install a drag and drop page builder plugin such as SeedProd, Beaver Builder, Divi, or Elementor.
It Costs To Add Style
You've finally settled on a theme and now you want to change a few little things. On WordPress.com you need to purchase a Custom Design Upgrade to use customized CSS on your blog. As mentioned, this upgrade starts at $36/year. It could get quite pricey depending on the number of blogs you want to customize.
For the $36/year "Custom Design Upgrade" you get a simple text editor to update your CSS. There is no visual editor.
In addition, you aren't allowed to hide the copyright information on your theme. This might be okay for personal blogs but may not be for a business blog or if you are creating blogs for clients.
Using WordPress Plugins
Lastly, with WordPress plugins you can take your website to the next level. WordPress offers thousands of free plugins that you can use to add extra features to your website. And with over 55,000 plugins at the time of writing this article, almost anything you can think of will be available in the form of a plugin.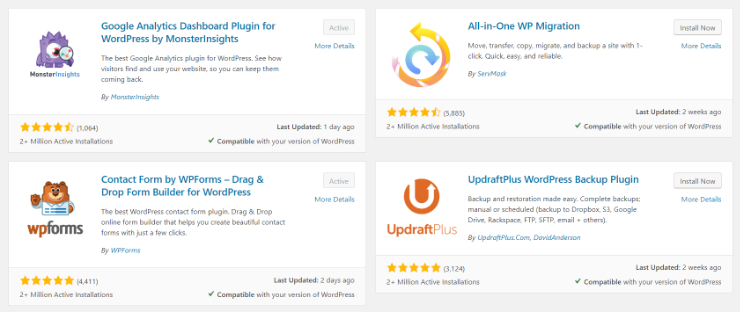 Plus, plugins are very easy to download and use. They're just like apps that you add to your mobile phone. Simply download the plugin and voila, you've got something new for your website.
There are a number of WordPress plugins that are must-haves for any type of website, including:
WordPress also has plugins that allow you to transform a regular website into a powerful website. For example, if you want to create an online store, you can use an eCommerce plugin like WooCommerce, which is the most popular eCommerce solution for WordPress. Or you can create a membership site, where users have to pay monthly for access, using a plugin like MemberPress.
The sky's the limit when it comes to WordPress plugins.
Is WordPress Free?
As we previously mentioned, WordPress is free to download and use. But, in order to build a website that's live on the internet for other people to see, you do need to register a domain name and choose web hosting.
A domain name is your website's address (URL) on the internet. For instance, our domain name is www.IsItWP.com. It's what users type in their browsers to visit your website.
Web hosting is where your site lives on the internet. This space on the internet is where your website's files and content are stored. When a user types in your website address in their browser, they'll be taken to your website that you've set up with the web hosting provider.
Typically, a domain name costs around $14.99/year and web hosting costs about $7.99/month. This can be a bit costly to some people, especially if you're just starting out.
That's why we recommend Bluehost. We've worked out an awesome Bluehost deal for IsItWP readers. You can get a free domain name and over 60% off on web hosting. That means you can make a website for as low as $2.75/month!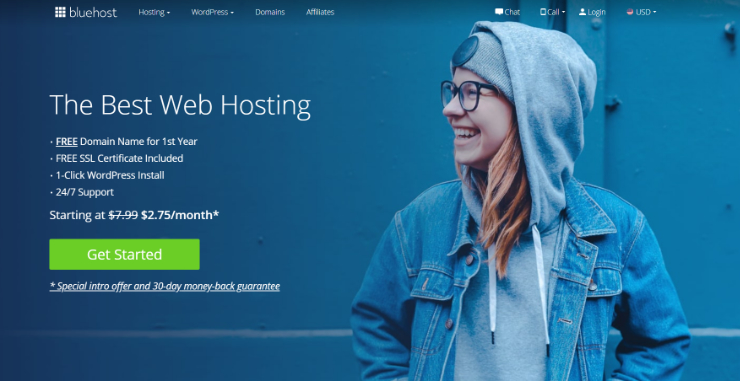 Plus, Bluehost is one the best WordPress hosting companies. They power over 2 million websites worldwide and it's officially recommended by WordPress.org. Bluehost also offers 1-click WordPress installation, so it's super easy to install and start building your website right away.
Conclusion
We provide you with a professional WordPress Free Blog Review. Fill out this form to receive our WordPress Free Blog Review. Our team of experts will give you a thorough assessment of the current state of your blog, so you'll know exactly what needs to be done next.