WordPress is an open source blogging tool that you can use to set up a blog in minutes. It uses PHP, MySQL and HTML, so you know it's secure, plus you can customize the design with the latest CSS. Blogs are useful if you want to share your knowledge of a topic; it's a place where people can find out what's on your mind. Or they can be useful if you're just trying to get your name or business out there or make it easier to promote products, services or events. And if you ever want extra features, there is a huge community of WordPress developers ready to help you build whatever you need for free.
WordPress is a free blog publishing application that can also be used as a Content Management System (CMS) thanks to its impressive selection of features. These features include custom styles, access to the WordPress directory and much more. To learn more about these features, continue reading below.
The Cenote WordPress theme packs quite a few features into a lightweight, free theme with a clean and modern layout.
The good thing about Cenote is that it uses plenty of white space and standard colors. The theme provides a one-click installation button, along with primary color options for matching your branding and logo. The four widget areas can be placed in the header or footer, as well as the sidebars. What's more, the Cenote theme has an area to adjust custom CSS. The demo content is great for getting started with your design, but more advanced coders will appreciate the custom CSS.
Boxed and wide layouts ensure that your site either covers the entire screen or cuts off at the sides. The sticky menu is great so that your visitors always have the menu in front of their eyes. Another item to get excited about is the social icon pack. Reveal icons from Facebook, Pinterest, Instagram, and more, using the buttons to send people to your social pages.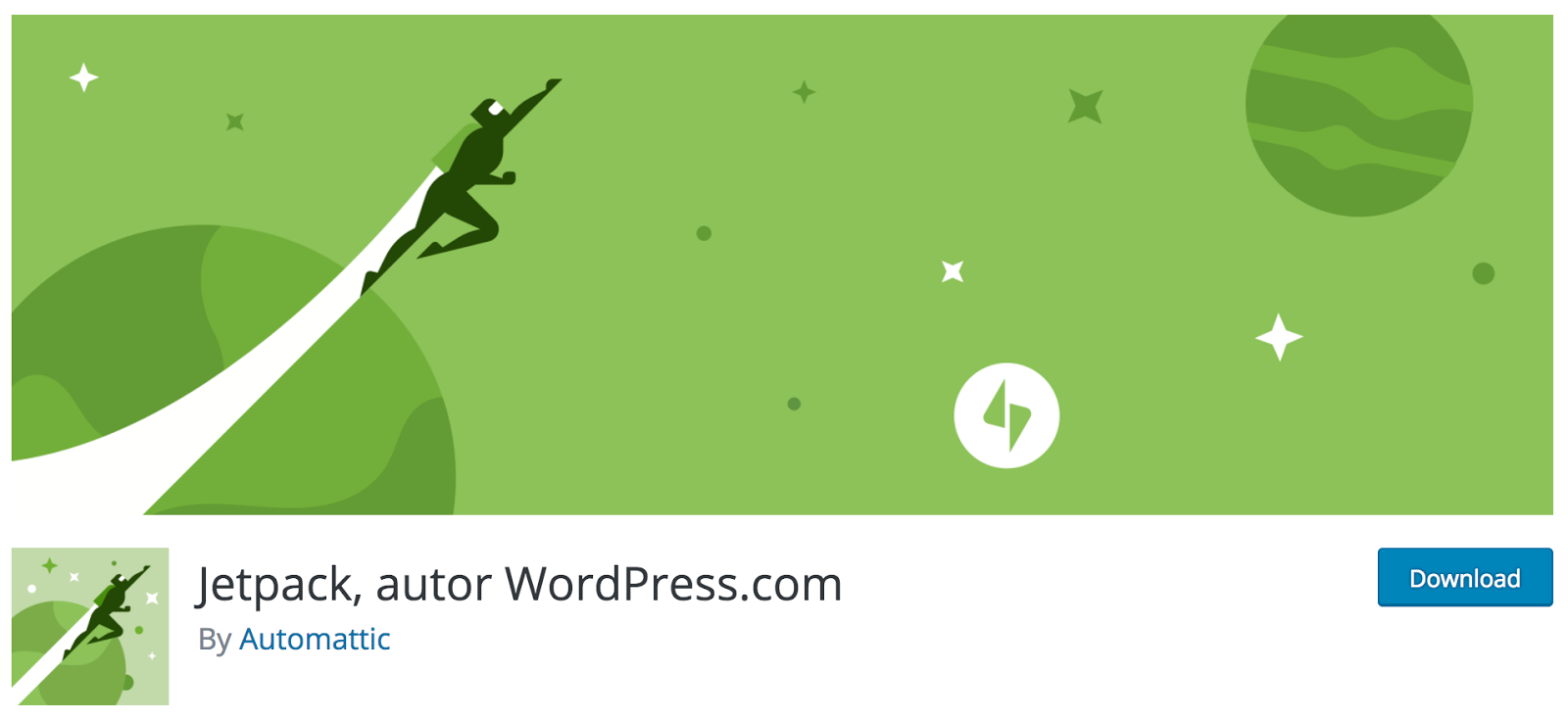 OK, so there are over 52,000 plugins available, but you don't want to download more than you need.
If you do, you risk making your website load slower, and users won't be happy.
So what if there was a plugin that provided several features in one place?
Thankfully, there is. It's called Jetpack.
Jetpack has over four-million active installs, but many WordPress users still don't understand what it does or how they can use it to improve their website.
Think of Jetpack as the ultimate toolkit for your WordPress website.
It has tools to help you design your site, track statistics, improve social sharing, and prevent attacks.
All these core features are free, too.
You also have the option of adding advanced features like spam protection, daily backups, and SEO tools with one of their simple and affordable plans.
Another key benefit to Jetpack is that WordPress.com hosts all of its features.
Because WordPress takes some of the load from your server, it will help your site run smoothly despite the extra features.
Once you've installed it, it will show you the dashboard.
The dashboard provides an overview of the features you're using, like the analytics displayed here.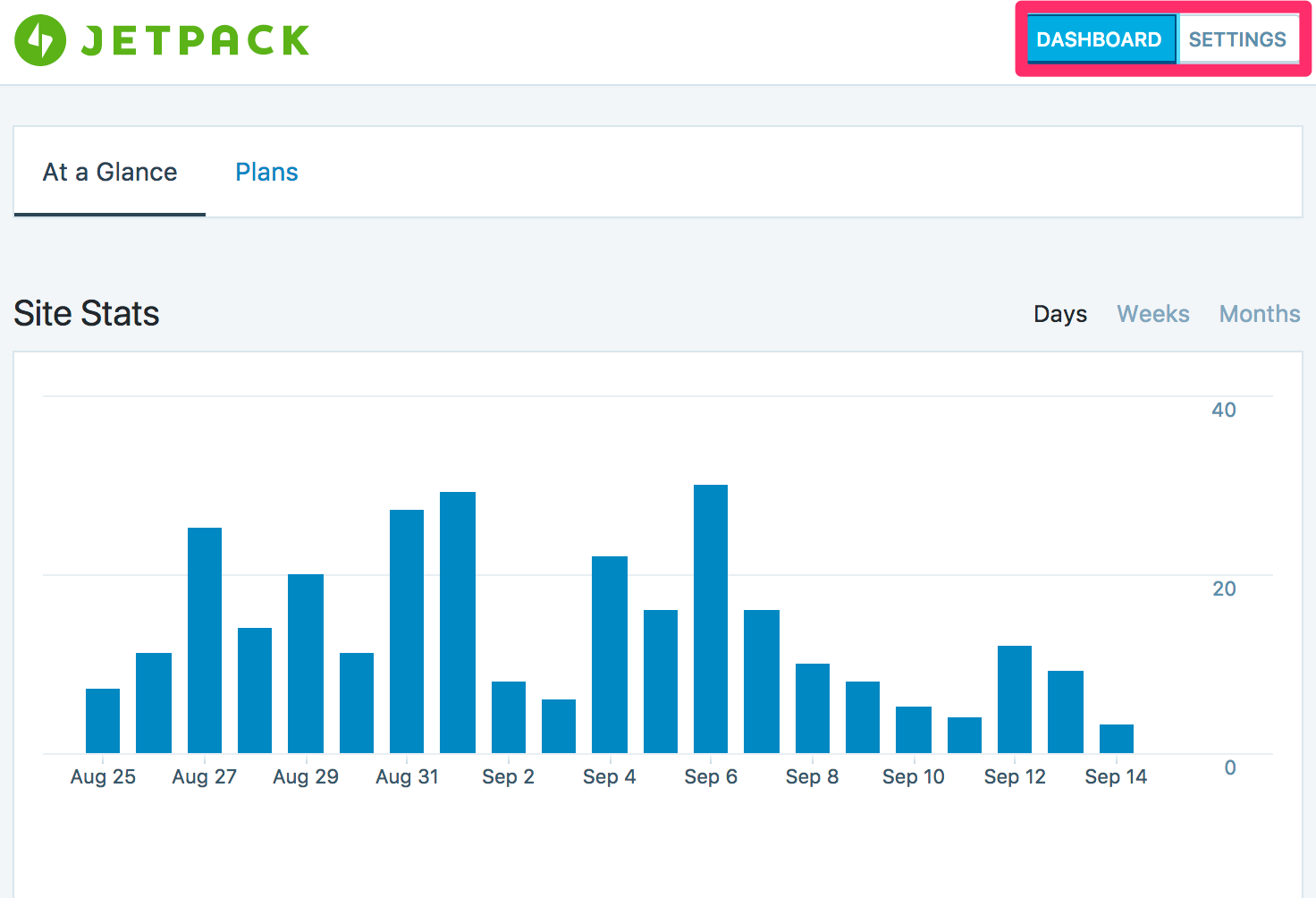 By clicking on "Settings," it will take you to a new window with tabs.
Each of the tabs has a group of featured settings.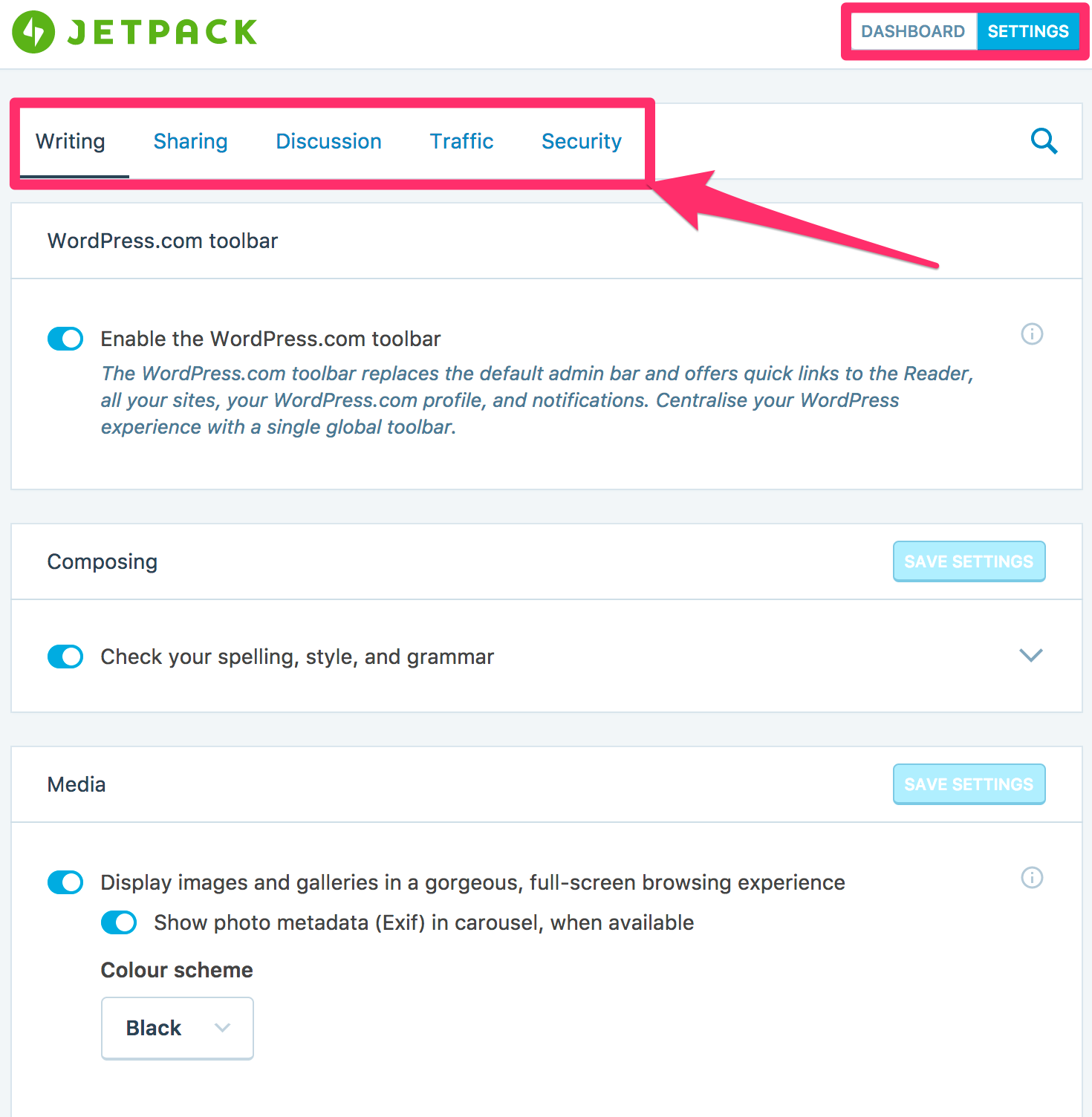 Jetpack has a lot to offer, so install it now and see which of the features your business needs most.
Dazzling Free WordPress Theme[Preview – Download]
Dazzling is an unrivaled responsive theme. It's developed using Bootstrap 3 and comes with an optional full-screen slider. This is useful when you're building your first corporate or portfolio site.
This flat theme has mint green accent colors and will inspire you to embrace the best side of content marketing. I'm fond of this theme because it's clean, unbeatable, and will enhance your personal brand. What more could you want?
Startup entrepreneurs, CEOs, and public speakers will benefit from the full-screen slider because they'll use it to showcase their keynote speeches or other key presentations.
Dazzling WordPress theme includes added optimization for a lot of the essential plugins and custom widget designs out there, such as All-in-one-SEO Pack, JetPack, Contact Form 7, and more.
The GuCherry Blog theme is a beautiful and minimal theme for fashion, travel, and lifestyle bloggers.
It features an attention-grabbing slider at the top and has plenty of widgets that make it easy to add content to your sidebar as well as other widgetized areas on your site. This theme also comes with plenty of space for ad display so you can easily monetize your blog with ad networks such as Google AdSense. GuCherry Blog theme supports multiple post formats so you can make your posts more engaging by sharing videos, audio, and written content.
In terms of customization, the theme is easy to customize and allows you to upload your own header image or logo, change colors, and customize fonts. The GuCherry blog also comes with a custom social media widget and built-in related posts display so you can keep visitors on your site longer.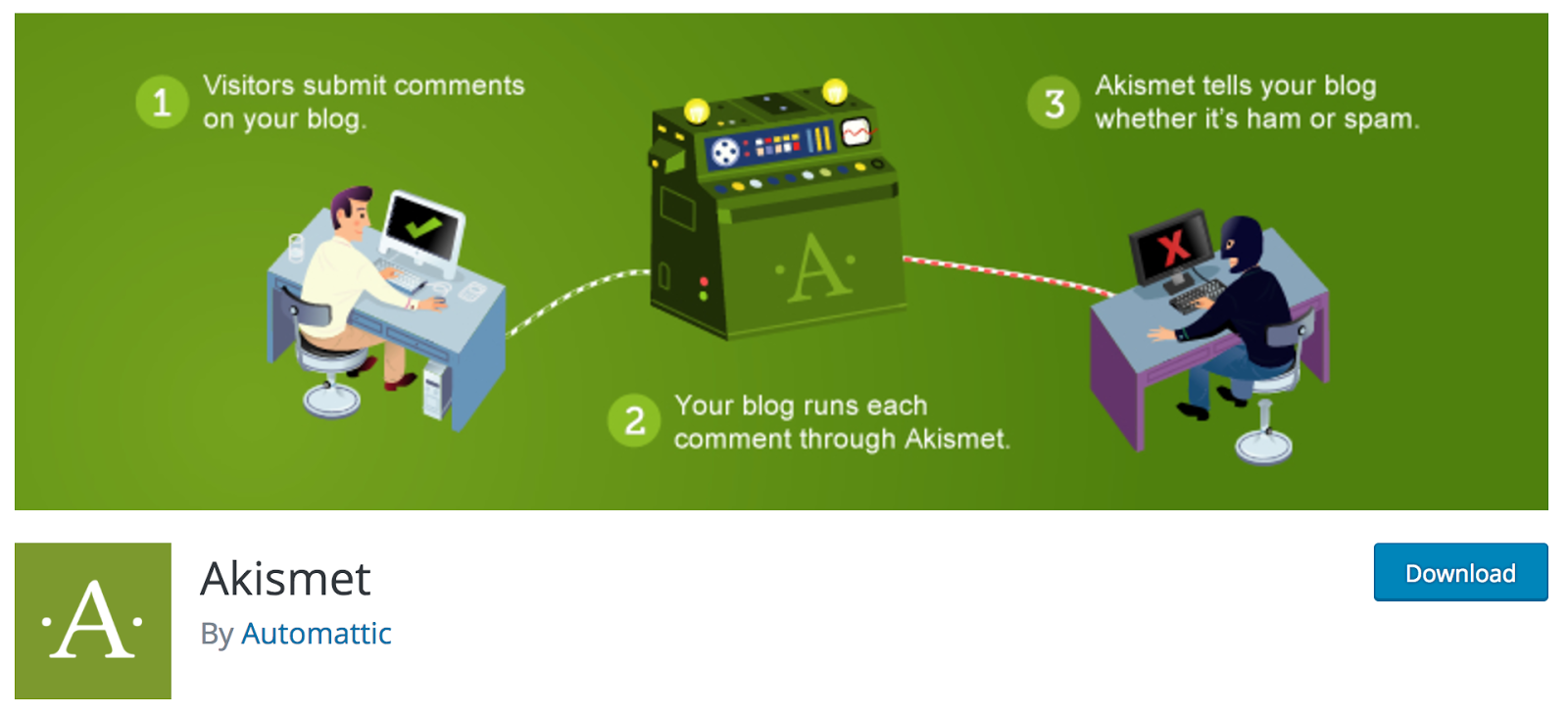 Everyone hates spam, but unfortunately, it's a part of life.
As soon as your WordPress website goes live, you can expect spam comments to start showing up.
What's worse is that many of these spam comments will look genuine.
Still, comment spam clogs up your site and ruins the experience for your readers.
And if it's not dealt with properly, you risk losing readers and potentially damaging your brand.
Thankfully there's a reliable, effective plugin to take care of this for you.
Akismet is the official anti-spam plugin made by WordPress parent company Automattic.
It has over 35-million downloads, making it the most popular plugin of all time.
There's a reason why it's popular, and if you aren't using it already, you should be.
Once installed, you need to get an API key to start using the service.
Simply click "Get your API key" and follow the instructions.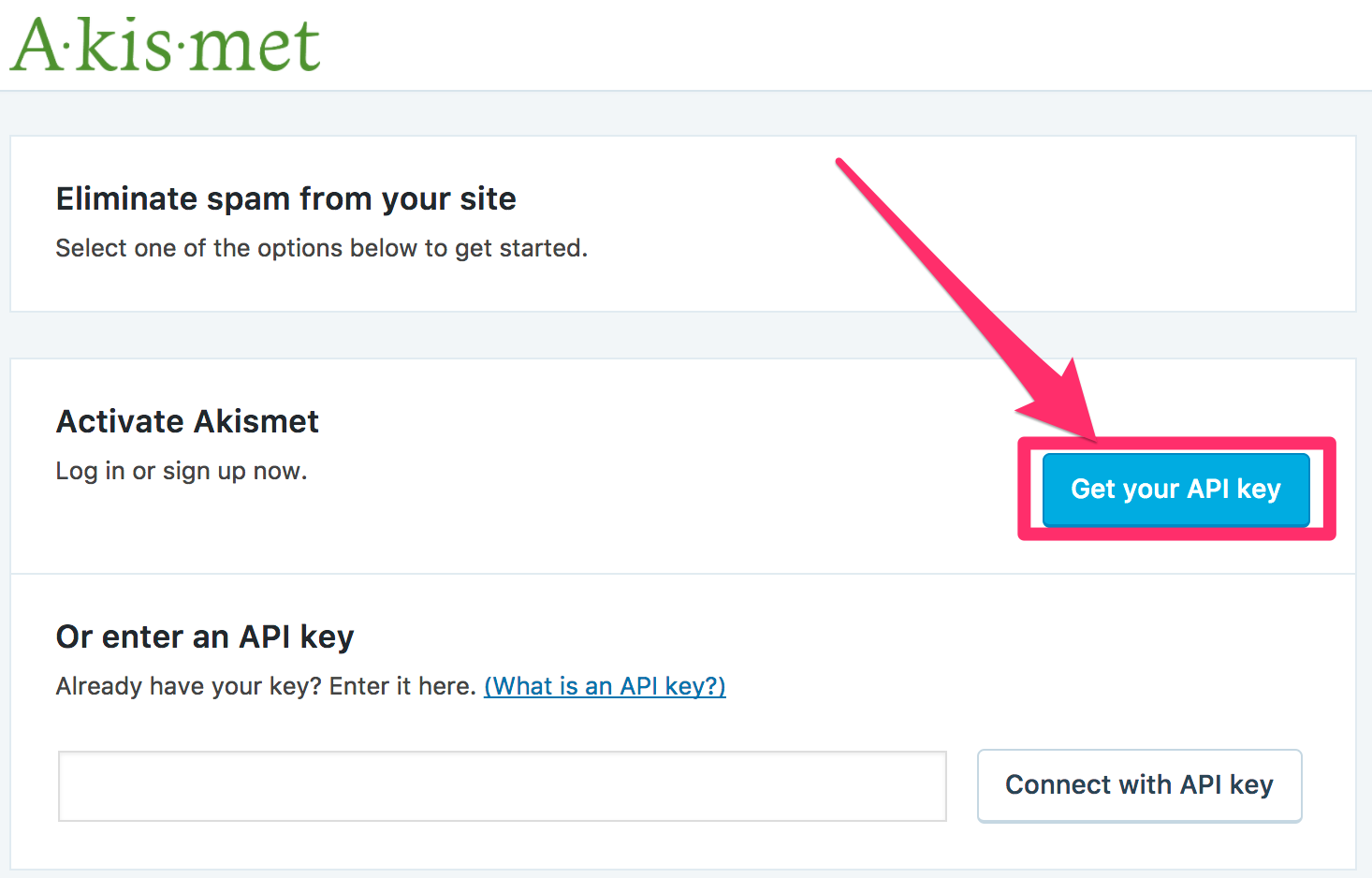 Once you finish, make sure you paste your API key into the box and choose where you'd like spam comments to go.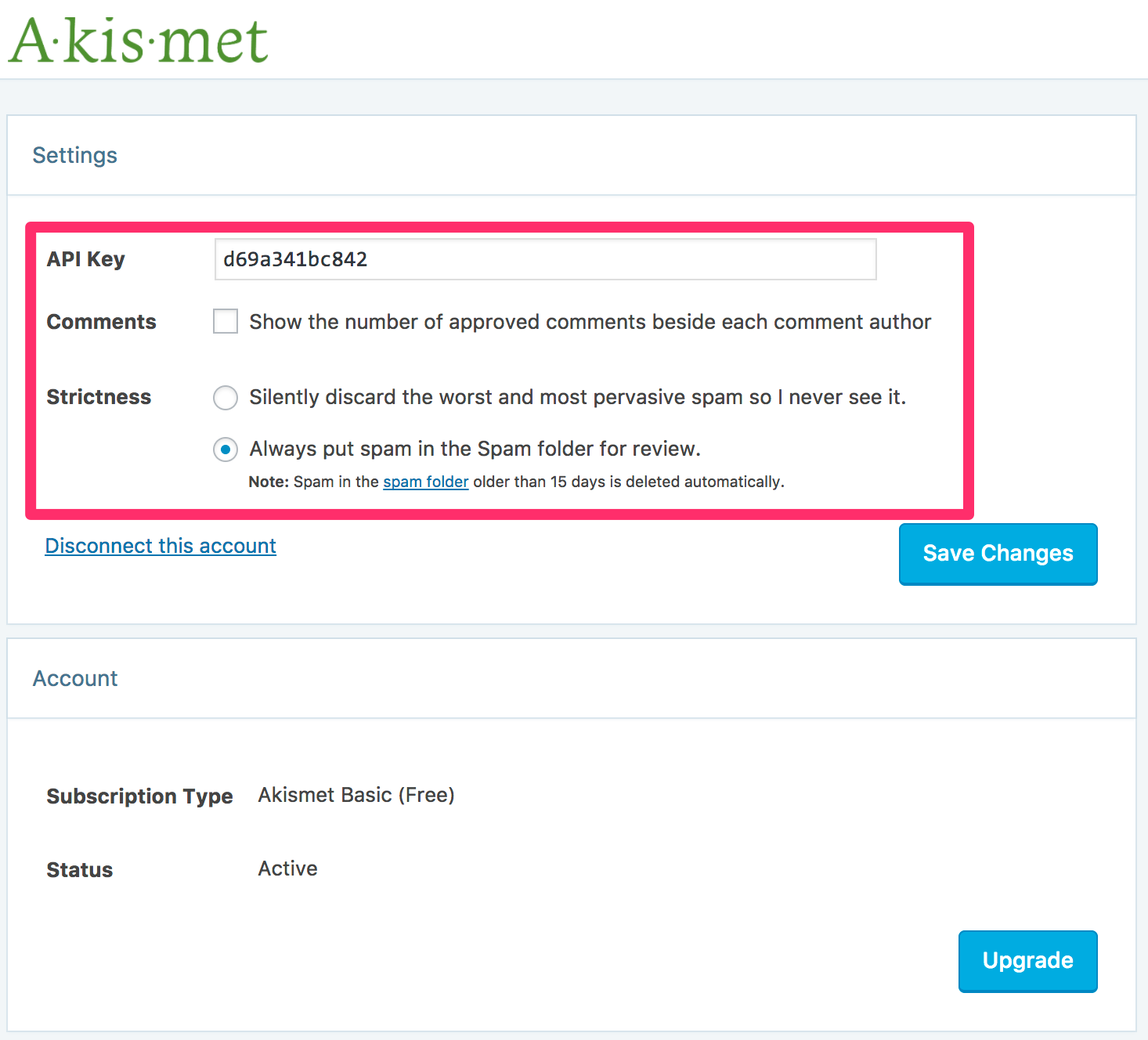 Once again, you have the option of updating to a premium plan for higher security.
Still, the free version of Akismet is fantastic.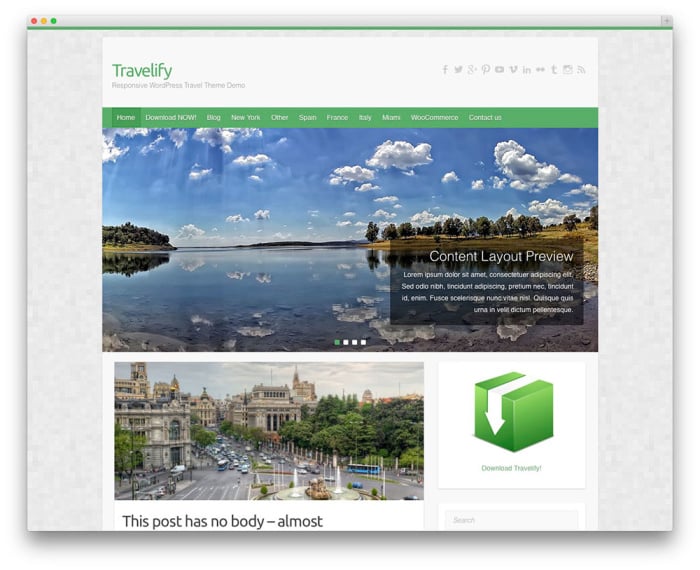 Travelify is another free WordPress theme. It has some premium functionalities that allow you to change the theme layout (full, no sidebar, or wide, for example).
This responsive WordPress theme is mobile responsive, modern, and can be used for virtually any subject or business objective. For example, if you're a content marketer, Travelify puts value on your content and highlights your best work for your readers to enjoy.
It's a pixel perfect design, with a featured slider which you can turn off with a single click. The flexibility that the theme offers enables you to alter its layout until it suits your objective. You can also use a background image to customize the theme to your brand.
The Ashe theme is a gorgeous single and multi-author WordPress theme with a stunning header area that you can use to point visitors to a page on your site.
The homepage also has a two-column layout with the standard blog post archive and sidebar. You can use the sidebar to share a brief bio, add your social media links, share your popular posts, or link to your blog's categories. What's more, you can easily make use of the promo boxes to display your most important pages or insert ad banners.
This theme is perfect for lifestyle, fashion, travel or food bloggers as it uses featured images so you can easily share your photos. The theme can be customized using the Live Customizer option and the theme is also WooCommerce ready so you can even have an online store and sell both physical and digital products.
Ascent Free WordPress Theme[Preview – Download]
Ascent WordPress theme is designed with responsiveness in mind. This means that it'll appear well on tablets, smartphones, laptops, and desktop of all sizes. The innovative technology used is based on CSS3 and HTML5.
What I like about Ascent is the richness of the slider that appears above the header. It's more than just a personal blog; it's a visual blogger's dream.
In other words, your pictures get an added optimization that would make them stand out from the rest. If you're a photographer, digital marketer, or content marketer, you can use Ascent to improve user experience.
This theme has been downloaded over 30,000 times, making it one of the most popular responsive WordPress themes of both professional and free.
A right and left sidebar gives you added flexibility, and this theme is translation-ready. This is essential if you'll be serving a wider audience in different languages.
Chic Lite is a feminine, minimalist, and visually appealing theme. It's a strong choice if you plan to create a lifestyle, fashion, or beauty blog.
This theme is particularly useful if you plan on sharing many different types of content. For example, in addition to the customization options for your posts, there are also sections for social media and email campaign integrations. You can also personalize your blog with your brand colors and chosen fonts. Another notable feature is the 22 included widgets which include an advertisement widget so that you can strategically place ads within your content.
When it comes to free blog themes, Chic Lite isn't the most versatile or the most customizable. However, if you're looking to create a specific aesthetic for your fashion or beauty blog, it might be the best option.
Conclusion
WordPress hosting is a free blogging tool that makes it easy to write, format and publish posts, as well as insert images and other elements into your posts. There are many features of WordPress that make it an exceptional blog platform.