WordPress Blog Free or Paid
Spark blogs from WordPress can help you create amazing blog posts and stunning pages. Whether you're aiming to share your photos, write about something that interests you or set up a professional blog for work or for fun, WordPress will allow you to do what you want without limits. You have complete control over the information that is shared on your blog with different options for posting including text, images and video.
Are you looking for a free blog hosting service? If you're a beginner blogger or still new to using WordPress, we highly recommend Blogger.com. There are so many features and tools here, that you won't ever have to rely on any other blogging platform! Within minutes of setting up your Blogger account, you will be able to start blogging right away.
You Can't Alter Page Structure
With WordPress.com, you can change things in the body of your page (the middle part), but you don't have direct access to the HTML source and sections of your page. You also don't have access to the PHP files (the files that WordPress itself is made from) you would normally have access to on a self-hosted WordPress.org installation. What this also means is that you can't add CSS or JavaScript links to your webpage as you normally would. It's less customizable and you have less control, is what I'm trying to say.Any JavaScript code added to the body of your page is cleanly removed when you update the page. So how can you add in that cool new JavaScript widget you use on all your other websites? You can't. You are limited to whatever widgets WordPress.com provides you with. It's a bummer, but from their perspective, it helps keep things secure.When it comes to displaying multiple images there are 2 options – as a slide show and as a gallery.
Thinking of embedding an <iframe> from another site as a workaround? It won't work. WordPress.com has a list of external sites it allows connections to and chances are your site is not one of them.
So how do you add custom behavior to your WordPress.com website? You can choose from a list of embeddable options such as YouTube and Google Maps as well as a list of supported widgets. There are a number of widgets you can use but the list is by no means exhaustive.
Signup to WordPress.com
First you need to signup at WordPress.com so go to http://wordpress.com/ you would find a screen like the below one. Click on Get Started. You would be redirected to a signup page.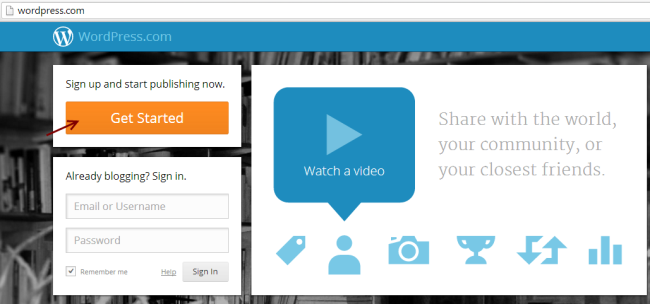 Fill out the signup form. The fields you must need to provide are E-mail Address, Username, Password and Blog Address (Domain name). Click on Create Blog!
There are few things which you must know – The domain name you choose would be suffixed with WordPress.com (since you are using WordPress platform for creating free website), for example I choose a blog name as easysteps2buildwebsite and it has automatically been suffixed with wordpress.com so my complete domain name (Website's address) is easysteps2buildwebsite.wordpress.com.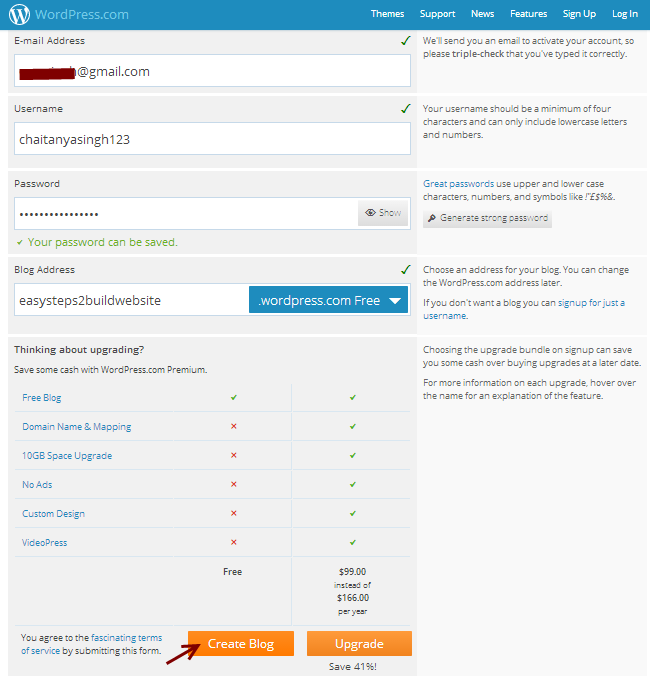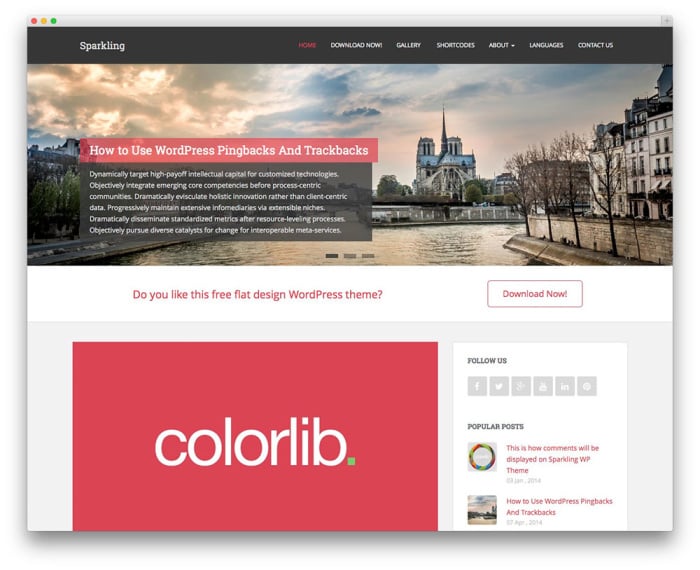 It's time to sparkle your personal blog. If you're looking for a flat, clean, and professional-looking theme, Sparkling may just be the right one. It was developed using Bootstrap 3.
This modern theme has a front-end framework feature that optimizes it to display smartphones, desktops, tablets, and other devices well. This WordPress theme is unique from the millions out there because of its pixel-perfect design, full-screen slider, and widgets that you'll fall in love with.
'Sparkling' is built to have a premium layout, and every content marketer who prides content above everything else will benefit from it. If you're looking for one of the SEO-friendly responsive WordPress themes, you're in luck.
It's Schema compatible — which is great for SEO. Most of the free and paid plugins out there are supported, such as SEO by Yoast, W3 Total Cache, Quick AdSense, Akismet, Contact Form 7, Gravity Forms, and more.
For effective content marketing, you need a WordPress theme that hands control over to you so that you can add, modify, or delete any plugin, section, or even modify the layout as you see fit.
Whether you're interested in using the Sparkling WordPress theme for your personal use or business, you've won the jackpot. This theme cuts across different industries such as education, business, web design, marketing, health and fitness, and many more.

WPForms is the best WordPress Form Builder plugin. Get it for free!
MonsterInsights Lite gives you a simple way to connect your WordPress website to your Google Analytics account. With it, you can see how site visitors find your website and what they do while there. With this data, you're able to capitalize on what site visitors like to keep them coming back for more.
Features:
Dashboard Reports — See real-time stats in an easy to read report found right in the dashboard of your WordPress site.
Universal Tracking — Your stats are never skewed thanks to the universal tracking system that's in place. In other words, if your site visitors switch from a mobile device to a desktop, you'll still get accurate data counts.
Robust Pro Features — The premium version lets you track eCommerce stats, traffic sources, advertisements efforts, and you'll have access to the MonsterInsights Forms addon, which lets you see your form conversion rates so you can make improvements and grow your business online.
How Much Does MonsterInsights Lite Cost?
Free.
For all the features, click here to get started with the premium version of MonsterInsights today!
Dazzling Free WordPress Theme[Preview – Download]
Dazzling is an unrivaled responsive theme. It's developed using Bootstrap 3 and comes with an optional full-screen slider. This is useful when you're building your first corporate or portfolio site.
This flat theme has mint green accent colors and will inspire you to embrace the best side of content marketing. I'm fond of this theme because it's clean, unbeatable, and will enhance your personal brand. What more could you want?
Startup entrepreneurs, CEOs, and public speakers will benefit from the full-screen slider because they'll use it to showcase their keynote speeches or other key presentations.
Dazzling WordPress theme includes added optimization for a lot of the essential plugins and custom widget designs out there, such as All-in-one-SEO Pack, JetPack, Contact Form 7, and more.
Confirm email and Activate Blog
Once you are done with step 1, you would be able to see a screen like the below one, which will ask you to confirm your E-mail Address.

Head over to your email and Click on Activate Blog! in order to confirm the Address. The email you get would look like the one shown below.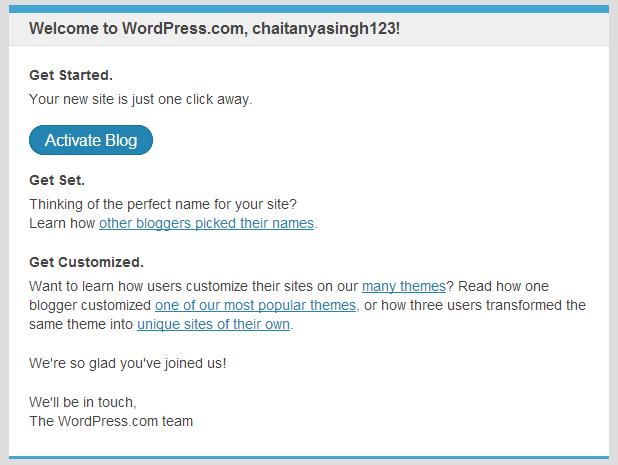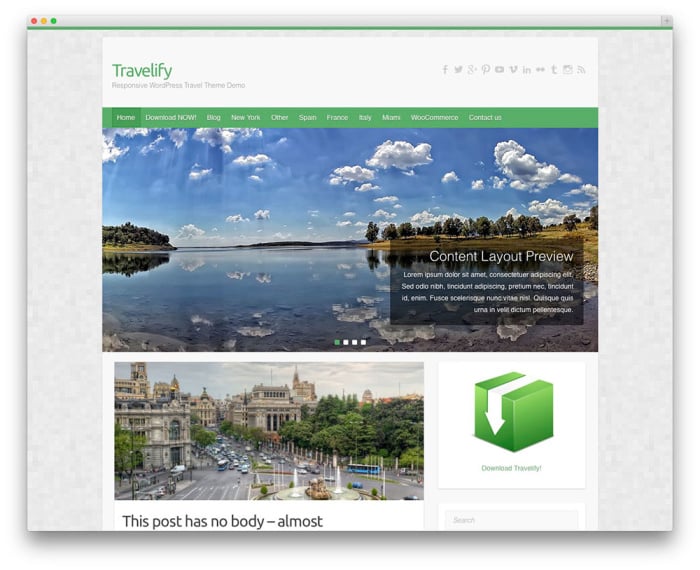 Travelify is another free WordPress theme. It has some premium functionalities that allow you to change the theme layout (full, no sidebar, or wide, for example).
This responsive WordPress theme is mobile responsive, modern, and can be used for virtually any subject or business objective. For example, if you're a content marketer, Travelify puts value on your content and highlights your best work for your readers to enjoy.
It's a pixel perfect design, with a featured slider which you can turn off with a single click. The flexibility that the theme offers enables you to alter its layout until it suits your objective. You can also use a background image to customize the theme to your brand.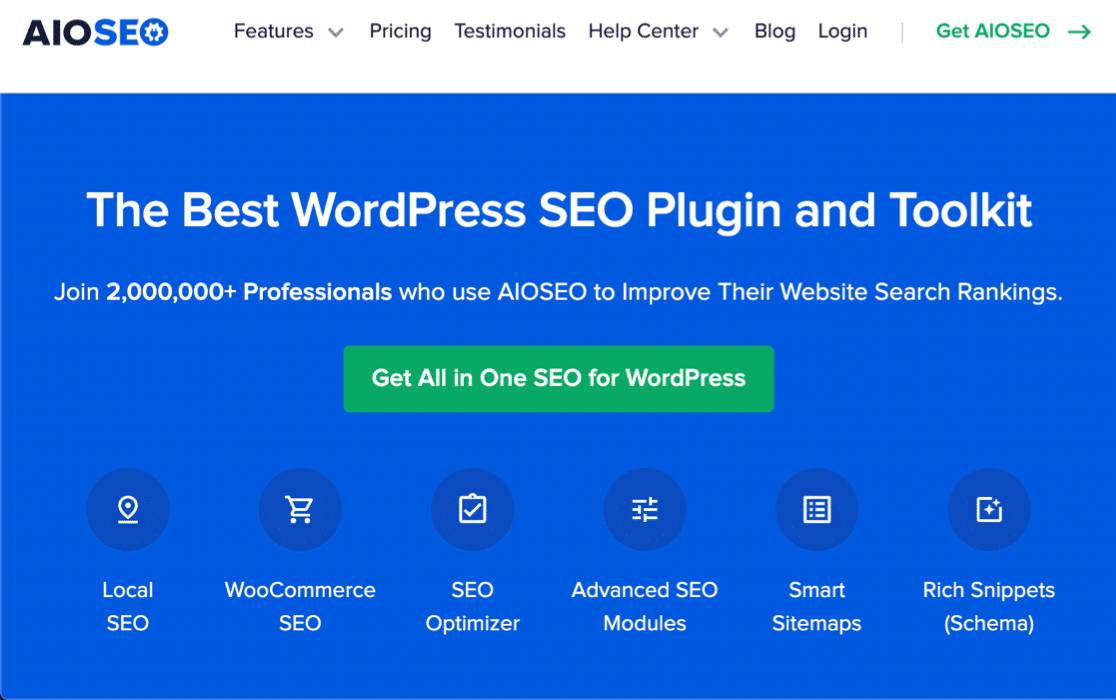 The awesome All in One SEO plugin gives you complete control over your WordPress SEO. More than 2 million websites already use it to optimize their posts, pages, and WooCommerce products. It's a great Yoast SEO and Jetpack alternative.
Features:
Automatic Meta Tags — Automatically generate meta tags, then write your own meta titles and meta descriptions when you want to.
Additional Keyphrases — Discover and rank for additional keyphrases in a single click with AIOSEO's Semrush integration.
WooCommerce SEO — Optimize product listings and category pages with full SEO integration for your eCommerce store.
Schema.org Markup — Easily optimize different post types with the correct schema markup, which helps search engines understand the contents of your pages.
Smart XML Sitemaps — With AIOSEO, your sitemaps are always up to date. The plugin even notifies Google and Bing when you make changes.
Read our All in One SEO review to see these features in action, or click here to get started with the free version of AIOSEO today.
OptinMonster is the best WordPress lead generation and conversion optimization plugin. It allows you to create beautiful optin forms to convert your abandoning blog visitors into subscribers.
Why You Need It: Did you know that on average, 70% of the people who visit your website will forget about it and never come back? That means that all the time, money, and effort you spent on getting that traffic is going to waste.
That's why it's so important to get those visitors to subscribe to your email list. And OptinMonster makes that easy with its beautiful popups, floating bars, and other campaigns.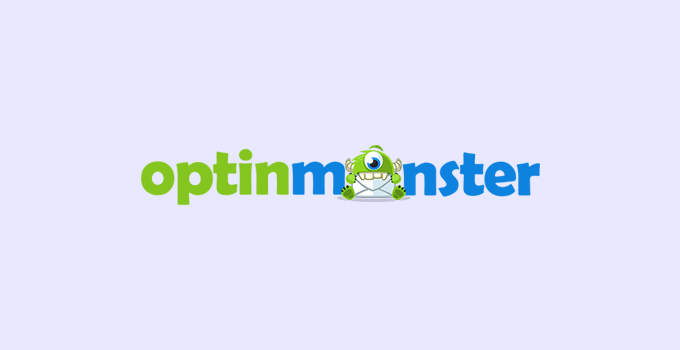 Check out these most important features of OptinMonster that you don't want to miss:
Drag and drop optin builder
Multiple campaign types for actionable marketing
Powerful Exit-Intent® technology
Seamless integrations with popular services
Detailed insights to improve your campaigns
Conclusion
People are always asking me how to start a blog. Some people want a free blog but others want a paid one. I recently wrote a helpful article on How to Start a Blog that shows you some good ways to get started.