Blogging can be a lot of work, but it also doesn't have to be a huge struggle. Instead of searching through countless online tutorials trying to decide what you need and don't need when starting your blog, save yourself time and headache by following this actual checklist that our web team uses to set up WordPress blogs ordered by priority.
If you're planning on setting up a WordPress blog, then this checklist will help you to decide which of the checklist points are relevant for your needs. The items are presented in order of importance, with the top ten things at the front and the more advanced topics toward the back. It's loosely based on my WordPress Manual but it is not checked against that document.
Select your domain name
The first step in getting a new WordPress website up and running is choosing a domain name. Your domain name is what a searcher would type directly into a URL box to find your website, like hostgator.com.
When choosing your domain, it's best to pick something that is short, sweet, easy to spell, and that represents your brand well.
For example, if your brand is a company or organization, then choose the company name as the domain name. If you are your brand, then it's always a good idea to pick your own name as the domain name.
SInce there are millions of websites, sometimes you will have to get creative when picking a domain name that is 100% unique.
For example, when I first started out, I wanted my domain name to be my name followed by dot com. My name was already taken (I guess it's kind of common), so I ended up adding my middle initial to my domain name.
Additionally, if the .com version of your preferred domain name has been chosen by someone else, and you're set on the name, you can always opt for the same name with a different top level domain. As a quick review, a top level domain is what comes after the dot. Top level domains include .com, .co, .inc, .biz, and more. As the internet grows, so does the popularity of using a top level domain.
To select a domain name with HostGator, navigate to the website, hover your cursor over the word "Domains," and then either enter your preferred domain name in the search box. Alternatively, you can click on "Register Domains."
Both methods will take you to a page where you can see which domain names are available and which are already taken.
While you can purchase a domain name from several hosting companies, it's best to purchase your domain with the company that will be hosting your website. This makes it easier to manage all the details of your website from one platform. Plus, most website hosting companies, including HostGator, will offer free domain registration for a year with most hosting packages.
If you plan on hosting your website with HostGator, you can use the search "Domains" feature to see if your desired domain is available, but wait until you purchase hosting before you buy a domain.
You've Installed a WordPress Backup Option
You should always have a backup solution on your website. Backups are like an insurance policy for your site. If anything goes wrong, you'll always have a backup to restore things to the way they were.
There are many good WordPress backup plugins available, both free and paid. Plus, they usually take only a few minutes to set up.
Make sure the plugin you choose automatically schedules your backups to save to the cloud. Cloud storage services like Google Drive, Amazon S3, and Dropbox are popular options.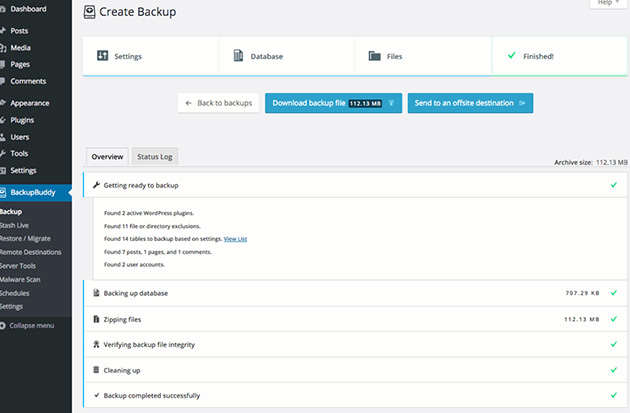 We recommend using BackupBuddy. It can store backups in more than one location, and it's easy to install.
Perform Keyword Research
If you have some blogging experience under your belt already, you've probably come across the term Search Engine Optimization (SEO). Put simply, this refers to the process of making sure that your site and its contents are more likely to appear earlier in search results on sites like Google.
Don't worry if this sounds fairly technical. SEO is actually a broad term that refers to several smaller tasks for creating more clear and engaging content, most of which are quite simple. In fact, many of the tips we'll cover in this checklist will be centered around SEO in some way.
The first thing you need to do is to know which keywords you want to use to optimize your content. In other words, what search terms do you want each post to show up as a result for? You can determine this by performing keyword research, which helps you find phrases that are relevant to your content, and see how many times users search for them every month.
It's actually a good idea to do this before you even start planning a new blog post. That way, you can tailor your content towards the keyword, rather than trying to make the keyword fit in afterward. By finding out what keywords your target audience is looking for, you can design content that drives them to your site.
To do this, you can use a tool like Google Analytics to see what keywords your audience is looking for when accessing your site. Log in to your Analytics account and open up the Search Console, where you'll see your queries.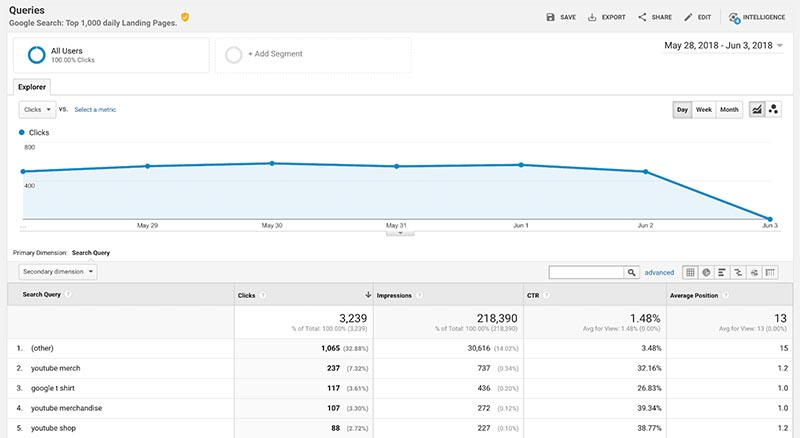 You can then use Google's Keyword Planner tool to search for related keywords.
For instance, let's say users find your site based on the keyword "sneakers reviews." You can plug this term into the tool. In turn, it will offer a list of related keywords you can use, along with data about how often they're searched for and how high the competition is for each one.

Once you've done that, you can create posts that are organically centered around the keywords your users are interested in.
Choose your web hosting service
After you've found a suitable domain name and made sure that the domain name is available, it's time to find a trusted hosting company.
Web hosting is a service that every new website owner needs if they plan on building a robust WordPress website. In short, web hosting companies allow you to rent a space on their large server, making it possible for internet searchers to quickly find your website. Web hosting companies ensure your website stays up, even during traffic surges, add a measure of security to your hosting experience, and provide round-the-clock customer service in case you run into problems.
When looking for a web hosting company, opt for a service that provides:
Affordable shared hosting
WordPress hosting options
Easy WordPress installation
Free domain registration for at least a year
Free site transfers
Unmetered bandwidth
Free SSL certificate
24/7 customer support
HostGator is the perfect place to host your new WordPress website, and getting started is as easy as picking a package, setting up your account, and installing WordPress with one click.
Your Security Plugins Are Set Up
With a backup solution in place, you should turn your attention to the security of your website. Adding strong security protocols provides even more protection against hackers.
There are plenty of plugins that can help you, along with some smart advice in this ultimate WordPress security guide.
Choose your WordPress theme
Now that you have installed WordPress and know how to login to your dashboard, it's time to pick and activate a theme you like.
WordPress offers several free themes that are gorgeous and easy to install and customize. If you would like to pay for a premium or third-party theme, you have that option as well.
How to choose a theme in WordPress:
Find "Appearance" on the left WordPress dashboard, hover your cursor over the word, and click on "Themes"
From here, you can activate one of the themes that is already listed in your account or you can add a new theme.
To add a new theme, click on "Add New," and you can browse or search themes
When you have one that you like, you can hover your cursor over the theme and press "Activate"
When you activate a particular theme, you'll notice the look of your website changes to match that theme
You'll also notice when you hover your cursor over the theme, you also have the option to press "Live Preview." If you select this button, WordPress will show you what your website would look like dressed up in this theme.
This live preview feature gives you an idea of all your many options and allows you to try on different themes before activating the one you end up choosing.
Best practices for choosing a theme:
Remember: there's no such thing as a "best" theme. Only the best for YOUR needs.
Make a "wishlist" of features you want on your site. Look for themes that have these features. Pay special attention to the widgets that come with that theme.
Review your competitors' sites. Do they have features you want on your site? If so, add those to your wishlist.
Choose a mobile responsive theme. That means the theme will automatically adjust to fit the browser or device size of the visitor. i.e. if someone visits your site using a tablet, the browser automatically resizes for the best display experience on a tablet.
Read this article for more ideas about how to choose a theme for your type of business.
Conclusion
This checklist is designed to make your life easier to help you create a successful blog. It is an easy to print, fill-in-the-blanks WordPress blog creation worksheet, that you can use as a reference at any time in your blogging journey.