Wireframes Tools Open Source
Wireframes are one of the building blocks of creating application interfaces. They help you create layout, design application components, and can help turn your idea into a clickable prototype. Over the years I have used many wireframe tools to create different layouts. This list will give you an extensive list of wireframing tools available open source.
Wireframing is a very important step in the process of designing a new website or application. Wireframes are required to figure out the overall layout of the site and structure, and what goes where. So, what tools can you use to create professional-looking wireframes for free? Read on to find out.
Whimsical
Whimsical allows creation through five formats: flowcharts, wireframes, mind maps, sticky notes, and docs. You can leverage community templates to create designs. The tool gives an option to use color themes to match your brand requirements.
Whimsical gives a pre-built design system to create wireframes. The design system prevents you from creating icons that can be easily found in the template. You can also use shortcuts for frequently used options.
The tool lets you focus on content and page layout without worrying about the high-fidelity design. That's why most of the icons are in grey and white. Only actionable items such as buttons and links are colored to display navigation.
Wirefy
Functional wireframes
Wirefy helps you build functional wireframes. Unlike the other tools here, you will need to download and install it from the GitHub repository. The philosophy behind Wirefy is to focus on content and speed up the development process. You will need to know basic HTML and CSS to create the wireframes. The advantage of this tool is that once you've settled on the wireframes, the journey to the final deliverable is much faster. Your base UI structure and content are ready for you to add the visual layer. Being an open-source project, it gets updated frequently.
Figma
All-in-one design tool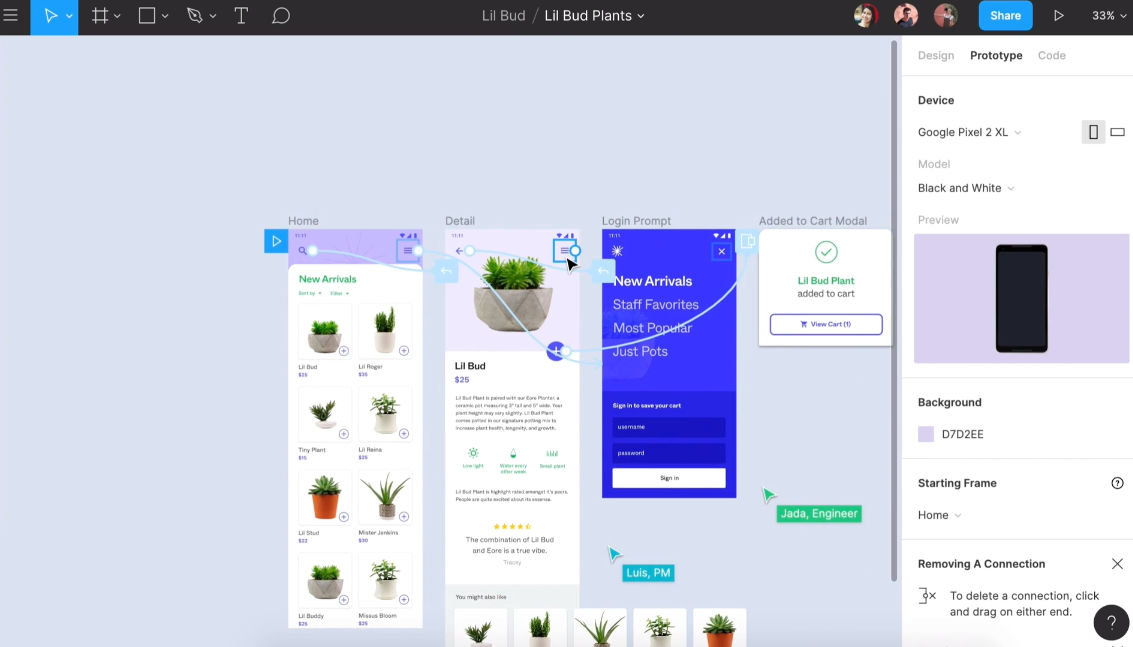 Figma is one of the most popular design tools in the market. The all-in-one platform allows you to create everything from clickable wireframes to high-fidelity prototypes and supports 30-day version history and unlimited cloud storage – all in the free plan. Figma has both browser-based and desktop applications. You can also mirror and preview your designs on mobile devices in real time. The limit for the free plan is 3 projects and 2 editors. The Professional plan starts at $12 per editor/month and allows you to create team libraries. To implement organization-level design systems and administer plugins, you will need the Organization plan, which starts at $45 per editor/month.
Miro
Collaborative whiteboard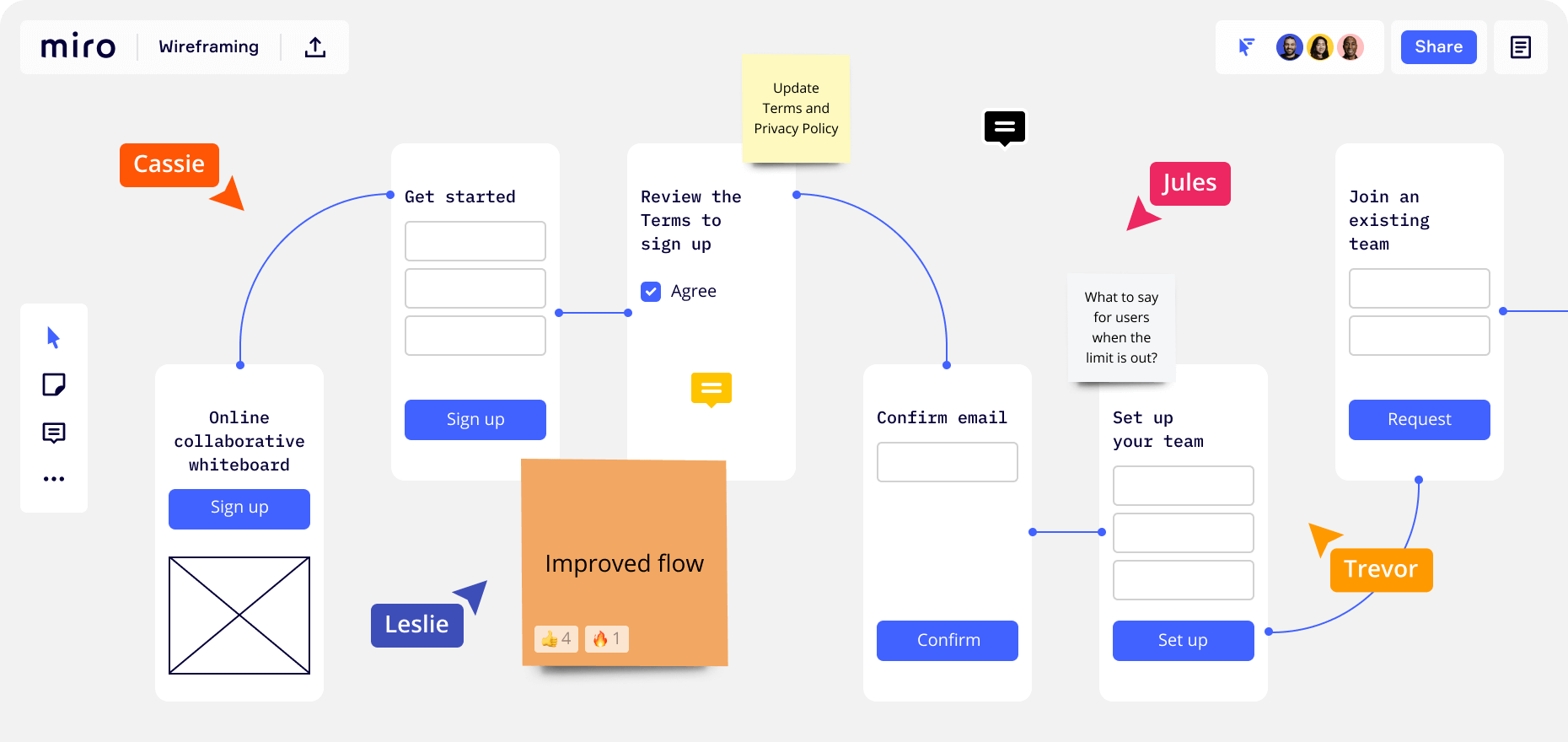 Formerly known as realtimeboard, Miro is a virtual whiteboard where teams can collaborate and design in real time. With realistic sticky notes, a built-in wireframe library as well as a mind-mapping tool, it is a supercharged whiteboard. It has several built-in templates, integrations (Slack, Dropbox, Creative Cloud, Trello and Zapier, among others) and allows unlimited users for up to 3 boards in its free version. To create more than 3 boards and get access to the Kanban framework, you can upgrade to the team plan starting at $8 per member/month.
Adobe XD
All-in-one design tool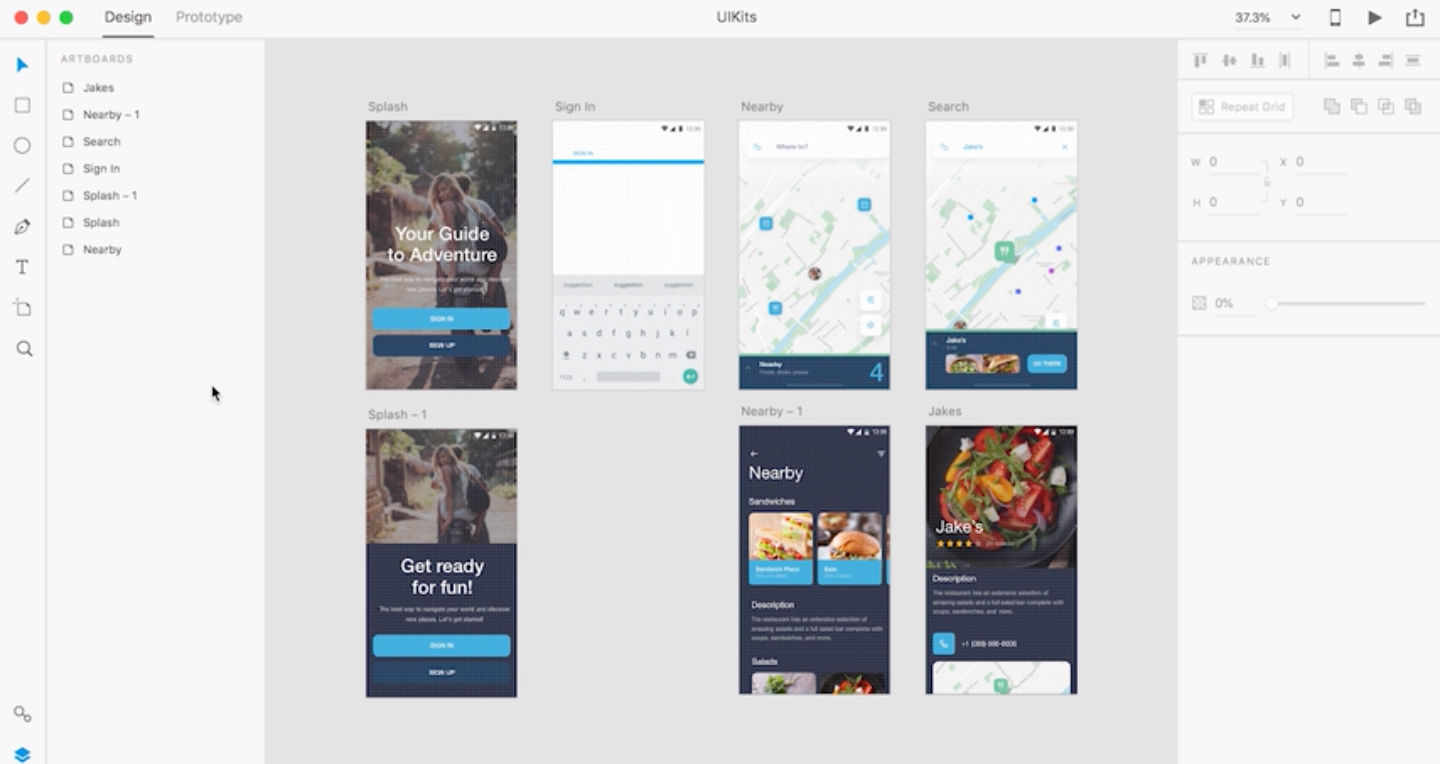 A late player in tools for UX design, Adobe's XD has caught up fast with the other tools in the market. You can design, prototype and share your designs from a single application. If you are already a part of Adobe's creative cloud ecosystem, you will find it easy to use XD in your design workflow. However, the free version of the application is available only for 7 days, after which you will need to purchase the upgrade.
InVision Studio
All-in-one design tool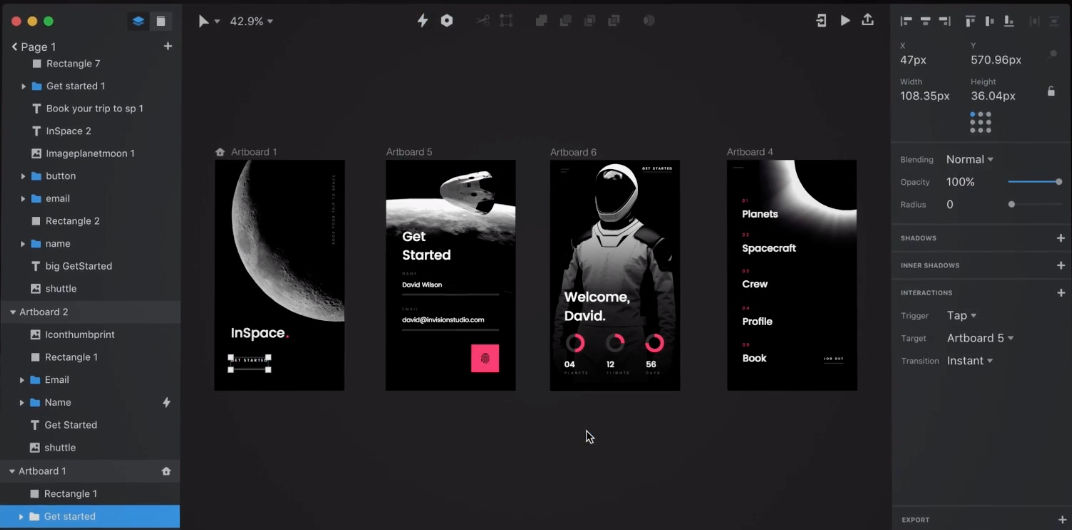 InVision Studio is a desktop application that you can use to create screens and animations. Originally known for its browser-based prototyping application, the desktop application Studio is not as popular as the other tools listed above, partly because it came after the other tools. With the free version, you can create 3 documents and include a generous 10 active users. The Pro account lets you create unlimited documents but still limits active users to 15.
Pencil project
Pencil Project is a free and open source GUI tool for creating wire frames and mock ups of web and mobile apps.
It has built in shapes collections – lines, arrows, triangles, polygon and connecting shapes for creating flowcharts easily. You can also download and use shapes created and distributed freely by their community of users.
Export mockup to png, svg, html, pdf or open office formats.
wireframe cc
Wireframe CC is another open source prototyping tool. It is very basic with simple drag and drop shapes – line, slider, drop down, input, box, rectangle, circle, scrollbar and image holder. Good enough to draw out simple web or mobile layouts that do not require complex features.
wireframer
Wireframer is a self hosted Javascript (Vue.js) Application. It has simple blocks for creating simple mockups. Not very easy to use – i did not find an option to delete an unwanted element once added to the canvas. Also creating a horizontal menu was tedious with each item dragged as a label and then edited. Also being self hosted means you need to know how to install it on your own server. Unless you just want to tweak around and check things out as a developer, probably not good for UI designers.
Conclusion
Wireframing is a very important step in the process of designing a new website or application. Wireframes are required to figure out the overall layout of the site and structure, and what goes where. Since wire-framing is an essential part of any user interface design workflow, there are many wireframes tools available for web designers. Some are open-source, while others are commercial projects.
When it comes to designing, there are blueprints that must be followed. These are the wireframes. They are simply prototypes of the actual website. That's where wireframe tools come into play. These are applications that help developers create wireframes for their websites. These software programs are used by developers to create the blueprint to the design of their site before they start developing it.