Types of Open Source Software
Open source software is legitimately free to use and distribute, with the source code made publicly available. There are different types of open source software based on whether the original product is free (libre), or the license is certified by the Open Source Initiative.
Open source software is a class of software that includes many popular applications like the Firefox web browser, the GIMP graphics editor, and the OpenOffice.org office suite. Anyone can look at the code because it is freely available to modify and redistribute. This means that open source software can be adapted and extended by anyone interested in doing so, including independent programmers and startups.
LibreOffice
LibreOffice is a complete office suite that offers presentations, documents, spreadsheets and databases.
Unlike Microsoft Office, which is not accessible for everyone due to its pricing model, LibreOffice is totally free.
To support it, its users can make donations when they download. So, it has a huge community of contributors.
It is available for Mac, Linux and Windows and it also has a live chat and a forum where you can turn to when searching for help.
Apache OFBiz is a fully customizable, scalable business software suite. The package comes with out-of-the-box modules for accounting, warehousing and inventory management, as well as manufacturing and manufacturing resource planning (MRP). eCommerce companies can also use it to fulfill their needs, such as order management and CRM. Apache OFBiz is written in Java and distributed under an Apache 2.0 license. It's free and open source.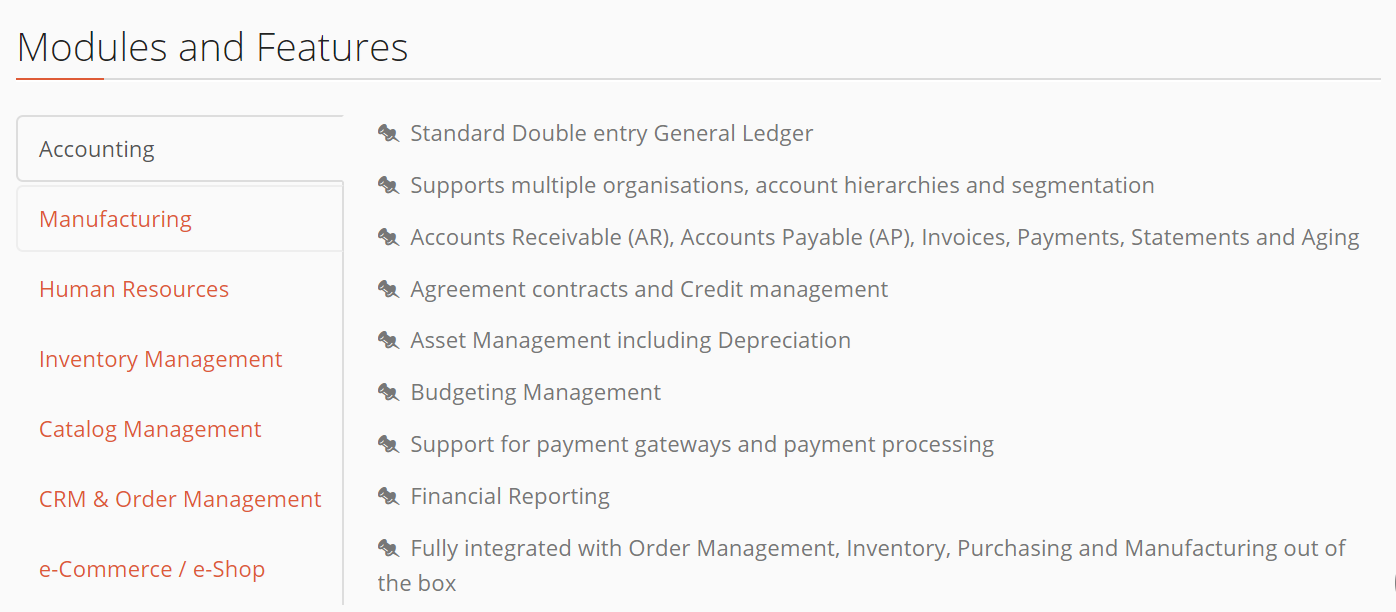 VLC Media Player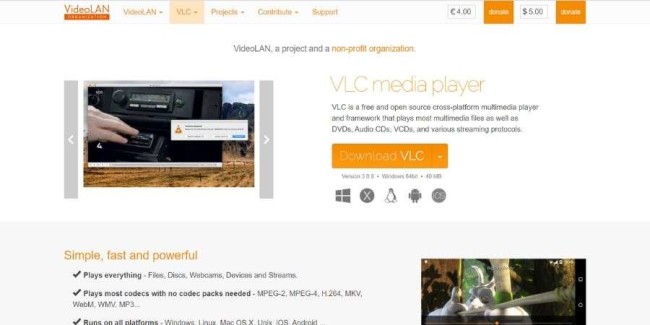 VLC Media Player is one of the most popular open source software examples that you can use for free.
This multimedia player is used for video, media and audio files and it plays discs, webcams, streams and devices. Most of the users use it for streaming podcasts as well.
It allows you to optimize your audio and video files for a particular hardware configuration and also offers a plethora of extensions and skins which allows you to create customized designs.
What's more, it runs on different platforms such as Android, Mac OS X, Linux, Windows, iOS and more.
Enterprise resource planning (ERP) tools
ERP are comprehensive systems including numerous modules to enable information management across all of an organization's departments.
ERPNext is an open source and "infinitely extensible" product with HR management, collaboration tools, enterprise asset management, project management, and CRM functionality. The solution is built for small and medium businesses and, particularly, for non-techies. It's billable for more than five users when hosted online and completely free if installed on-premises.
MixERP is an open source system built on the ASP.net framework. It helps businesses manage inventory, sales, as well as the work of the HR and accounting departments. While download and use are free, the provider charges for support ($49 per issue). According to Capterra's review, the solution lacks payroll and manufacturing management options. That's why larger businesses will require one of the cloud or on-premises paid versions.
Python
Python is common programming and scripting language used by custom software developers.
According to IEEE, it was the most popular language in 2019. In recent years, it attracts plenty of new users because of its fast-growing field of machine learning.
It is also easy to use which is why most of the developers also choose this open source software.
Customer relationship management (CRM) systems
SuiteCRM is based on the SugarCRM Community Edition. The latter used to be a leader in that type of open source products. The solution is designed for businesses of various types, sizes, and industries. With SuiteCRM, users can generate invoices and quotes, maintain leads and contracts, make reports, as well as manage documents and notes. The solution even lets customers log in to track their own cases.
CiviCRM is a web-based solution with a focus on non-profit organizations. The solution features include case and contact management, contributions, communications, events, members, advocacy campaigns, peer-to-peer fundraisers, and reporting. CiviCRM is available under GNU Affero General Public License version 3.
EspoCRM is a web-based software that works best for small- and medium-sized organizations. Standard features like sales automation, email management (individual and mass mailings), or event and task planning can be expanded with purchasable extension packs. Some of the extra functions are VoIP integration and synchronization with Google Calendar and MailChimp. The vendor distributes the CRM under the GPLv3 license.
PHP
When talking about the best open source software examples of 2021, we shouldn't miss PHP.
It is a software development language used for creating websites and other digital platforms.
It is fast and flexible and powers some of the most popular websites around the globe including Slack and Spotify.
Content management systems (CMSs)
Content management software allows users to create, manage, edit, and publish digital content.
WordPress is a one the most popular open source CMSs for building dynamic blogs, websites, and apps based on the PHP scripting language and MySQL database system. It can be extended with more than 45,000 plugins.
Django is a platform for publishing content on the Internet and Intranet (private network for organizations). Written in Django and Python, the platform suits users with different backgrounds and skills: marketers, developers, and business leaders.
Joomla! is a free, open source CMS with the support for MySQL, MySQLi, or PostgreSQL databases. The platform gives users more control over the ways they can show web content and has thousands of templates and extensions. Specialists also note Joomla! is a good choice for developing eCommerce websites.

Joomla! in brief
Drupal is a highly scalable, free, open source CMS used by more than a million sites worldwide. Its content management features include mobile editing, editorial workflow, granular tagging, and in-place content creation.
Shotcut
Shotcut is a video editor that offers powerful features including audio and webcam capture, color, text, noise, and counter generators, support of popular image formats, EDL export and much more.
It is a great tool to edit your audio and video files with and it is available for Windows, macOS and Linux.
On its website, you can also find great resources and tutorials on how to use this free open source software.
Conclusion
There are several types of Open Source software. Each type serves a different purpose, and you can choose the right one to best serve your needs.