Top Open Source Projects For Business
Open source business software keeps your costs down and stays on top of your online business with a fair budget. In addition, they are generally more transparent and more secure than proprietary alternatives.
What is open source software?
Open source software is non-proprietary software available to users with its source code. So you can change or enhance it according to your unique needs. Open source code originated in 1983 with the belief that programmers should have access to the software to modify it to understand, learn, and improve it. Therefore, the first open source license was called the GNU Public License. Today, open source software (OSS) includes a digital license of its original rights to limit and control the scope of software distribution.
Benefits of open source software to small businesses
Affordable price
According to TechRepublic, more than 30% of a retailer's IT budget is spent on software licensing, but they often waste 50% on redundant or unnecessary software. In addition, time-consuming software development delays are a factor in wasted $85 billion. Meanwhile, open source small business software is affordable or even free.
Better technology control
You can easily change the parts for any purpose, even in a way that the competitors haven't thought of yet. Open source software helps retailers get the right software solution for maximum productivity, cost-effectiveness, business consistency, and reach their full potential.
Reliable security
Contrary to security concerns, open source software is extremely safe. It's continuously tested and modified by thousands of developers. Programmers can work on open source software without asking permission from the original author and repair, update, and upgrade open source software faster than proprietary software.
Top 20 open source business software
eCommerce
If you're looking to expand your retail store online, you'll need an eCommerce software package for online product display, shopping cart, payment processing, checkout, order fulfillment, sales, customers, and inventory management. Here are the 5 best open source business software for eCommerce in 2022:
OpenCart is designed for small and medium-sized retailers to manage orders, provide multiple payment gateways, and manage multiple stores from one platform. In addition, it allows customers to leave product reviews and ratings. Most importantly, OpenCart offers free lifetime community support through an international network of partners. In addition to the native features, OpenCart offers extensions that meet the unique needs of each website.
POS Open by Magestore is the best open source software specially built for small businesses with one warehouse. It's packed full of features to serve your store operations, connecting online to offline, order management, and omnichannel inventory. However, you may have more than one warehouse and want an offshore dedicated development team to launch your online store in the shortest time. In that case, you can consider upgrading to the Magento POS Commerce — a paid version for growing business and unlimited access to advanced features.
PrestaShop has native features for product management, payments, orders, shipping, and manufacturer management. In addition, PrestaShop offers many add-on modules to add new features and customize your store. PrestaShop is an easy-to-use platform. It offers translation, product display, localization, marketing, tax services, and export products to eBay. However, you'll need to pay a service fee for support and training.
WooCommerce is the most used WordPress eCommerce plugin with over 3 million active installs. In addition, you'll benefit from the many plugins available from WooThemes and third-party vendor extensions on the marketplace.
Zen Cart is an eCommerce platform forked from osCommerce. It's geared towards advanced users and developers. Outstanding features of Zen Cart include gift certificates, coupons, and multiple payment options.
Office suites
Most people only use a fraction of the available features of Microsoft Office. So using an open source alternative would make good financial sense. In addition, they're compatible with Microsoft Office file formats such as .xls and .doc.
Calligra Suite is a graphic art platform and open source office suite from KDE. It can run on many devices such as smartphones, tablet computers, and desktop PCs. In addition, Calligra is compatible with many small business operating systems such as Linux, macOS, Windows, and FreeBSD.
LibreOffice was forked from OpenOffice in 2010. It supports the Open Document file type and popular office file types like Microsoft Office by default. You can use it on Linux, macOS, and Windows.
NeoOffice is another fork of OpenOffice based on Java. This application is specific to macOS, and you can run OpenOffice natively on Mac OS X. In addition, it can securely edit documents in your Dropbox or iCloud Drive.
OpenOffice is one of the first and best comprehensive open source office suites to replace Microsoft small business software. It was rebranded in 2012 and is compatible with Linux, macOS, and Windows.
ERP
Enterprise resource planning (ERP) software can be costly and very complex. Here are three open source ERP software systems that can replace Microsoft small business software, or even Microsoft Dynamics and SAP.
ADempiere is a popular and comprehensive open source ERP package compatible with Linux, macOS, Windows, and Unix. It provides production management, materials management, project management, accounting, finance, human resources, and maintenance management features.
Odoo is a full suite of applications, including production resource management, purchasing management, sales management, recruitment, accounting, and finance. Odoo's free version helps you track sales easily, providing detailed invoices and reports. In addition, the paid version costs $25—30 per user per month with additional benefits such as unlimited support, bug fixes, and automatic updates. Odoo is compatible with both Windows and Linux.
OFBiz is an open source Java-based ERP package from the Apache Foundation. It includes accounting, manufacturing resource management, supply chain management, CRM, and small business asset management functions.
CRM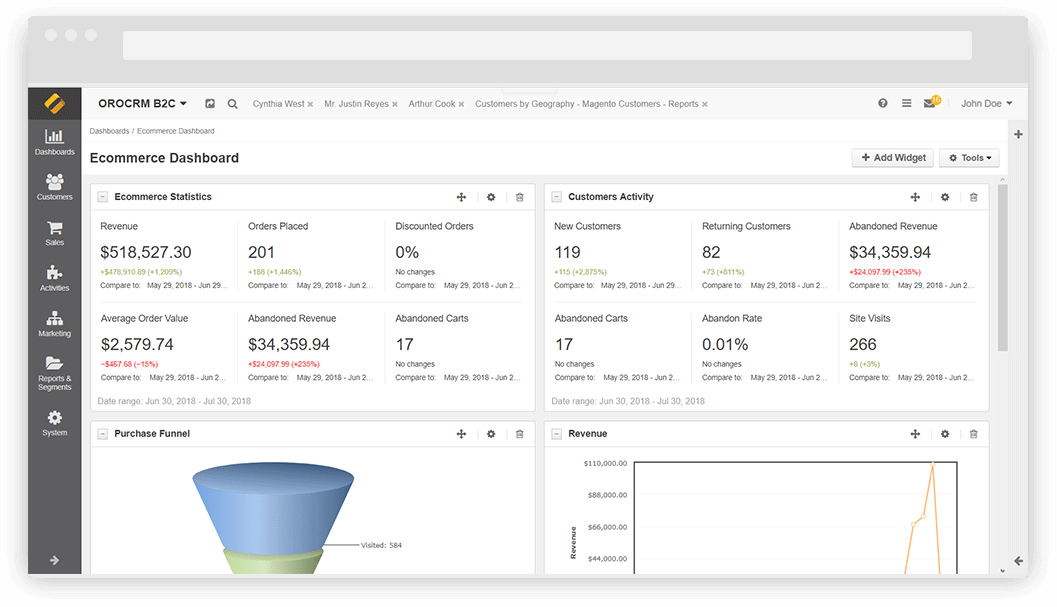 If you want to manage customer information but can't invest an enormous budget in service providers like Salesforce or Oracle, here are three open source CRM software options to replace:
This free small business management software includes automating customer support, sales, and marketing campaigns. You can use SugarCRM on Linux, macOS, Windows, and UNIX.
openCRX is suitable for retailers that need cross-functional coordination of sales creation, fulfillment, and marketing activities. In addition, it manages services for customers, partners, suppliers, and intermediaries. openCRX is compatible with Linux, Windows, and macOS of small business operating systems.
Fat Free CRM is a CRM platform written on Ruby on Rails. It features lead and campaign management, opportunity tracking, team collaboration, and contact lists.
It's an alternative to SugarCRM with many features similar to the paid version of SugarCRM. What's more, it offers Joomla integration.
OroCRM is open source CRM software with an intuitive and easy-to-use interface. It provides marketing tools for omnichannel businesses and prioritizes personalized customer experiences.
Email management
If you need to reach customers or subscribers, you'll probably need one of the following open source software to manage your email list:
phpList can migrate to your own Virtual Private Server (VPS) as your list grows to scale with your retailer. In addition, it offers extensible amenities like MailChimp or AWeber exclusive options.
If you need to manage several email accounts of different providers in one place, eM Client is for you. In addition, it allows running a standalone email client instead of a browser-based solution.
Thunderbird is an email manager from Mozilla. It allows managing multiple accounts with typical applications such as autoresponders, signatures, and import of address books from text file exports or other email clients.
Conclusion
Is it possible to run a business entirely on free open source software? Indeed, with the best open source business software in this article. Open source software can provide free options for small businesses that don't budget for large enterprise applications. Even if you want to stick with closed source software, your retailer can still take advantage of the many compelling benefits of open source small business software: it's available free to download and set up without effort.