BlogLoving is a search engine for WordPress themes, an awesome place for finding new and updated premium WordPress themes and plugins. We provide carefully chosen high quality hand picked selection of themes and plugins for bloggers, photographers, social media marketers, agencies, business and more.
Free WordPress blogs are full of rich features. Whether you run a personal blog or a business website, technology and innovation have brought out the best free blogging themes for WordPress platform.
Astra is a fully customizable and free WordPress blog theme. It includes starter sites that are suitable for personal blogs, portfolios, business blogs, and even eCommerce websites. It's responsive and works perfectly with all the best page builders out there.
It comes with built-in support for WooCommerce to easily add an online store to your blog if needed. It's also translation-ready and can be used to make blogs in any language.
Astra is a lightweight theme with tons of colors options. It has all Google fonts built-in. You can find the theme options, such as logo upload, in the WordPress live customizer.
The Cenote WordPress theme packs quite a few features into a lightweight, free theme with a clean and modern layout.
The good thing about Cenote is that it uses plenty of white space and standard colors. The theme provides a one-click installation button, along with primary color options for matching your branding and logo. The four widget areas can be placed in the header or footer, as well as the sidebars. What's more, the Cenote theme has an area to adjust custom CSS. The demo content is great for getting started with your design, but more advanced coders will appreciate the custom CSS.
Boxed and wide layouts ensure that your site either covers the entire screen or cuts off at the sides. The sticky menu is great so that your visitors always have the menu in front of their eyes. Another item to get excited about is the social icon pack. Reveal icons from Facebook, Pinterest, Instagram, and more, using the buttons to send people to your social pages.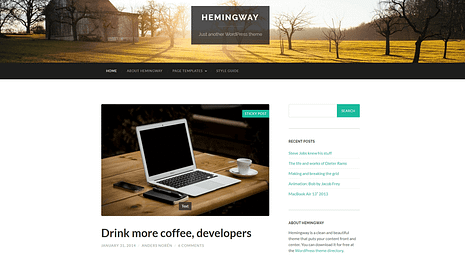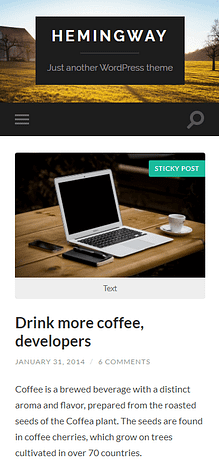 Hemingway features a two-column design that's well-suited for blog sites. It is clean, with a simple layout that draws attention to your content over everything else. Some of its key features include:
A clean two-column design.
A full-width header image with a parallax scrolling effect.
Plenty of customization for all but the most complex requirements.
This theme is perfect for many types of blogging sites, simply because it's clean enough for simple blogs, but also extensible for more complex sites. Unlike many of the themes on this list, Hemingway does not have a premium version. This makes it a good choice for bloggers on a budget.
Hestia is a highly flexible and responsive theme for all types of websites. It comes with an easy setup wizard and a companion plugin which adds testimonials and services sections to your website.
It can be used with popular page builder plugins and is ready for WooCommerce out of the box. The homepage can be easily set up using the live theme customizer. You can just add sections and rearrange them with drag and drop.
The GuCherry Blog theme is a beautiful and minimal theme for fashion, travel, and lifestyle bloggers.
It features an attention-grabbing slider at the top and has plenty of widgets that make it easy to add content to your sidebar as well as other widgetized areas on your site. This theme also comes with plenty of space for ad display so you can easily monetize your blog with ad networks such as Google AdSense. GuCherry Blog theme supports multiple post formats so you can make your posts more engaging by sharing videos, audio, and written content.
In terms of customization, the theme is easy to customize and allows you to upload your own header image or logo, change colors, and customize fonts. The GuCherry blog also comes with a custom social media widget and built-in related posts display so you can keep visitors on your site longer.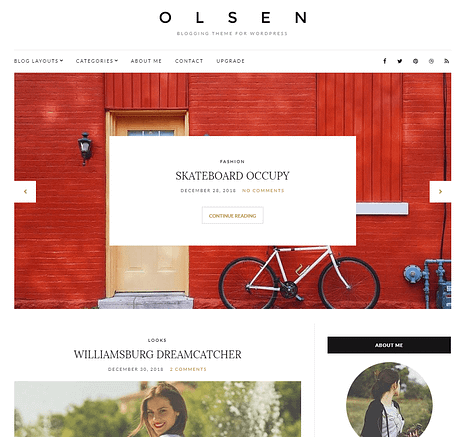 If you're looking to create a lifestyle blog (for niches such as fashion or travel,) Olsen Light is a great choice. As well as its plethora of customization options, it also integrates with a number of bundled custom widgets to help give you almost everything you need to create your site. Here are some of its features:
The theme is highly customizable and easy to use.
It's compatible with most popular page builders.
A default design that will offer a 'high-end sheen' to your blog.
Olsen Light is a great way to create a website that's well-designed and sophisticated. We've already mentioned lifestyle blogs, but it's also a great choice for professional blogs, such as those featuring product or restaurant reviews.
Regardless, for regular updates and premium support, you'll want the premium version, which costs $49. Given the functionality under the hood, this is a very reasonable price for a theme such as Olsen Light.
Bento is a powerful multipurpose WordPress blog theme with tons of features. It works really well with most page builder plugins and it's suitable for use as a business theme.
For a free WordPress theme, Bento comes packed with great customization options. All of them can be accessed using the WordPress theme customizer. You won't need to know any CSS code to get your site looking just the way you want.
Another great option to use for your blog is the Masonic WordPress theme. This theme is an ideal choice for any type of blog you'd like to start but especially those that will require a lot of images.
It uses a masonry layout (hence the name) that offers an attractive way to present your latest posts using a card style. This would be fantastic for a recipe blog or some such, where you'd like to showcase a featured image and a quick blurb on your homepage.
You can customize the look of this theme fairly easily as well. Adjust things like the primary color, link color, fonts, and widgets using the standard customizer that comes with WordPress. You can also add in custom CSS and it has built-in support for the Breadcrumb NavXT plugin.
This isn't the most feature-rich blogging theme in the world but it'll definitely get the job done for beginning bloggers that want images to feature prominently on their sites.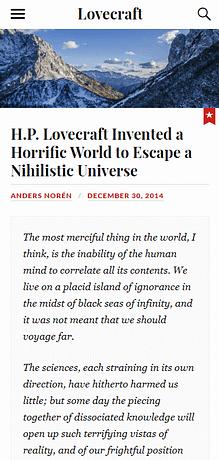 Lovecraft is another theme with a two-column design. Given the literary name, you'll understand that it's created specifically for bloggers. However, it also features a full-width header image. Let's take a look at some of its features:
There's a two-column theme designed specifically for bloggers.
You'll get a full-width header on the home page.
There are custom accents, logos, and styles to help enhance your site's visuals.
This theme will have your blog up and running in no time. Its minimalist aesthetic is appealing for incorporating long posts and beautiful images. Given its simplicity, you'd expect a premium version to be available. However, Lovecraft includes its entire feature set out of the box.
Go is a blog theme with a minimalist approach to design. It's a simple WordPress blog theme with a welcome message and call-to-action buttons in the header.
Go is designed to improve readability and offer a great user experience. It uses clean typography and handles featured images really well. Also, you can easily add a contact form using any popular contact form plugin.
The Hueman theme is one of the most popular WordPress themes for bloggers and with good reason.
It has a modern design, it's easy to use, and loads fast. On top of that, it has plenty of customization features to make the theme your own. The theme features two sidebars but you can easily change that and opt for one sidebar or a no sidebar layout. This theme is perfect for any blogger or website that publishes a lot of content regularly.
You can customize every aspect of your site and change colors and fonts, upload your own logo, change images, and more. The theme also integrates with the Nimble page builder which allows you to create custom sections for your website pages without any coding knowledge. Plus, you can choose from several blog layouts that are available.
Blocksy is a fast, lightweight, and richly featured free WordPress theme designed to be fully compatible with the WordPress block editor. It has multiple page types and can be used to create all sorts of websites, including eCommerce sites, restaurant sites, blogs, portfolios, and more.
It works perfectly with popular page builder plugins like Elementor and also has full WooCommerce integration. There's a built-in lazy loading system to keep your site as fast as possible. Even better, Blocksy will look great on all devices and is retina ready too.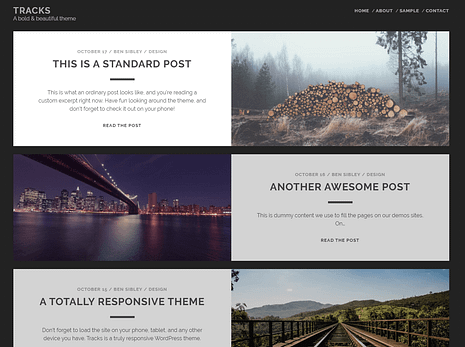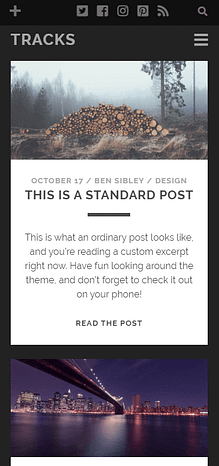 Tracks features a dark and minimalist design, and has a unique default look when compared to other free WordPress blog themes. Its stark layout is designed for photography, blogging, and magazine sites. Here are some of its features:
A minimalist design great for text-focused blogs.
Image-based content also pops, which will suit creatives.
The theme is compatible with WooCommerce.
Overall, Tracks works well for image-heavy blogs that prefer a darker color palette. Black-and-white and color imagery will definitely stand out here. As for pricing, Tracks is free, although there are a number of premium upgrades available to enhance your customization options – many go for $49 each, although the price may vary.
Conclusion
The web has a ton of free WordPress themes, but finding the perfect one for your blog or website can be daunting. We take a look at some of the best free WordPress themes available today and break them down into their strengths and weaknesses.