Booknetic online appointment booking plugin which is supporting Woocommerce, Paypal, Stripe, SMS/Email notifications, reminders, manageable calendar, customizable templates, form-builder, multiple category levels, and many other features.
Booknetic is an appointment booking system for WordPress sites. With Booknetic Tools, you will 100% automate your business. Booknetic will save you from redundant resources, time-wasting, and other risks, your customer base will be collected and your business will be open 7/24 to your customers.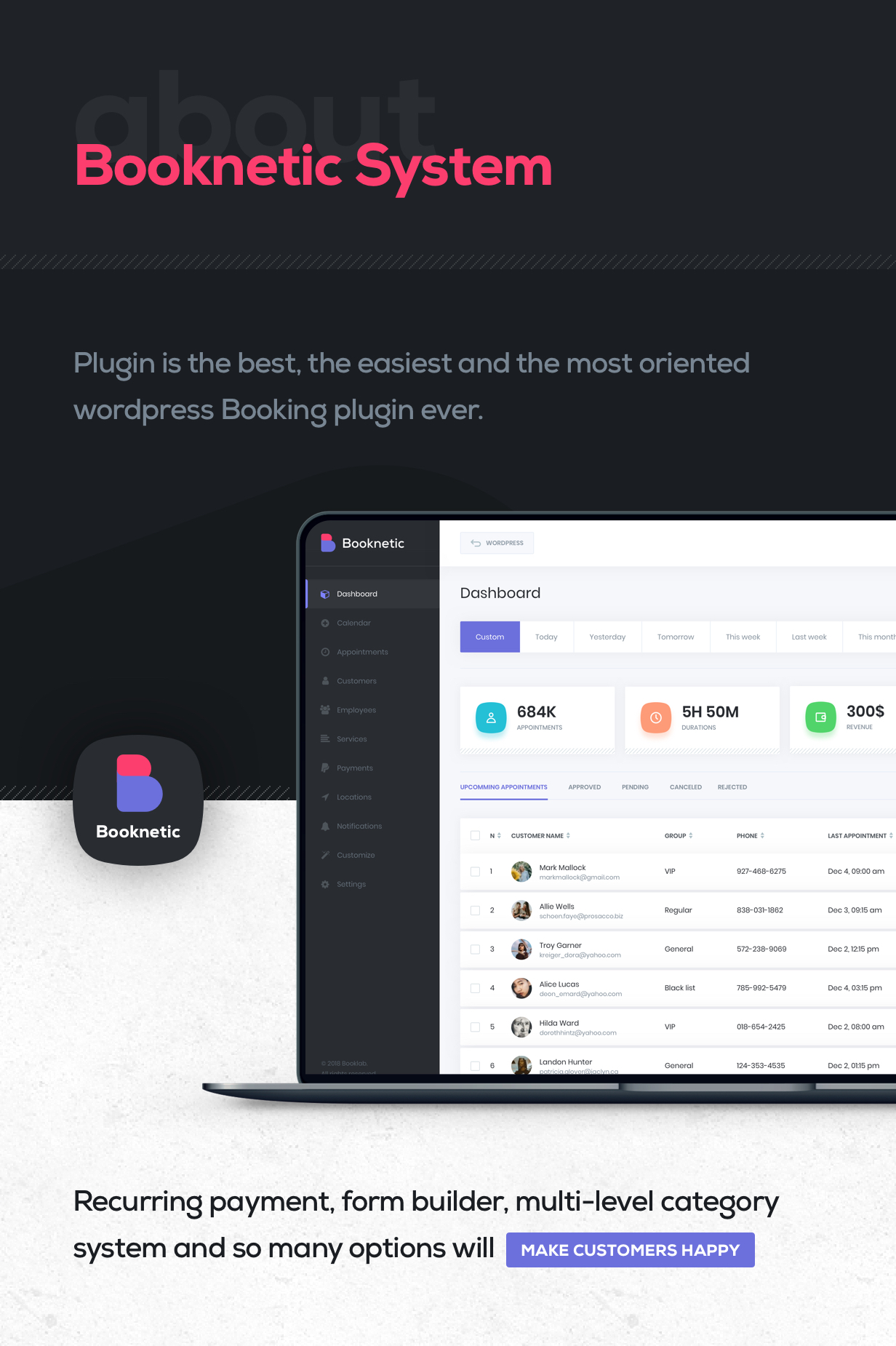 Booknetic nulled is easy to install and use, has a modern UI / UX interface, and is ideal for booking any kind of appointment. With customizable templates, form-builder, multiple category level, and other settings, you can fully customize your booking system to your business.
Booknetic WordPress Plugin Features
Integration with Zoom
Reorder the steps according to your needs
Google calendar sync
WooCommerce payment method
SMS notifications
Email notifications
Reminders
Paypal, stripe, On-site payments
Deposit payments
Form builder
Visual translator module
Customizable design
Responsive design
Recurring appointments
Multiple templates
Insightful dashboard
Group appointment
Multi-level categories
Manageable calendar
Service extras
Multiple locations
Breaks, days-off, invoices
Multiple locations:
With the Booknetic plugin, you can benefit from 3 different payment systems.
The Booknetic plugin is multi-locations supported. If your company is located at the same time in several locations, you can combine your points on a system by adding each other separately. You can accept separate bookings for each location, you can add staffs for locations and by comparing your locations you can create rating schedule for creating competition between.

Managable calendar:
With an up-to-date interface and informative calendar, you can see your employees' employment schedule. Whether you choose a monthly schedule or choose a weekly schedule, you can look at the daily schedule. You can also view appointments in the list view through the List view if you want. You can filter appointments based on location, services and stuff.

Multi-level categories:
In the Booknetic plugin, you can create your own services with multi-level service categories. With the perfect structured view, you can easily categorize your business services. Service Module has been created by using the latest design and technology for your convenience.

Customizable design:
With the Booknetic plugin, you can design your front-end booking panel to suit your business colors in any way you like. There are 7 styles available: Default, Brown, Red, Green, Blue, Purple, Pink. You can choose one of the styles you want, or you can create a new template from your own.

Form-builder:
With the Booknetic plugin tool, you can customize your custom fields to your business by using the multi-function Form Builder with your Front-end booking pane. You can look at different forms at the same time and select each form for different services..

Easy to translate:
You will be able to translate or change any words in the Booking panel easily. Head over to the Settings > Booking panel > Label menu and enjoy the ease of the visual translating module!

SMS and Email notifications:
You can keep your customers and staff informed with SMS and Email notifications. You will be able to send notifications when new appointments are created, rescheduled, canceled, or the status of the appointment are changed. Booknetic supports 2 mail gateway; SMTP and WP mail gateways. You will be able to use Twilio service for sending SMS notifications.

Woocommerce:
You will be able to use a variety of payment gateways and WooCommerce opportunities by integrating WooCommerce.

Service extras:
With the Booknetic system, You can connect sub-services – extra services for your services too.

Recurring appointments:
With the Booknetic system, you can keep the booking of your repetitive services in a convenient and superb interface. With the wide-ranging, flexible configurations, you can integrate every type of recurring service of your business into your system.
Export & Import data:
You can easily migrate entire your booking system to another website with Booknetic. The Booknetic system has the built-in Export & Import feature in the Settings section. You can export your entire Booknetic data, configurations, etc., and then import the backup file into the new website. It will help you to build your website in the local machine and migrate the data to the production or migrate your booking system from one domain to another.
Download Booknetic Nulled WordPress Plugin
Get access to the Booknetic online appointment booking plugin using the links presented below:
Note: If you are having trouble with Booknetic WordPress Plugin Nulled Free Download, try to disable AdBlock for the site or try another Web Browser. Disabling AD blocker or change Web Browser not help to you please contact us.