Open Source Software for Business
Open Source Software is the most cost-effective way to bring software tools into your organization and have it go mainstream.
One thing businesses usually have are computers. And many times, they have a lot of computers. In fact, that's often how the company started – one computer in a garage or a basement somewhere. And now that company is big. It's got warehouses, factories and offices all over the place. So how does it get all the communications and other applications across to all those computers? That's where open source software comes in.
Mozilla Firefox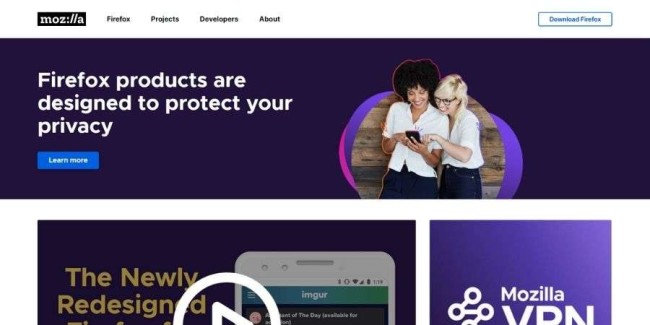 Mozilla Firefox is a customizable internet browser and free open source software. It offers thousands of plugins that are accessible with a single click of your mouse.
The platform holds 3.98% of the worldwide browser market share and it is available for Android, iOS, Windows and Linux.
According to CNET, Mozilla reshaped the technology industry and fanned the flames of open source software that changed the way social networks and operating systems function.
LibreOffice
LibreOffice is a complete office suite that offers presentations, documents, spreadsheets and databases.
Unlike Microsoft Office, which is not accessible for everyone due to its pricing model, LibreOffice is totally free.
To support it, its users can make donations when they download. So, it has a huge community of contributors.
It is available for Mac, Linux and Windows and it also has a live chat and a forum where you can turn to when searching for help.
GIMP
Another of the best open software source examples that is worth mentioning is the photo editing tool GIMP.
It offers similar features like some of the expensive tools on the market including various filters and effects, and yet it is free.
GIMP is available across different platforms including Windows and Linux and it has different 3d party plugins and customization options.
Plenty of illustrators, graphic designers and photographers use it to improve their pictures and enhance their work.
Odoo
This is an integrated open source business software that includes modules for project management, billing, accounting, manufacturing, inventory management, purchasing and billing. All of these modules communicate with one another seamlessly to ensure easy information exchange.
Pros:
It makes ERP simple
The interface looks much like Google Drive which means anyone can use it
It is a web- based tool which makes it accessible on any device
Cons:
The download version needs to be installed via source code which can be a little bit intimidating
ERPNext
This program was featured on Opensource.com as one of the best open source business software of the year. It is built specifically for small and mid-sized companies and comes with multiple modules that include accounting, managing inventory, purchase sales and project management.
Pros:
It comes with numerous modules in one
All the available modules integrate very well together
The whole suite is very easy to use
Cons:
Some modules are only available when you buy a subscription
Dolibarr
This is an open source business software that is tailored to help small and mid-sized business keep track of invoices, contacts, invoice orders and payments. It comes with a very easy to use and clean user interface.
Pros:
It is use and comes with a lot of great modules that work very well together
It has an online demo to help you test-drive before installation
Cons:
There are some modules that will only work with purchased add-ons
Apache OFBiz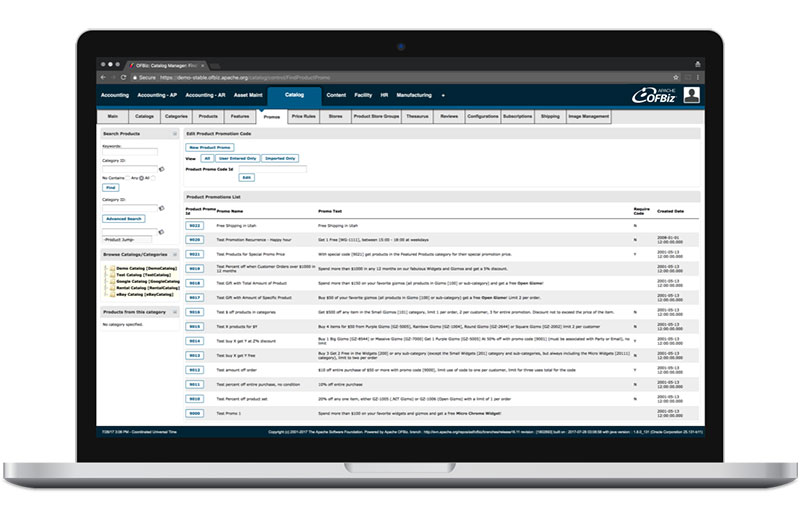 OFBiz is a Java-based multi-platform business package. It was developed by Apache Foundation. Its functionalities include accounting, CRM, enterprise, supply chain, and resource management.
The extensive online documentation and YouTube channel help the users get the best out of the software. Hence, it is a good choice for organizations with a small budget, or those that have customizability high on their priority list. It is compatible with any operating system that runs Java SDK, including Windows, Linux, OS X, and Unix.
iDempiere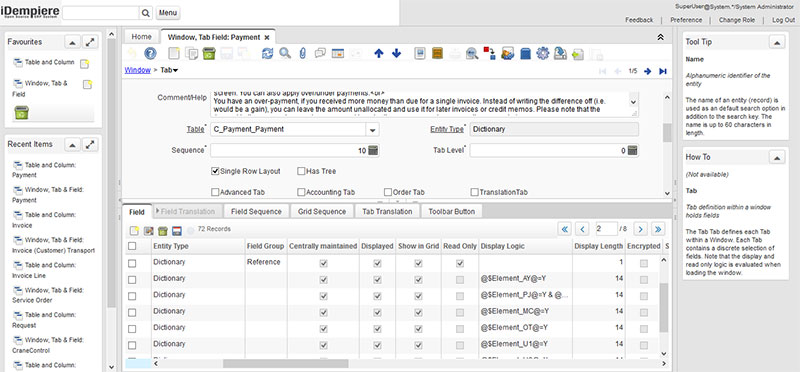 iDempiere is a community-run project that finds its roots in ADempiere and Compiere. It contains CRM, ERP, and supply chain management solutions. It is a continuation of the iDempiere code but now includes the OSGi standards. It can handle multiple languages, currencies, accounting formats, organizations, so it's a good option for international organizations with different sites.
The features offered include accounting, materials management, marketing, procurement, and sales. It is also Java-based but additionally requires PostgreSQL or Oracle databases. It is therefore compatible with Windows, OS X, and Linux.
OpenCart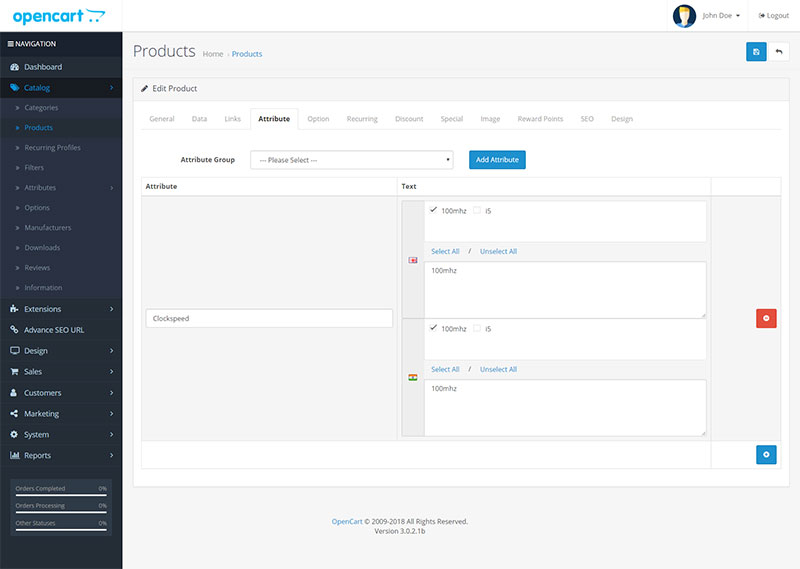 OpenCart is a free and open-source shopping cart that is easy to set up. It is most suited for small and medium-sized shops. It manages orders and supports different payment options, either in-app or through extensions. It also allows customers to write product reviews and ratings. Support is provided through the OpenCart community.
OpenCart can manage various shop locations. It allows administrators to set rigorous user permissions for users and user groups.
VLC Media Player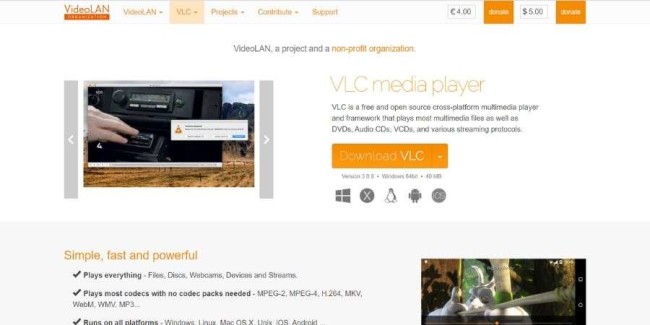 VLC Media Player is one of the most popular open source software examples that you can use for free.
This multimedia player is used for video, media and audio files and it plays discs, webcams, streams and devices. Most of the users use it for streaming podcasts as well.
It allows you to optimize your audio and video files for a particular hardware configuration and also offers a plethora of extensions and skins which allows you to create customized designs.
What's more, it runs on different platforms such as Android, Mac OS X, Linux, Windows, iOS and more.
CUBRID
This is an open source business software that is optimized for use on web applications. It offers a number of different features, each designed to help with data organization on your business. It is particularly useful when you have to keep track of large amounts of data and it is very easy to use.
Pros:
It comes with multiple granularity locking
An online backup ensures the safety of your data
It has GUI tools for drivers for developmental languages
Comes with 24/7 support
Cons:
It doesn't work with Apple systems
It also doesn't have a script debugger
Conclusion
Business professionals throughout the world use Open Source Software , particularly Linux and the Apache server, to run mission-critical applications. Now with WebLogic Application Server 10g for Open Source, Oracle, a leader in developing and delivering commercial software for the enterprise, provides application server technology specifically designed for open source platforms that delivers leading Java EE features such as J2EE 1.4 compliance, scalable performance and a uniform programming model to member companies of the Open Source Business Foundation (OSBF).