Open Source Free CRM Software for Small Business
Our open source Free CRM software will make managing your small business easier. Keep track of leads, contacts and customers, along with their billing, sales and marketing information all in one location. All of which you control the look, feel and functionality of through our simple web interface.
Yes, we are talking about free open-source software. Small Business Free CRM has started during the recent period of recession, so for start-up companies and small businesses, keeping costs down is one of the biggest priorities. This is the main reason that small businesses tend to avoid spending money on expensive commercial CRM software. Later, it was observed that there is a need for a scalable open source based CRM software for small businesses. The major features of Small Business Free CRM are:
SuiteCRM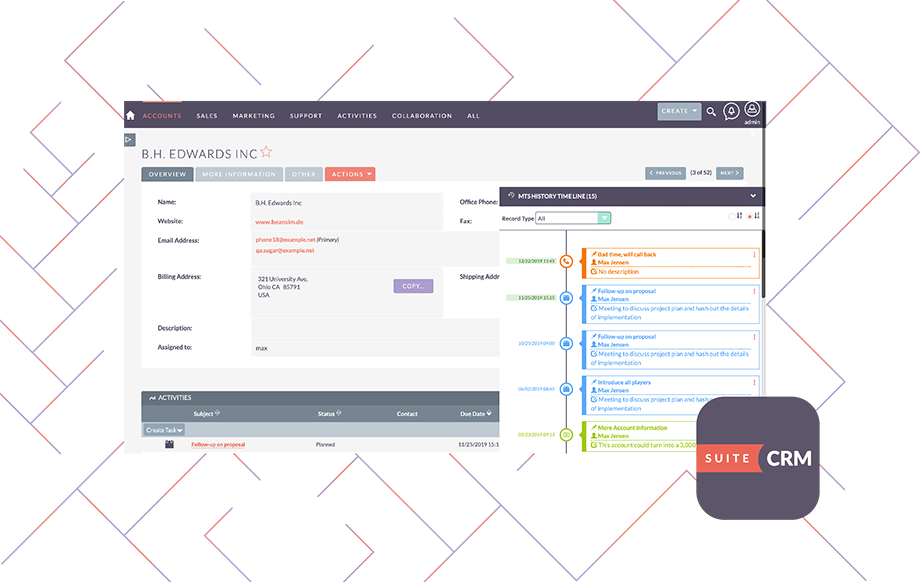 Benefits:
SuiteCRM handles sales, service, and marketing, with custom module, layout, and relationship development tools that will please your IT department too (if you have one). This CRM has also got a real-time dashboard, meaning as data streams in, new figures offer broader insights into things like pipeline metrics, open project statuses, and cash flow.
Endless modular customizability and add-ons mean you can use it for applications, simple or complex. It also works on every operating system under the sun: Windows, OS/X, Ubuntu, Android, iOS—you name it.
With a low learning curve and easy set-up, it's definitely one of the most approachable open source systems on the scene. It's also one of the most popular.
Drawbacks:
Helpdesk support can be slow, as it is community-based. There's also a moderate learning curve, and the free open source version's integrations and features aren't as developed as in paid versions. SuiteCRM doesn't integrate with ERP software, so if you're looking for holistic business process integration, it may not be the right choice.
Pricing for SuiteCRM: OnDemand:
Pure SuiteCRM is free.
Starter plan (recommended for 1-10 users) is $123 (billed as £95) per month, billed annually.
Business plan (recommended for 5-50 users) is $430 (billed as £332.50) per month, billed annually.
Premium plan (recommended for 10-150 users) is $614 (billed as £475) per month, billed annually.
A 30-day free trial is available for all SuiteCRM: OnDemand hosted solution plans.
EspoCRM
This CRM is relatively new to the market and is turning out to be quite impressive. Looking at its wide range of usage from wholesale, retail, banking, and education to manufacturing and more, we can guess the adaptability of this software suite.
One can even self-host it for free and also try a demo version of its cloud-hosted version.
Present across 163 countries and with 50,000+ companies trusting this CRM, we can safely say that this is one of the best open-source emerging CRM suites you can opt for.
Key Highlights:
Switching to on-premise at any time
The CRM runs on your own hardware
Unlimited database size
Modification of source code according to the need
Odoo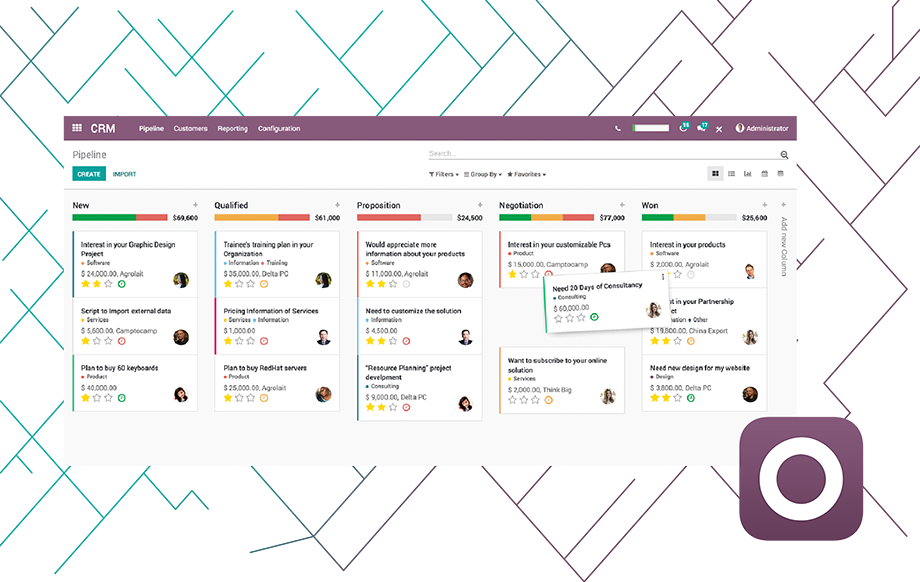 Benefits:
Odoo is all about 'extensible architecture,' with a modular design that lets you mix and match different features. The open source Community Edition of Odoo CRM plugs into the 10,000+ apps in the vendor's orbit, which are configured to integrate with one another seamlessly.
If you're in retail, restaurants, or other brick-and-mortar enterprises, you may be interested to know Odoo has a very useful point of sale app. Working with other Odoo apps, point of sale data can easily flow into your inventory management, email marketing, and sales operations.
Drawbacks:
The open source version of Odoo CRM has a significant learning curve, and you'll have to pay special attention to setting it up and implementing it to prevent headaches later. The invoicing tool is a bit more complicated than necessary (you have to create a quote, followed by an order in order to generate an invoice), and reporting options are limited. Customer support is dependent on app community members.
Pricing:
Open source CRM is free. Paid add-ons available.
YetiForce
Another one in the list of open-source CRMs is YetiForce. This CRM is suited for all sizes of businesses.
Being one of the most affordable CRMs, it helps to lower costs in addition to improving the performance throughout the whole structure.
This CRM helps in lead management, tracking meetings through the in-built calendar, sending email campaigns, and helping manage customer relations.
Key Highlights:
Access to email marketing
Integration with social media
Task management
Territory management
X2CRM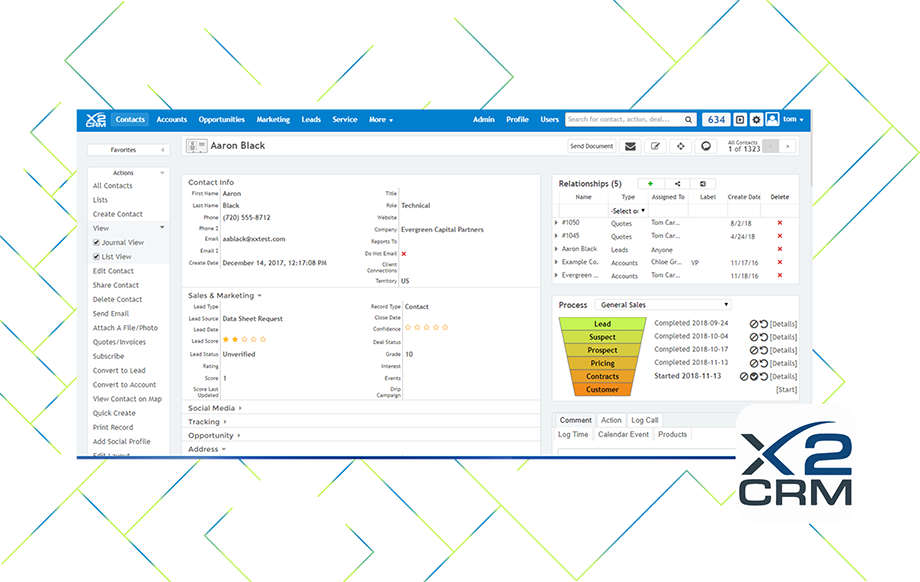 Benefits:
X2CRM has an open source edition, which generously shares code through GitHub, SourceForge and Bitnami, thus encouraging anyone and everyone to customize it for their own purposes. The software can be downloaded right onto a webserver, but you can also get help when downloading it as part of a full stack version.
This open source edition employs many of the core modules from the general (non-open source) X2CRM platform, which is more geared toward larger enterprises rather than lean startups.
Lighter operations can take advantage of X2CRM Open Source's tools for marketing campaigns and pipeline and funnel management. There are email modules that include open email tracking and a feature to design workflow visualizations. X2CRM also has Android and iOS apps.
Drawbacks:
X2CRM is an up-and-coming platform and not the most widely used, so you may find it tricky to get the support you need through its small-ish community.
Pricing:
Open source version is free. 
Paid custom configuration and development solutions also available.
Flowlu
Flowlu is a cloud-based CRM. This CRM is suited for all sizes of businesses. It offers online lead & events management, contacts, and follow-ups, provides sales reports, generates invoices, and consists of web forms for lead generation.
The unique propositions of this CRM are its offerings like project management and accounting. These features make it an ideal choice for businesses that want to automate their sales, marketing, finance, and other functions.
Key Highlights:
Lead management
Reporting
Project management
Accounting
Option to upgrade and try more features
Vtiger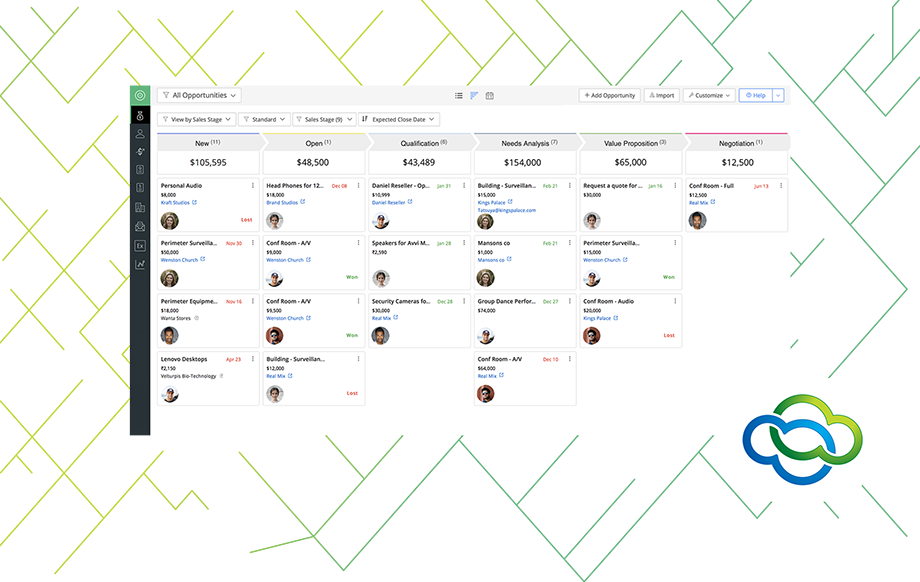 Benefits:
Vtiger CRM Open Source covers the breadth of customer relationship management features you know and love. You can use it to run marketing campaigns and keep track of leads, customers, and opportunities, handling the sales cycle and daily workflows. Reporting and analytics features are included, and it has a Gmail extension, which is super handy for referencing CRM data and info while emailing.
As you scale up your usage, you can check out the market for add-ons for greater features. It's the #1 most downloaded Open Source CRM on SourceForge (with 4.5 million+ downloads), so it has a big community of users and developers behind it.
Drawbacks:
Vtiger's reporting features are somewhat lightweight in open source when compared to its paid version. Navigation between features sometimes feels a bit clunky, and the Google Sheets integration isn't the best. Vtiger also has a moderate learning curve, so it will take time to train your team to implement the platform effectively.
Pricing:
Free, with paid add-ons available.
Conclusion
Salesforce is currently the most popular customer relation management software. Without any costs, and with an open code, it is perfect for small businesses.