Mind Mapping Tools Open Source
How many times in life have you brainstormed ideas to derive solutions for specific problems or to expand your thoughts? At some point in life, we all have indulged in this rigorous activity. When we brainstorm, a stream of free-flowing ideas form a cluster in our mind. An interesting fact here is that, in the mind, ideas often flow in a random and a non-sequential manner. It is how our thought process works. So, if you want logical conclusions, then it is essential to organize and chart this nonlinear flow of ideas. There are various techniques to do this, but one of the most popular and standard techniques of brainstorming is mind mapping. Mind mapping is the technique to chart the stream of free-flowing ideas in an organized and logical way. It is a technique of clustering ideas around the main topic and relating it with other associated ideas and connections.
In the third century, Porphyry of Tyros did the first recorded use of mind maps. Even Leonardo-Da-Vinci used them for note-making. Later, in the 1970s, when Tony Buzan, the famous British psychologist, and an educational consultant, elaborated the concept of mind mapping in his seminal text- The Mind Map Book and his TV show– Use your Head broadcasted on BBC, mind maps became a popular way of brainstorming. Since then, businesses have been using mind mapping activities to come up with great ideas and frameworks. In the corporate world, individuals and teams use mind mapping to derive solutions, plan agendas, create models, generate new marketing ideas, improve concepts, identify and categorize customer groups, and many more.
Though you can draw a mind map on a plain paper also, a more efficient way to do this would be using a mind mapping software that assists in creating structured mind maps. With the support of mind mapping software tools, businesses can assimilate more ideas compared to paper-based mind mapping.
Mind Mapping Tools – We all have heard about mind mapping software. This software is being used by a number of people today. The whole purpose behind mind mapping is to map out your thoughts and at the same time it helps you to think clearer about that particular, thing which you are trying to map.
Compendium is a free and open source mind mapping software that CogNexus developed for making large scale mind map structures. This software supports both individual and group workspace. The latest version of Compendium is 1.7.1. Right from launching Compendium to completing a mind map, the user interface of this software is easy and interactive. It is available for free under GNU lesser general public license (LGPL).
Features:
Create mind maps in collaboration with team members with the option to editing each other's input
Drag and drop documents and websites into a map
Users can label the connections between concepts to illustrate links
Display links between everyone's ideas in group projects through dialogue maps
Establish a link between idea and information
Create different types of nodes (topic box) by dragging the icon from the toolbar
Overlay a map on top of the image and add graphics and notes
Scribble pad to scribble on the workspace
Add comments, notes, annotations to the nodes
Freeplane is a free and open source mind mapping software application that creates and analyzes mind maps. Freeplane runs on any operating system having the current version of Java. Freeplane as an open source mind mapping software can be downloaded locally on your desktop computers, or if you don't want to download it, then you can run it through a USB device. The main topic is called the root node, sub-topics are called the child nodes, and the broader topics are known as the free nodes.
Features:
Ordering ideas into a hierarchy by connecting them with lines
Classifying idea boxes with metadata (attributes)
Grouping similar nodes with color containers
Automatically styling nodes with color, bubble, etc.
Structuring nodes in terms of the content type such as text, icon, formula, calculation etc
Presentation area (core, details, attributes, notes, images, and tooltip)
Option to fold branches, scrolling and navigating, filtering, and searching content
Connecting nodes with dynamic links, free lines, and labels
Password protecting the whole map with DES encryption
Multi-language support with an inbuilt spell checker,
Drag and drop functionality for icons, text, images, etc.
Extensive support through Forum, tutorial, and documentation
Wisemapping is a free and open source mind mapping software that can be used by individuals, professionals, businesses, and educators to make embeddable mind maps. It can be installed on your local servers, and its license is completely free. It is a Java-based software that provides both private and public workspace. Users can have their own mind maps and the shared maps with teams separately. It supports Windows, Linux, Mac (Open source version) and can also be accessed online ( in its cloud version).
Features:
Topic creator and editor
Team collaboration on mind maps is allowed. Simultaneously you and your team can work on a single workspace.
Export in PDF, SVG, and other image formats
Drag and drop functionality for inserting images, icons, etc. to your map from the desktop
Recover map history to see all previous changes
Customize text size, formats and background style
Add and expand branches radially in various formats
Add color to the topic boxes
Add borders and color borders
Add icons, emojis to the map to make it more engaging
Semantik is a free and open source mind mapping software application designed to help individuals and teams create effective mind maps. It was first developed in 2005 and was named Kdissert. Later the name was changed to Semantik. This further assists in making reports and presentations. Semantik is free under the GPL V3 license. It is an ideal mind mapping software tool for businesses, teachers, students, creative users, and project managers.
Features:
Create mind maps using linear views
Simply and interactive UI
Covert mind maps into documents and presentations
Insert image, picture, table, and diagrams
Create UML diagrams and flowcharts
Supports HTML, LaTex, Openoffice document formats
Export the document in PNG or PDF format
Command-line tools for document export
In Semantik mind maps can be edited in 2D format or flat tree format
Add texts and attachments to the maps
Xmind is an open source mind mapping software application that is designed to generate ideas. Xmind features a center with branches radiating from it. It has an interactive and elegant user interface. This software is used by millions of users worldwide for its deep analysis capabilities. It works easily with Mac, Windows, Android, and iOS platforms.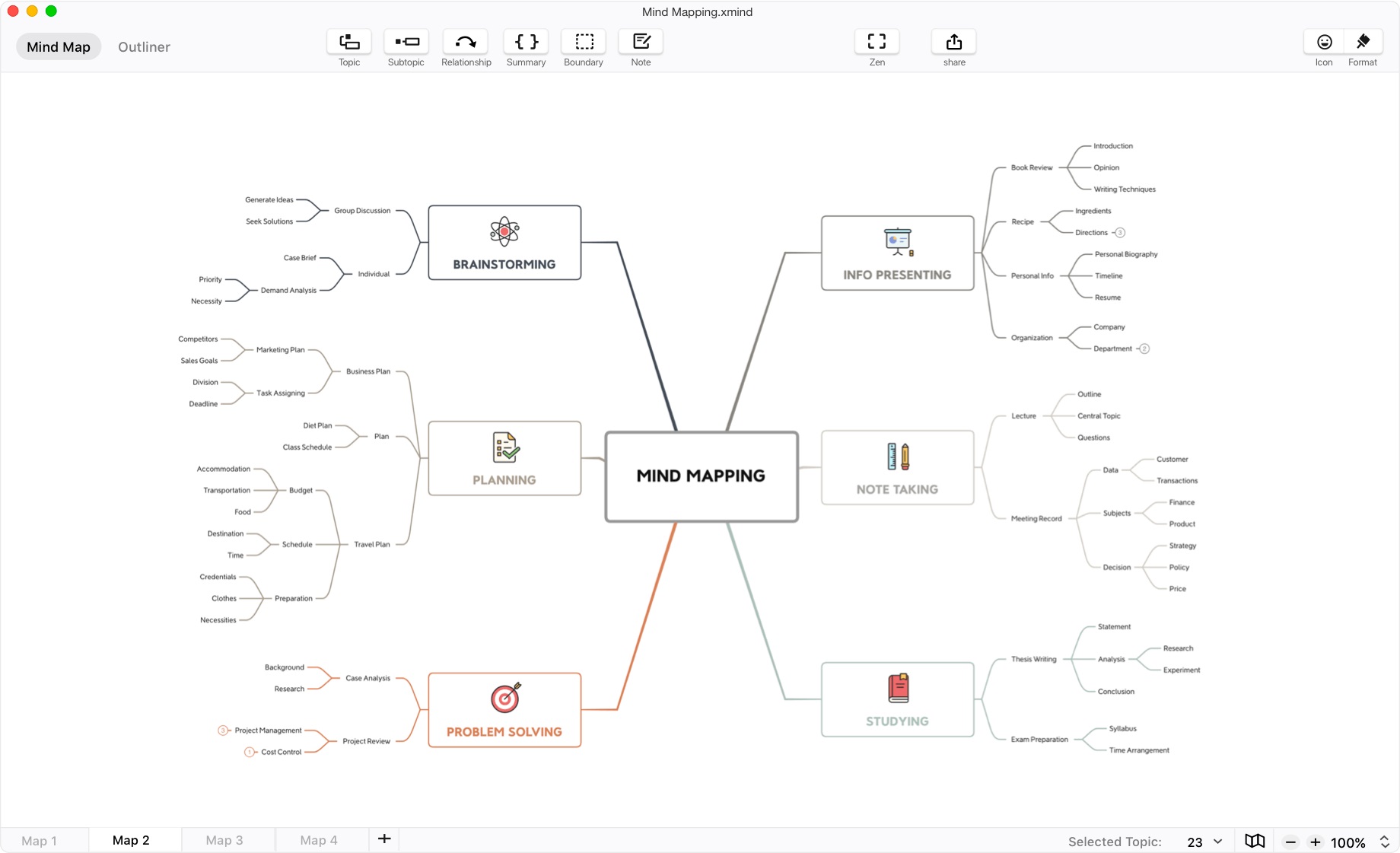 Features:
Comes with in-built templates for mind map designing
Slide base presentation of the mind map
Various map structures such as Org-chart, Tree-chart, and Logic-chart can be drawn
Classify ideas based on their connections
With Xmind you can convert your mind map into Gantt Chart which is a very useful feature for project management
Beautiful workspace user interface
Integrates with Office and export in PDF is enabled
Extensive clip art library
Toolbox with marker, label, notes, information card, and many more.
Conclusion
These are some of the free mind map softwares to assist you in collecting and arranging your thoughts and ideas quickly and easily. With these tools, you may be able to save more time and effort making mind maps, as well as to share them with your teammates online.