How to Find Open Source Projects
Open source projects aren't as hard to find as you might think. There are free web sites that index open source and free software for programmers to search. Plus, with some platforms and services, you can search by interests, skills and location.
This guide will teach you how to find and effectively participate in open source projects. It is not a substitute for the vast wealth of information available online; instead it focuses on tools and skills that can advance a new contributor's experience.
Get to know GitHub
GitHub is the most popular platform for open source collaboration, so you'll probably use it when exploring the world of OSS. First, you need to create a GitHub account and read the guide that helps you get started. On GitHub, you can contribute to projects by submitting issues and contributing code. Submitting issues means sending messages about errors in applications and suggesting ways to fix them. Contributing code involves sending pull requests with your corrections and improvements.
Understanding how a project works
Not all open source projects operate in the same way. Some allow contributions from anyone. Some require you to work your way up to get contribution privileges. Some have multiple people involved in managing a project. Others have a single person in charge, a so-called benevolent dictator for life.
Contribution guidelines help you understand how to approach your participation in a project. It will explain how to reach out about a contribution, provide templates for communicating bugs and suggesting features, list work that is needed by maintainers, project goals, etc. An amazing example is the Angular contribution guide which lists all kinds of useful information for new contributors like their commit message guidelines, coding rules, submission guidelines, etc. in great detail.
In addition to contribution guidelines, some projects will have a code of conduct. It usually outlines community rules and behavior expectations. It's meant to help you know how to be a amiable and professional contributor and community member. Angular, for instance, has an awesome code of conduct that lists what they consider unprofessional conduct, their responsibilities to the community, and how to get in contact in case someone violates it.
Big projects may have governance policy and team documents that outline specific roles in the community, teams, sub-committees, contribution workflows, how discussions are conducted, and who gets to commit. These kinds of documents are essential to understanding how the community operates. The about page on angular.io, for example, lists who all the core team members are, their roles, and other contributors. On Github, they also have a docs folder containing policies regarding contribution.
Even after you've gone through the documentation, you may still need to ask questions to active members of the community. Despite doing your research, you may still be stumped on a particular aspect of the project. To interact with other contributors, join community communication tools like Slack, IRC etc., sign up for newsletters, and subscribe to their mailing list. Angular uses Gitter as its community communication tool and directs contributors with questions/problems to Stack Overflow, where they can get help using the angular tag. Connect with community members and develop relationships with them as it will expose you to facets of the project that you may be unaware of.
Having a good grasp of the technical aspects of the project and how it's organized is essential to making contributions that meet the project's standards. To understand technical parts of the project, consult the project README, wikis, tutorials, and documentation. Angular, for example, has docs explaining their Github process, building and testing, their coding standards, debugging, PR reviews, etc. Going a step further, look at past feature integrations and bug fixes in merged pull requests which are full of discussions by other contributors and can be a rich source of context. As the project evolves, pay attention to it, frequently follow issues, features, discussions, pull requests, and bug fixes to continually learn how it works. For instance, a contributor can follow this example of an Angular feature request discussion about a form API to better understand how Angular forms work, bundle size management, etc.
An open source project is sort of like a project at any company you might work at; there will be a house coding style, team culture, and workflows for getting things done. The difference is that open source projects can and will have a much different group of people working on them.
Finding a Project
On our Twitch stream, we answered them all. One of the coolest things our viewers loved, is where to find projects. It can often be a daunting experience when you first look at Open Source. There are so many projects and so many issues you almost don't know where to start. Hacktoberfest has made it easy by showcasing projects on their homepage.
But did you also know you can search trending Open Source projects on GitHub? You can even filter by programming language, spoken language, and even date. We ran through an example on how to find a top Ruby project. If you check out our search terms you'll find the top Ruby projects for today.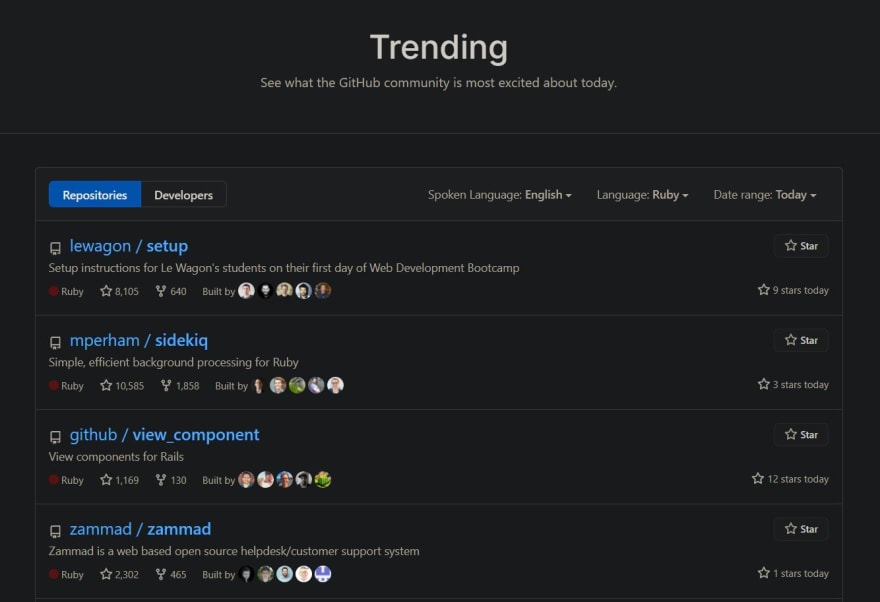 You can even search by developers. If you want to find a top developer contributing to the language you want to write, then you can do just that too. We found a Ruby dev with nearly 6,000 contributions just this year!
There's so many ways to find projects you're interested in. Taking a look at trending open source repos are just one way of doing this.
Discovering relevant projects
If there's a particular topic that interests you, visit github.com/topics/<topic>. For example, if you are interested in machine learning, you can find relevant projects and good first issues by visiting https://github.com/topics/machine-learning. You can browse popular topics by visiting Topics. You can also search for repositories that match a topic you're interested in. For more information, see "Searching for repositories."
If you've been active on GitHub.com, you can find personalized recommendations for projects and good first issues based on your past contributions, stars, and other activities in Explore. You can also sign up for the Explore newsletter to receive emails about opportunities to contribute to GitHub based on your interests. To sign up, see Explore email newsletter.
Keep up with recent activity from repositories you watch and people you follow in the "All activity" section of your personal dashboard. For more information, see "About your personal dashboard."
You can connect with developers around the world in GitHub Community Support to ask and answer questions, learn, and interact directly with GitHub staff.
Join the community
You can easily join an open source project by subscribing to the mailing list for that project. You can find mailing lists on official websites or on GitHub pages. After being accepted to the list, you can communicate with team members and get support if necessary. Thanks to the vibrant communities present in nearly every OSS project, you are likely to get quick replies to your questions.
Conclusion
Have you ever wanted to write code for open source projects? This guide will give you some tips that will help you to find the project that is right for you.