How to Find Open Source Projects in Github
Open source projects are a great way to learn and contribute to a community, but learning how to find them can feel overwhelming. Thankfully, open source projects share many of the same characteristics, which makes it easier to identify them. This tutorial outlines a step-by-step process for identifying open source projects on Github using a variety of criteria. In the end, you'll be able to find any open source project you're interested in and begin your journey from beginner contributor to code ninja!
GitHub is home to millions of open source projects. The open source communities on GitHub do some really amazing work, and sharing their code is how they fuel innovation. But unless you are an expert coder, finding a good project that's interesting and useful to you can be a big challenge. We're here to help with that.
Finding a Project
On our Twitch stream, we answered them all. One of the coolest things our viewers loved, is where to find projects. It can often be a daunting experience when you first look at Open Source. There are so many projects and so many issues you almost don't know where to start. Hacktoberfest has made it easy by showcasing projects on their homepage.
But did you also know you can search trending Open Source projects on GitHub? You can even filter by programming language, spoken language, and even date. We ran through an example on how to find a top Ruby project. If you check out our search terms you'll find the top Ruby projects for today.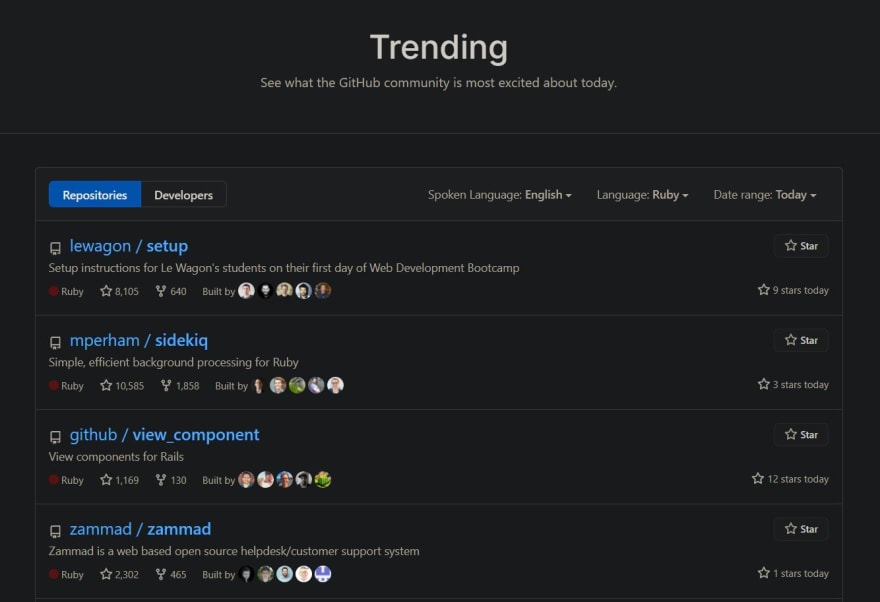 You can even search by developers. If you want to find a top developer contributing to the language you want to write, then you can do just that too. We found a Ruby dev with nearly 6,000 contributions just this year!
There's so many ways to find projects you're interested in. Taking a look at trending open source repos are just one way of doing this.
Improve software you rely on
Lots of open source contributors start by being users of software they contribute to. When you find a bug in an open source software you use, you may want to look at the source to see if you can patch it yourself. If that's the case, then contributing the patch back is the best way to ensure that your friends (and yourself when you update to the next release) will be able to benefit from it.
Improve existing skills
Whether it's coding, user interface design, graphic design, writing, or organizing, if you're looking for practice, there's a task for you on an open source project.
Meet people who are interested in similar things
Open source projects with warm, welcoming communities keep people coming back for years. Many people form lifelong friendships through their participation in open source, whether it's running into each other at conferences or late night online chats about burritos.
Open Source Friday stream
If you missed this epic talk on our Open Source Friday stream, don't worry. It's all recorded and you can check it out on YouTube. You can always join us on one of our Open Source Friday sessions. You'll meet lots of awesome developers, connect with the community, and have the chance to ask questions from both GitHub staff and open source maintainers.https://www.youtube.com/embed/nRZCqe7fyZA
Follow us on our Twitch Channel and join our Meetup Group. We post all our upcoming Open Source Friday streams, as well as meetups for your region. Looking forward to seeing you on the next live stream, and good luck with all your Hacktoberfest Contributions.
Find mentors and teach others
Working with others on a shared project means you'll have to explain how you do things, as well as ask other people for help. The acts of learning and teaching can be a fulfilling activity for everyone involved.
Opening an issue
If you encounter a bug in an open source project, check if the bug has already been reported. If the bug has not been reported, you can open an issue to report the bug according to the project's contribution guidelines.
It's empowering to be able to make changes, even small ones
You don't have to become a lifelong contributor to enjoy participating in open source. Have you ever seen a typo on a website, and wished someone would fix it? On an open source project, you can do just that. Open source helps people feel agency over their lives and how they experience the world, and that in itself is gratifying.
Testing a pull request
You can contribute to an open source project by merging a pull request into your local copy of the project and testing the changes. Add the outcome of your testing in a comment on the pull request.
Learn people skills
Open source offers opportunities to practice leadership and management skills, such as resolving conflicts, organizing teams of people, and prioritizing work.
Find Your Motivation
It is almost impossible to game the GitHub Trending section:
GitHub's definition (of trending) takes into account a longer term definition of trending and uses more complex measurement than sheer number of stars which helps to keep people from farming the system.
Founders often create startups based on problems they have personally encountered. With open-sourced code, you will likely be trying to solve problems that developer commonly have.
And since gaming the GitHub Trending section is almost impossible, you need a strong motivation – a big, common developer problem – to work on. So how do you stumble onto a developer problem?
Well, for starters you can participate in hackathons, build projects, and experiment with other projects. And you will soon find something which could be made into a library, something you could make a utility out of, and so on.
Your motivation for building your project could come from anywhere. In my case, I explore new Machine Learning papers daily on arXiv (an open-access archive for papers) and read the ones I find interesting. One such paper I read motivated me to build my Python package.
Another time, I was in a hackathon training a Machine Learning model and wanted to participate in other festivities. Our team then decided to build another open-source project called TF-Watcher.
So you see, you'll likely find all sorts of issues you can work on when you're building a project.
And just to note – when I say you should have a strong motivation, I do not mean the project should be really huge or really complex. It could certainly be a simple project that could make developers' lives easier.
Think about it this way: if there was a project like the one you want to develop, would you use it? If the answer is yes, you have enough motivation to build the project, regardless of the size or complexity.
Conclusion
Github is a popular site used by software developers, I will show you how to search Github overed with software downloads and you can use their source code to help make your projects.