Blender is the free open source 3D creation suite. It can be used to create 3D graphics, animations, models for games and many other things. Blender is a cross-platform program written in C++ and uses OpenGL to provide its rendering capabilities. The interface is built around workflows and tools common to other 3D content creation applications. It allows the user to sculpt and model, design textures, rigging and simulation, apply dynamics and interactivity, render and composite.
Turn your videos into cartoons in 3 easy steps! This free animation software makes it easy to convert your movies, photos, slideshows and even your favorite MP3 music into professional looking animation. You can choose from hundreds of templates, thousands of images and sounds, and even your own voice to take the story in a fun new direction.
Blender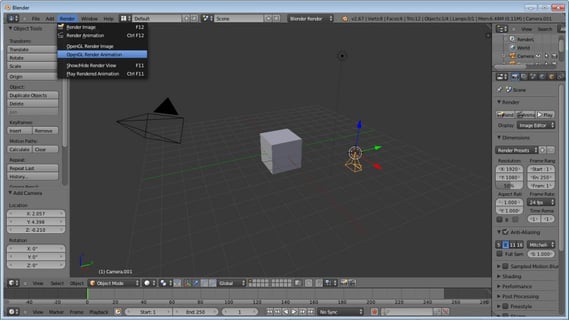 Image courtesy of Blender
Blender is a free and open-source animation software that also has capabilities for 3D modeling, game creation, motion tracking and more. This tool enables artists to turn stills into 3D animation. Blender also offers a fast rigging tool that allows users to turn 3D models into animated characters.
The following animation features are included in Blender:
Automated walk-cycles along paths
An editor for character animation poses
Non-linear animation for independent character movements
Mirror functionality
What users like
"Blender is a free animation software, but do not let that deter you from trying it. It is a really powerful software that I use to make 3D designs. Another thing that I like about Blender is that you can easily import outside objects like textures and animations. The lighting and shadow functions also look really professional."
— Blender review by Beth A.
What users dislike
"Image-based animation becomes difficult to perform. For me personally, I tried to get an image hand created and perform animation. It kept getting difficult to animate the image."
— Blender review by Ankit A.
Recommendations to others considering the product
"Blender is so powerful and has so many features it's overwhelming. Approach with discipline. Decide what aspect you want to tackle first (modelling, animation, lighting, compositing, etc.)
K-3D
Platforms: Windows, Linux
K-3D is a free 3D animation software specializing in polygonal modeling, an approach to digital graphics that represents and approximates object surfaces using polygons. Designed for artists, the software combines plugins with a visualization pipeline architecture — it adapts to the look and feel of the tools you integrate it with.
Get started with their Wiki tutorials, showing you how to master features like texturing, shadows, and symmetric modeling.
One of its best features? Easy undo/redo functionality, so you can quickly fix a mistake. Most programs only offer the option to undo an action.
With both procedural and parametric workflows, you can make adjustments and see the change immediately. A node-based visualization pipeline means editors can create connections and combinations for different elements within the video. You can work on one side of a model and mirror the other side to see what it looks like welded together.
K-3D is an advanced tool for true creatives.
Powtoon
Platforms: web browser-based
The next video animation software that's free is Powtoon, meant for dynamic video presentations. While there are paid options with advanced features, Powtoon also has a stripped-down free tool for videos up to three minutes long.
In addition to what's listed above, Powtoon's free software also has:
Custom styles
Change aspect ratios and sizes
YouTube, Facebook, Wistia, Vimeo, PowerPoint, and PDF export
Full video, animation, GIF, and image file implementation
It's a great tool for beginners, with several professional-looking templates to choose from, including animated explainer and infographic-style videos, as well as templates built specifically for product promotion. You can also start from scratch or import a theme from PowerPoint.
Animaker
Image courtesy of Animaker
Animaker is a drag and drop, online animation and video making platform. This platform is free to register for, and is less technical than many other animation solutions. Animaker is targeted towards a content marketer persona, and includes templates for making different types of animations including infographics, motion typography, whiteboards, and 2D cartoons.
Some of the major benefits of Animaker are:
Large library of animated pre-created templates and characters
Drag and drop editing style with 6 types of animation video styles
Whiteboard video creation
Simple infographic creator
More advanced features for technical creations
What users like
"I really like the drag and drop interface, it really helps building animations on the go and within no time. A very helpful tool when you are in hurry but need a effective and productive presentation. It takes presentations to another level by giving more visual effect."
— Animaker review by Harsh P.
What users dislike
"There is free pack, but it won't allow you to create long presentations and also limits the number of such presentations you can create."
— Animaker review by Purav A.
Recommendations to others considering the product
"Using the templates provided by Animaker would reduce most of your work. Only make some minor changes as per your requirement an you are all set.
Synfig Studio
Platforms: Windows, Mac, and Linux
The next free video animation online is Synfig Studio, an open-source platform for creating 2D animated videos. With it, you use vector graphics to create timeline-based animations.
Like OpenToonz, it offers a bone system for animation controls so you can create natural movements. Create cutout animation using bitmap images or control your vector artwork, and use the additional Skeleton Distortion layer for complex deformations to bitmap artwork.
Advanced features include linking parameters for layers, allowing you to build character puppets and other advanced dynamic structures. It's certainly not made for beginners, so turn to an easier option to get started before upgrading to Synfig's advanced feature set. There are plenty of video tutorials to help you get used to the program.
Plastic Animation Paper
Image courtesy of Plastic Animation Paper
Plastic Animation is the free and original version of Animation Paper. This option is a great animation software for beginners, as the product offers tutorials on how to use the software. The tutorials in this free 2D animation tool allow users to work at their own speed.
Plastic Animation Paper offers tutorials on many of its features, including but not limited to:
Basic drawing tools
The ability to organize a workflow with a setup and marking menus
Layering
How to do a walk cycle, which includes timing with clones, a light table and working in passes
Zooming and rotating a sheet
Conclusion
Create everything from simple logos to sophisticated animation with options for both 2-D and 3-D animation. Free animation software from Serif is easy to learn, fun to use, and lets you create the images you've always dreamed of.