To assist you in picking the best Post Views Tracker WordPress plugin, we provide you with the best options. All the WordPress plugins are mobile-friendly and optimized for speed. Because of this, the plugins can be customized with all the best WordPress themes.
Additionally, the following plugins are all designed for Post Views Tracking. But you can also use them for Views Count, Displaying Post Views Stats, Visitor Counter Plugins, WordPress popular posts, and Total Views on WordPress Posts.
Alternatively, you can use one of the WordPress activity log plugins to record and track your site users' activities in the front-end and dashboard of your site, in case you do not require a plugin to only count page views per post.
Best Post Views Tracker Plugins for WordPress 👁👀
These are some of the best Post-Views Tracker WordPress plugins available today in 2022:
A Simple, Fast and Reliable Way to Display How Many Times a Post Had Been Viewed
The Post Views Counter plugin for WordPress allows you to display a counter that shows how many views each post has received. It uses the most delinquent technology to measure your website's traffic.
Post views can be collected using PHP, JavaScript, AJAX, or REST API. A post views widget is also included in the WordPress dashboard to monitor how your posts perform. You can also manually set the number of posts viewed for each individual post.
The plugin allows you to query posts based on the number of views, excluding views from logged-in users, bots, and your team members. If your site has multiple administrators, you can also limit how post views are displayed based on their roles within the WordPress admin area.
💵 It is FREE. It has no cost associated with it.
Key Features:
Simple one-click import of WP-PostView data, sortable admin columns
The implementation of an object cache option
Creating intervals for counting and modifying REST API endpoints
Compliance with GDPR with respect to the Cookie Notice plugin
Random Reviews:
Hundreds of features and controls built right in, and it's easy to use. The best part is that it actually does what it's supposed to do without causing any conflicts.RgandonApr 2022
GOOD DA BEST POST VIEWERS*brJosuamarcelcApr 2022
Tracks my views very well!HeyshadyladyApr 2022
Screenshot:
Price: Free
Rating: 4.9 stars
Active Installations: 100,000+
Last Updated: 2022 Feb 20
Enhanced eCommerce Tracking for WordPress
Monsterinsights is a WordPress Google Analytics plugin for displaying post views stats. It allows you access to Google Analytics charts and information directly from your WordPress dashboard.
It allows you to activate all the features of Google Analytics without the assistance of a WordPress developer. It also enables you to customize visitor reports based on country, gender, or device type.
The plugin will analyze which of your posts are the most popular on your site and allow you to optimize them further to increase traffic. It is compatible with all popular themes and does not require code changes.
There is only one drawback of the free version: the ability to view statistics for each type of content is not available.
You may wish to subscribe to the premium edition to gain unlimited access to the plugin's tracking tools. The extracted data by this version can be used to stimulate further engagement on your site. For example, you can track eCommerce sales, author views, and search results in just a few clicks.
💵 Free and premium versions are available.
Key Features:
Several store statistics are available, including sales and conversion rates
Provides you with an in-depth understanding of your online store's visitor behavior
Compatibility with Easy Digital Downloads plugin
Reports are customized so that only relevant information is displayed
Random Reviews:
I use it for my sites.DubeornotdubeApr 2022
It is easy to use and set up.MmpneApr 2022
As a newbie to SEO, Monster Insights has been a great tool so far. Having so much information available straight from my WordPress dashboard has made the transition much easier!VinceshujaaApr 2022
Screenshots & Video:
Price: $199/Y
Rating: 4.6 stars
Active Installations: 3+ million
Last Updated: 2022 Apr 22
Properly Setup Google Analytics Tracking Features Without Writing Any Code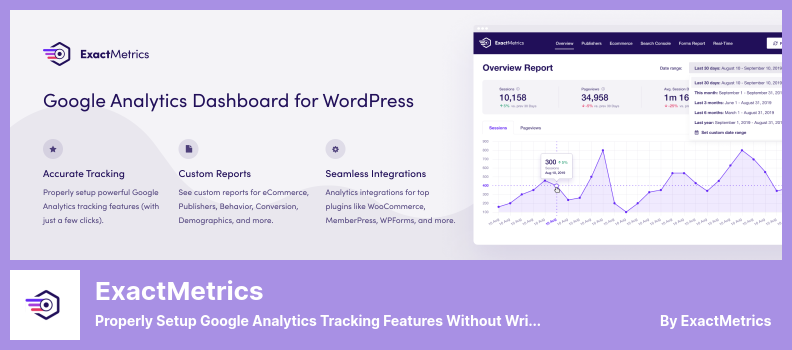 ExactMetrics connects Google Analytics to WordPress. It is a simple visitor counter plugin that can be used by beginners as well as small blogs and personal websites. It is ideal for improving the performance of your website based on the data collected.
Aside from tracking mobile post views, this plugin provides complete analytical data directly from the WordPress dashboard. The plugin goes beyond basic analytics scripts to allow more sophisticated event tracking.
Detailed traffic data lets you see your users' activities in real-time, allowing you to adjust your post content quickly, engage a more diverse audience, and see all the critical information about them at a glance.
It provides no less than premium functionality for monitoring visitors' activity on your website, just as MonsterInsights does.
💵 This plugin is available for free download and in a premium version that charges $199/Y.
Key Features:
Tracks downloads, emails, affiliate links, etc
Detailed analysis and optimization of each post and page
A/B testing can be performed using Google Optimize
Monitors the transactions conducted through e-commerce
Random Reviews:
A very nice addon, does what it says and does it well*brGeugene75000Apr 2022
In my experience, ExactMetrics provides exactly the information I need on several websites.DocestudioMar 2022
It was very easy and complete!IrayMar 2022
Screenshots & Video:
Price: $199/Y
Rating: 2.5 stars
Active Installations: 900,000+
Last Updated: 2022 Apr 22
A Beautifull, Simple Way to See How Many People Have Visited a Page or Post
Page View Count is a plugin for counting total views on WordPress posts. It is developed by A3REV Software company. It is compatible with WordPress 5.9+ and can be downgraded to WordPress 5.6.0. It is also compatible with the Classic Editor plugin and the Gutenberg Block.
By using this plugin, you will be able to display a counter on your blog that gives an overview of how many views each post or page has received. As an optional feature, you may also choose to specify whether or not to display page views on individual posts or pages.
The only drawback is that it doubles or triples the views count when the post or page loads in the browser. If the view count is doubled, the browser is twice retrieving the page. If this occurs, you ought to take immediate action.
Like Post Views Counter, it also provides a widget to indicate page views. Best of all, it is absolutely free.
💵 There is no charge for the plugin.
Key Features:
Shortcodes are available for adding counters
The color and size of the icon can be customized
The number of views per day and the total number of views will be displayed
The ability to enable or disable page views for WooCommerce custom post types
No coding is necessary to modify the options and settings
Random Reviews:
A simple and effective way to track views.EarostDec 2021
…and I have it. For FREE, yet. This is what I wanted.MikezetsNov 2021
My blog uses this tool every day. I use it on every post.JrdkeeSep 2021
Screenshot:
Price: Free
Rating: 3.9 stars
Active Installations: 20,000+
Last Updated: 2022 Apr 22
An All-in-One Tool for Customizing Your Page Visits From The Website's Backend
Advanced Page Visit Counter plugin adds an innovative views counter to your WordPress site both on the front-end and back-end. If you need a unique visit counter, you might consider this option. It is easy to use and has several practical features.
The plugin is an all-in-one solution that allows you to customize some aspects of your site, such as page visits. For instance, you may place counters below or above your content or incorporate shortcodes to display these elements.
It allows you to keep track of detailed information about visitors to your website. For example, it provides accurate statistics and high-resolution images to help you analyze user behavior. In addition to visitors, it also displays the top visitors by browser and the top 10 articles on your site.
In case you feel that the free version does not suit your needs well, you may upgrade to the premium version available. The best part, however, is that you do not need any programming knowledge in order to use it.
💵 Free access to all the advanced features of the Advanced Page Visit Counter plugin.
Key Features:
The IP addresses of those users you wish to exclude from page view counts can be added
The data collected from your visitors can be reset/deleted permanently from your site
Detailed reports for specific countries, months, weeks, top referrer, and weekly trends
Provides a visual representation of your visit statistics in the form of charts and diagrams
Random Reviews:
The problem is that he wants money for everything.Arifemre123xDec 2021
I use this plugin on my ten plus websites, I'm using their premium version, It has very good and only useful features. I would suggest using it for your website. The support is excellent, I get a response in minutes!CygjohnAug 2021
I am using this plugin since many months, It's working very well and improving after every updates. It provides very details statistics, I have also requested a few features to add in this plugin, author responded very quickly and said will push your requested changes in next release. Thank you so much for maintaining such a great plugin. ThanksJunewaldeApr 2021
Price: Free
Rating: 4.1 stars
Active Installations: N/A
Last Updated: 2022 Apr 22
Conclusion
We discussed The best Post Views Tracker WordPress plugins for WordPress in this post. You can select a comprehensive plugin that suits you best and enhance your site.
We hope these plugins help you draw attention to your website and increase customer activity. In addition, you may wish to check out our article about the best WordPress blogging themes and the best WordPress hosting providers.