Best Photogrammetry Open Source Software
This is a review of the best photogrammetry open source software used by academics and professionals around the world. This list includes photo measurement, digital image correlation, camera lucida, 3D scanners, structured light and CMOS camera systems.
The software tools listed on this page have been tested rigorously and are considered by the contributing users to be the best free/libre photogrammetry open source software for processing aerial or terrestrial laser scanning point cloud data. While we attempt to keep this list of tools accurate, it should not be viewed as a comprehensive catalog of all available photogrammetry open source software.
Meshroom
Above: Meshroom is a 3D Reconstruction Software based on the AliceVision framework/Video Source: AliceVision/YouTube
---
Meshroom is an open-source and free photogrammetry software offered by AliceVision, a photogrammetric computer vision framework. The software has an easy-to-use workflow that allows for automatic generation of 3D models and textures based on the uploaded images. It makes use of a node-based workflow so that each node can be individually tweaked to get the optimum result that the user wishes for.
Autodesk Maya users can install a plugin to directly use Meshroom inside the 3D modelling software.
Ideal user: Beginners
Good For: Learning and beginner projects
Agisoft Metashape – Professional Software with Machine Learning
Formerly known as Agisoft Photoscan, Agisoft Metashape is a professional photogrammetry software often used for Geographic Information System applications, game development, cultural heritage documentation, visual effects, and indirect measurements of objects of various scales.
Metashape can be used to process both aerial and close-range images and includes some great tools for editing the point cloud before generating a 3D mesh which can then be exported to various formats. These include automatic classifications of point clouds to customize geometry reconstruction and extensive measuring tools to measure distances, areas and volumes.
You can also use Metashape to edit 4D models, whereby scenes are recorded in 3D and then manipulated on the software.
Another benefit is that Metashape uses community-driven data to improve its algorithms. This means that the software should improve the more its used, making for faster processing time and better quality of captures.
The Professional Edition will set you back $3,499, but there's also a stripped-down Standard Edition available for $179, which is a better option for beginners.
In addition to the desktop software, Agisoft Cloud is currently available for beta testing if you own a Professional license or if you're using the 30 free trial. This is an improved cloud processing interface that allows saving on the hardware infrastructure for a photogrammetric pipeline with more options to visualize processing results online.
PhotoModeler Technologies
More likely to be suited for CAD or CNC manufacturing than some of the other photogrammetry software solutions on the market, PhotoModeler offers exact measurements and models from photographs taken with an ordinary camera, just like the one you have on your smartphone. This is a cost-effective solution for accurate 2D or 3D measurement, as well as surveying, digitizing, reality capture and more. Inside PhotoModeler, you can choose three different methods to generate the model you are trying to recreate. You can manually match common features between images, automatically generate a 3D model from coded targets, or generate point clouds from overlapping images. Three products exist, Standard, Premium and Maintenance Agreements; price varies according to this and whether your licence is permanent, renewable or monthly.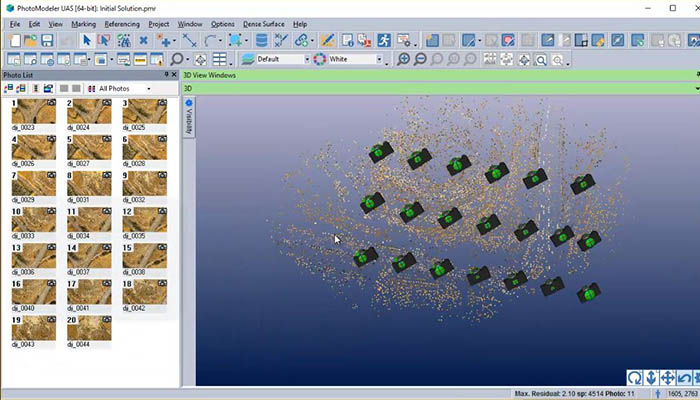 3DF Zephyr Free
---
3DF Zephyr Free is the free version of its photogrammetry software from 3DFlow. It is user-friendly, efficient, and delivers reliable results. The free version is released keeping in mind students, beginners and individuals for their personal use. For this target market, the software is a great start to learn photogrammetry and gets their hands on a good quality software.
Ideal user: Beginners and experienced individuals
Good For: Small student and beginner projects
WebODM
WebODM is a solution designed to be user-friendly and produce elevation models, textured models, geo-referenced maps and point clouds using aerial images from drones. This software is a project from OpenDroneMap, which is an open ecosystem of solutions for collecting, processing, analyzing and displaying aerial data. Once you download this drone photogrammetry program, it runs on your computer even when offline. The installation and technical support cost $57, this is a one-time fee, there are no monthly payments.
Regard3D – Best Free SfM Photogrammetry Software
Regard3D is a powerful free photogrammetry software solution. This open-source software is a structure-from-motion (SfM) program, which means that it can convert photos of an object from various angles into a 3D model.https://074ad2101f06b3c7608e86ac650bbe5b.safeframe.googlesyndication.com/safeframe/1-0-38/html/container.html
The software offers a comprehensive toolset for editing the point cloud, either with colored vertices or a texture, before generating a 3D mesh. The following image is a 3D model of Sceaux Castle generated using Regard3D.
Regard3D can be a little tricky for beginners to get to grips with, especially when using the advanced settings, but overall it's a good software for inexperienced users to get to grips with. Regard3D's website offers some helpful guides and tutorials you can use to help you get started, and once you get the hang of things you should see good results fairly quickly.
Regard3D can be run on various platforms, including Windows, Linux and OS X.
Reality Capture
---
Developed by Capturing Reality, Reality Capture is a paid photogrammetry solution that is user friendly, easy to use and a multitude of useful features. As per the company, the software is 10 times faster than photogrammetry software in the market. It offers high-quality captures, ability to calculate mesh and textures, allows working with multiple file formats.
It can use photographs as well as laser scans to create the 3D model. This enables the software be used for a variety of close-range as well as aerial projects. It is safe to call it a complete software solution.
Ideal user: Experts and Professionals
Good For: 3D Visualisations, Close-range and aerial photogrammetry.
Conclusion
Free to download, but the download and installation process is through an installer that wants to bundle some apps with it. Check the source listing to find an open source install package if you want a completely clean install or to see a link to their website if you just want to view the site in your browser. The software may be free but there are some feature limitations with the free version unless you pay for the full version. The feature limitation seems like a good incentive to buy the full version, though there are community forums for support if you get stuck.