Best Open Source Software for Windows
With Windows 8 and Windows 10 you can install a lot of open source software such as Firefox, Thunderbird, LibreOffice, Gimp etc. In this article we will list the best open source software for Windows. These applications are great for Windows users who are willing to run without any Microsoft products in their computers. This article won't focus on Open Office terminology or which apps do what, there is already too much material online that explains that already.
Free software is great, and if you are running Windows – it doesn't get much better than this. These software packages rock! From web servers, database servers, graphics and audio players to spreadsheets, servers and development environments. The best free software for Windows has been collected and reviewed by Softpedia editors.
Notepad++
Notepad++ is a replacement for the Windows notepad app, which is a much more advanced text editor. I personally use Notepad++ to manage my notes and content ideas as it automatically saves all the changes offline, and numbered lines are extremely useful.
Although coders mostly use it to write code, most of its features help with coding, including auto-complete based on the current context.
LibreOffice
LibreOffice is a complete office suite that offers presentations, documents, spreadsheets and databases.
Unlike Microsoft Office, which is not accessible for everyone due to its pricing model, LibreOffice is totally free.
To support it, its users can make donations when they download. So, it has a huge community of contributors.
It is available for Mac, Linux and Windows and it also has a live chat and a forum where you can turn to when searching for help.
GIMP
Platforms: Windows, Mac, Linux
Still going strong after all these years, GIMP has firmly entrenched itself as the most viable free alternative to Adobe Photoshop that you'll ever need. Its UI doesn't hide its debts to Photoshop, and each of its rich features, such as layers, curvature pens, masking controls, you-name-it, is more or less where you'd find it in Photoshop.
In 2018 GIMP was tastefully updated with a new dark theme and added customization with icon sizes that makes it easier to tailor to HiDPI screens. Crucially, it now takes advantage of modern tech like multi-threading, high bit-depth support and GPU-side processing for those with graphical firepower.
VeraCrypt
VeraCrypt can help create encrypted storage space to securely store and manage that data if you have sensitive information. VeraCrypt can encrypt a whole disk or even a specific amount of space on your PC to store sensitive data. It can even encrypt USB drives to carry around data securely.
Search Everything
Platforms: Windows
Windows' built-in search function doesn't quite cut it. It never has and maybe never will. But that's okay because the plucky devs at voidtools have done something that the presumably very well-paid bunch at Microsoft couldn't: create an incredibly efficient search tool that can find absolutely anything on your PC in seconds.
It builds a database upon your first search, indexing everything to make it accessible moving forward, then filters down results as you type your search query. You can add various conditions to your searches and view results in thumbnails and so on, but for most searches you can just type your query as soon as you open the tool, making it almost as instantaneous as Windows' search function.
Clonezilla
If you want an exact copy of your data, then disk cloning software can help. Clonezilla is a cloning tool that will create an exact copy of your hard disk so you can easily restore data or even continue using the new disk. You can clone up to 40 disks at the same time and also secure them with AES-256 encryption.
VLC Media Player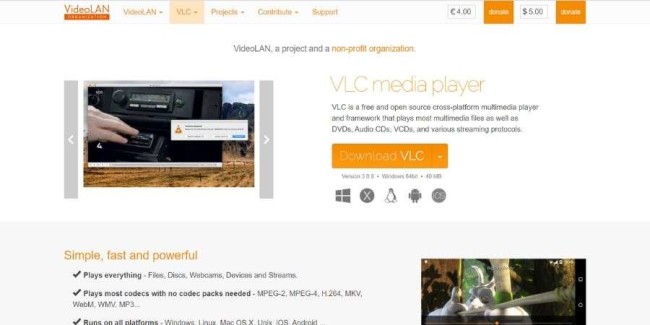 VLC Media Player is one of the most popular open source software examples that you can use for free.
This multimedia player is used for video, media and audio files and it plays discs, webcams, streams and devices. Most of the users use it for streaming podcasts as well.
It allows you to optimize your audio and video files for a particular hardware configuration and also offers a plethora of extensions and skins which allows you to create customized designs.
What's more, it runs on different platforms such as Android, Mac OS X, Linux, Windows, iOS and more.
BleachBit
Platforms: Windows, Mac, Linux
The open-source answer to Piriform's CCleaner, BleachBit strips away the elegant interfaces and pretty colors of similar system-cleaning software, focusing instead on doing the job it's meant to do: highlight the cludgy files, dud registry keys, and unhealthy amounts of cookies on your PC, and clean them up for you. It also deletes/refreshes system files like the memory dump, various logs and Prefetch caches to give your PC an under-the-hood fresh start (while not deleting your personal data and files, of course).
BleachBit isn't always clear about what exactly it is that you're cleaning when you check those options on the left, but it has other conveniences like letting you know when certain cleaning processes may take longer. Overall, it's probably the best open-source system cleaner you'll find.
Psiphon
Psiphon is an open-source VPN specifically made to access censored content. It doesn't promise any security while browsing as it isn't specifically made for this purpose, but you will be able to access restricted content. However, it isn't a completely free service; you'll have to buy points to use the VPN for a specific time.
Google Earth
What does it do? Maps and location images
Many of us use Google Maps or other mapping software on our phones for navigation. This is a more powerful free version of these tools for your computer, allowing you to easily see high-res images and create printable maps and turn-by-turn directions for places all around the globe.
Retroarch
Platforms: Windows, Mac, Linux, Android
The great open-source behemoth of video-game emulation, Retroarch is an almost unfathomably ambitious hivemind venture. It contains piles of emulators for all the most popular consoles as "cores," which are adapted to download, update and work within the software. In many cases the very best emulators for a given console are cores you'll find in Retroarch (such as the PS1 core Beetle PSX HW).
Retroarch is a lot more fiddly than any emulator you've used before, but take a little time to get used to it to see it's also the best.
Conclusion
Finding the best open source software can be difficult. If you are using a Windows machine, we have compiled a list of some of the best open source software and tools that run on Windows.