Best Open Source Software for Windows 7
Open source software is basically software for which the original source code is made freely available and may be redistributed and modified. It is a type of software development. Open source applications are usually made available free of charge and can be downloaded from the Internet. This article gives information about some open source applications for Windows 7.
Did you know that Windows 7 runs on top of the Win32 subsystem which makes it possible for third-party software company to improve their software which will make the whole operating system faster, more stable and secure? Here you will find the best open source software you can use with Windows 7.
VLC Media Player
VLC Media Player is the first app I recommend to everyone to install on their new PC. It will handle all your media-related needs without ever disappointing you. The app supports almost all audio/video formats, and you can download videos right from the VLC interface. You can also get more features using add-ons.
Shotcut
Shotcut is a video editor that offers powerful features including audio and webcam capture, color, text, noise, and counter generators, support of popular image formats, EDL export and much more.
It is a great tool to edit your audio and video files with and it is available for Windows, macOS and Linux.
On its website, you can also find great resources and tutorials on how to use this free open source software.
Audacity
Audacity is an audio recording and editing software that is perfect for both novice and advanced users. You can edit multiple audio tracks at a time using simple keyboard shortcuts and menu buttons. There is even a spectrogram view to analyze frequencies and individually select them.
Overall, it's an easy-to-use audio editing software that should be able to handle all your audio editing needs. If you do get stuck, you can check the tutorials to get help.
Blender
Blender is another of the best open source software examples of 2021.
It is a 3D graphics and animation tool that supports motion tracking, simulation, animation, video editing, rendering, modeling and much more.
It also offers a set of modeling tools and features including real-time viewpoint prereview, multi-resolution and support for Planar tracking and Tripod solvers.
VirtualBox
If you are interested in using multiple operating systems without installing them, then VirtualBox is the solution. This tool will let you create a virtual environment where you can install a supported operating system and use/manage them completely separate from your actual OS.
This can be a great solution to run un-supported apps, test apps, and basically run a separate instance of your PC without affecting the real OS.
Linux
According to a Stack Overflow survey, 83.1% of developers claimed that Linux is the most wanted platform.
Linux is one of the most user-friendly open source software on the market. It is most commonly used on Android devices and desktops.
What makes this operating system different from the others is that it costs nothing and it is incredibly customizable.
Most companies also choose it because it is highly secure and offers excellent community support.
Mozilla Firefox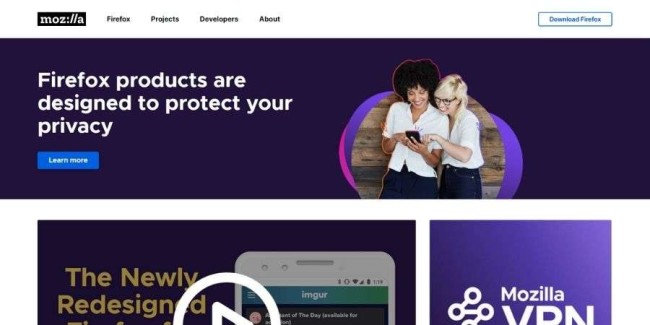 Mozilla Firefox is a customizable internet browser and free open source software. It offers thousands of plugins that are accessible with a single click of your mouse.
The platform holds 3.98% of the worldwide browser market share and it is available for Android, iOS, Windows and Linux.
According to CNET, Mozilla reshaped the technology industry and fanned the flames of open source software that changed the way social networks and operating systems function.
Brave Browser
Brave browser prides itself in offering a faster browsing experience than Chrome while still respecting your privacy and protecting you from online threats. It claims to use 33% less memory than Chrome while being 3x faster.
I really liked their stance on ads. You can disable ads or view them and earn points that you can spend on things online or withdraw as cash. What type of ads you see is also under your control.
LibreOffice
LibreOffice is a complete office suite that offers presentations, documents, spreadsheets and databases.
Unlike Microsoft Office, which is not accessible for everyone due to its pricing model, LibreOffice is totally free.
To support it, its users can make donations when they download. So, it has a huge community of contributors.
It is available for Mac, Linux and Windows and it also has a live chat and a forum where you can turn to when searching for help.
AutoHotkey
AutoHotkey is the perfect tool to automate many repetitive tasks by creating custom macros and shortcuts. It's a scripting language that you can use to create macros to press different buttons and make clicks according to your requirement. There are a bunch of tutorials to get you to start using AutoHotkey.https://www.youtube.com/embed/mWx9aqvY510?list=PLPI5C2_hIGGxO-DlGu6QvLeTrMsBc1vQu
BleachBit
BleachBit is similar to CCleaner, but open-source enthusiasts prefer it over CCleaner. It frees up space on your PC by cleaning temporary files and speeds up apps by deleting their junk data. It also has other tools like a file shredder and wiping free space to prevent data from being recovered. For an open-source app, I must say its interface is quite elegant.
GIMP
Another of the best open software source examples that is worth mentioning is the photo editing tool GIMP.
It offers similar features like some of the expensive tools on the market including various filters and effects, and yet it is free.
GIMP is available across different platforms including Windows and Linux and it has different 3d party plugins and customization options.
Plenty of illustrators, graphic designers and photographers use it to improve their pictures and enhance their work.
Everything
Unlike the Windows search bar, Everything is a tool that shows all the files and folders instantly on searching. It can be a great replacement to the Windows search bar if you need to search for files often, especially if you have disabled the search bar to boost performance. The app has its own interface separate from the Windows search bar, and it's extremely light on resources.
Conclusion
Chances are, you've heard of open source software, also referred to as free software. Now with Windows 7, you can enjoy the benefits without worrying about compatibility issues or having to master any new user interfaces.