Best Open Source Software for Business
Open source software is a great alternative to expensive commercial software. Savvy business owners choose open source when they can fill their needs without having to spend thousands of dollars in licensing fees. In this article, we take an in-depth look at the best open source software for business.
This online survey is an attempt to identify the Business software programs used in various organizations. It is being conducted by IT Outsourcing professionals and we appreciate your valuable time in taking part in it. Your feedback would be a great help for us to compile a list of the top open source business software.
Apache OFBiz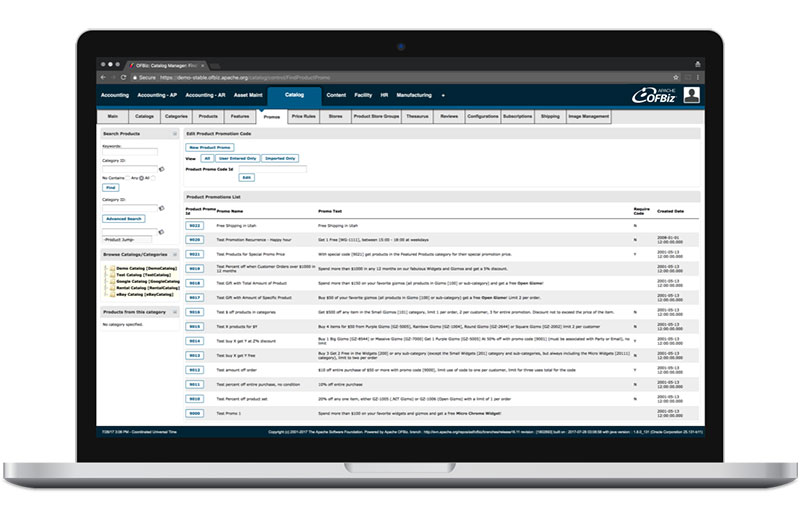 OFBiz is a Java-based multi-platform business package. It was developed by Apache Foundation. Its functionalities include accounting, CRM, enterprise, supply chain, and resource management.
The extensive online documentation and YouTube channel help the users get the best out of the software. Hence, it is a good choice for organizations with a small budget, or those that have customizability high on their priority list. It is compatible with any operating system that runs Java SDK, including Windows, Linux, OS X, and Unix.
TaskJuggler
Easy to install and completely free, TaskJuggler offers a simplistic approach to complex projects. The project management tool comes with a set of libraries and command-line tools, capable of automatically planning individual tasks. It's also particularly good at resolving conflicting situations, and you can enter specifications such as timelines for the project, resource assignment and a project budget.
It's one of the more powerful software on the market, making it ideal for serious project managers. It includes a comprehensive range of features, including customisable reporting functions, cost and revenue planning and risk and communication management. The planning tools allow you to visualise a project before you begin and helps you map out the project based on time, cost and resources.
Dolibarr
This is an open source business software that is tailored to help small and mid-sized business keep track of invoices, contacts, invoice orders and payments. It comes with a very easy to use and clean user interface.
Pros:
It is use and comes with a lot of great modules that work very well together
It has an online demo to help you test-drive before installation
Cons:
There are some modules that will only work with purchased add-ons
Freedcamp
One of the most popular and robust project management software systems is Freedcamp. It offers a responsive, intuitive and smooth design which allows for easy navigation between projects and tasks. You can share your calendar with other team members, track timings and issues and you can access it on the go. It also gives you the option to integrate your Google Calendar, Google Drive and Dropbox.
Freedcamp targets everyone, from serious businesses and companies to members of the public looking to plan a weekend break with friends. This accessibility is reflected in its user-friendly style and design. Freedcamp is used in some of the biggest companies in the world, including Deloitte, Apple and Google.
CUBRID
This is an open source business software that is optimized for use on web applications. It offers a number of different features, each designed to help with data organization on your business. It is particularly useful when you have to keep track of large amounts of data and it is very easy to use.
Pros:
It comes with multiple granularity locking
An online backup ensures the safety of your data
It has GUI tools for drivers for developmental languages
Comes with 24/7 support
Cons:
It doesn't work with Apple systems
It also doesn't have a script debugger
LedgerSMB
Released in 2006, one of the simplest tools to use is LedgerSMB. Tailored to small and medium-sized businesses, it's a powerful solution that works across multiple platforms, including Windows, Linux and macOS. From invoicing and sales functions to inventory management and profit and cost centres, LedgerSMB offers a comprehensive set of accounting features. It's particularly useful for communications businesses, IT services, rental businesses, retail and trade, and comes with 45 languages.
VLC Media Player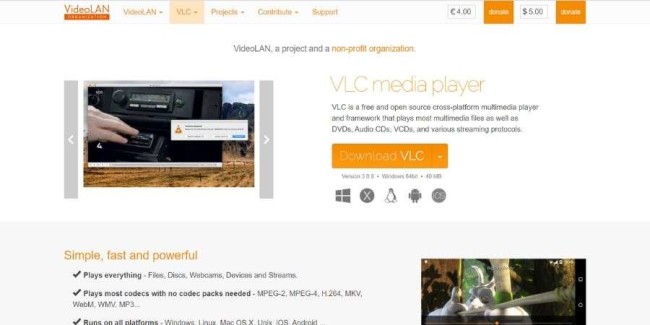 VLC Media Player is one of the most popular open source software examples that you can use for free.
This multimedia player is used for video, media and audio files and it plays discs, webcams, streams and devices. Most of the users use it for streaming podcasts as well.
It allows you to optimize your audio and video files for a particular hardware configuration and also offers a plethora of extensions and skins which allows you to create customized designs.
What's more, it runs on different platforms such as Android, Mac OS X, Linux, Windows, iOS and more.
ERPNext
This program was featured on Opensource.com as one of the best open source business software of the year. It is built specifically for small and mid-sized companies and comes with multiple modules that include accounting, managing inventory, purchase sales and project management.
Pros:
It comes with numerous modules in one
All the available modules integrate very well together
The whole suite is very easy to use
Cons:
Some modules are only available when you buy a subscription
GIMP
A powerful open source photo and image editing tool
SPECIFICATIONS
Operating system: Windows, macOS, LinuxTODAY'S BEST DEALSVISIT SITE
REASONS TO BUY
+Fully customizable interface+Layers, filters and masks+Advanced editing tools
REASONS TO AVOID
-May confuse first-time users
Beloved by Linux users since its original release in 1996, GIMP is one of the most famous and best-maintained open source software tools out there. This software is about as close to image editing power and flexibility of the Adobe Photoshop platform as you're likely to get for free.
GIMP has built-in support for layers, filters, and automatic photo enhancement. It also makes it easy to create new graphic design elements and you can really take things to the next level by downloading plug-ins created by the broader GIMP open source community.
Just like Photoshop, GIMP has a fairly steep learning curve but anyone who puts in a bit of time is sure to appreciate its customizable interface and GPU hardware acceleration. However, if you're looking for a simple free photo editor, check out Paint.NET instead. It's not as powerful, but easier to get to grips with.
Conclusion
Why spend hundreds or even thousands on software to help run your business when you can get the best open source software for not only free, but also continue to use it and modify it as your needs change?