Best Open Source Crm Software for Small Business
This review will tell you that how you can choose the best CRM software for Free. The Reviews gives customer's information to help them build better business by adapting their CRM software and tells users about open source CRM, compare vendors and products to keep your business safe from spy and intruders. We work hard with researching small businesses and providing them crm software for free.
You have a small business and already working on the existing crm tools. If your a startup, however, you would probably prefer to keep it small and not invest in a license for software. Open source has become a lot more popular at this point than it was 5 years ago. Check out our list of 11 best open source crm software for small business
SuiteCRM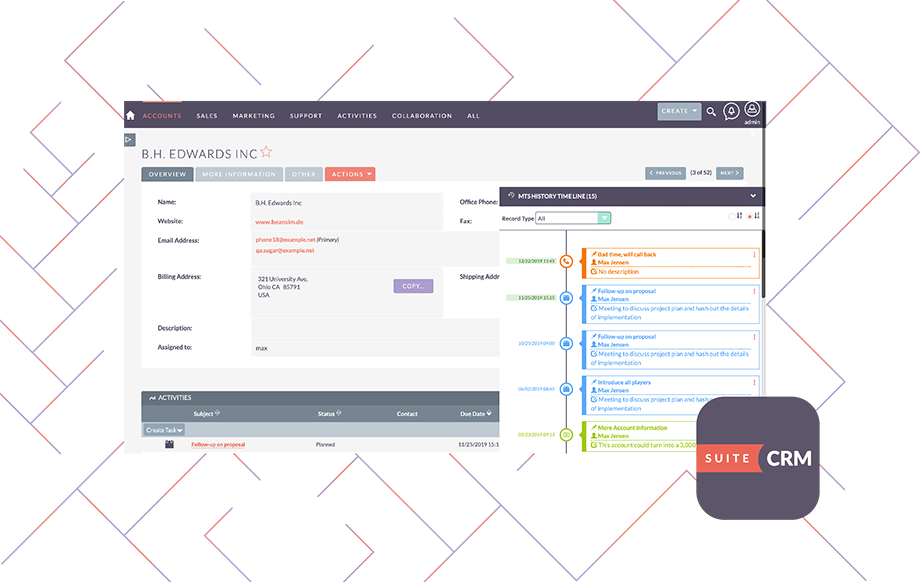 Benefits:
SuiteCRM handles sales, service, and marketing, with custom module, layout, and relationship development tools that will please your IT department too (if you have one). This CRM has also got a real-time dashboard, meaning as data streams in, new figures offer broader insights into things like pipeline metrics, open project statuses, and cash flow.
Endless modular customizability and add-ons mean you can use it for applications, simple or complex. It also works on every operating system under the sun: Windows, OS/X, Ubuntu, Android, iOS—you name it.
With a low learning curve and easy set-up, it's definitely one of the most approachable open source systems on the scene. It's also one of the most popular.
Drawbacks:
Helpdesk support can be slow, as it is community-based. There's also a moderate learning curve, and the free open source version's integrations and features aren't as developed as in paid versions. SuiteCRM doesn't integrate with ERP software, so if you're looking for holistic business process integration, it may not be the right choice.
Pricing for SuiteCRM: OnDemand:
Pure SuiteCRM is free. 
Starter plan (recommended for 1-10 users) is $123 (billed as £95) per month, billed annually.
Business plan (recommended for 5-50 users) is $430 (billed as £332.50) per month, billed annually.
Premium plan (recommended for 10-150 users) is $614 (billed as £475) per month, billed annually.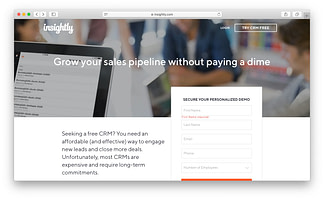 Open source:
Upgrade price: $29 per user/month, billed annually
CRM emails: 25,000
Number of users: 2
Unlimited leads and contacts:
Analytics and reports:
Top features: sales tracking, forever free plan, user friendly UI
Insightly is a smart, simplified addition to our list of the best free and open source CRM. This tool focuses on improving your workflow and organization, and getting you better leads. It is marketed as a budget-friendly option for closing more deals, and that's exactly what this CRM is about.
The free version offers fast onboarding and a free lifetime plan. Additionally, the integrated tracking system is great, which is ideal for newbies. It helps to track everything from sales prospects to delivered projects via the same dashboard.
That said, compared to some of its competition, Insightly provides slightly less features in the paid versions. Other than that, it's a good CRM for carefully tracking customer relationships, monitoring a sales pipeline, and getting more insights on your sales process overall.
Even the main dashboard alone will provide you with highly detailed stats on your sales and pipeline. With Insightly's free version, you will get access to around 25,000 records, including contacts, leads, organizations, reports, projects, and more.
Overall, I'd say it's a great choice for businesses that aren't looking for a lot of features and functionality options, but simply want to get started with a CRM fast.
EspoCRM
Key Highlights:
The ability to switch to on-premise anytime.
Actively maintained open source (self-hosted) package.
EspoCRM is new to the scene and it is an impressive CRM software. You can download it for free and host it yourself or opt for the cloud solution where they do it for you.
They offer detailed documentation—in case you want to try it yourself. Furthermore, if you want to go with the cloud solution—you can always switch to on-premise anytime you want. I guess that makes it a bit more appealing.
Odoo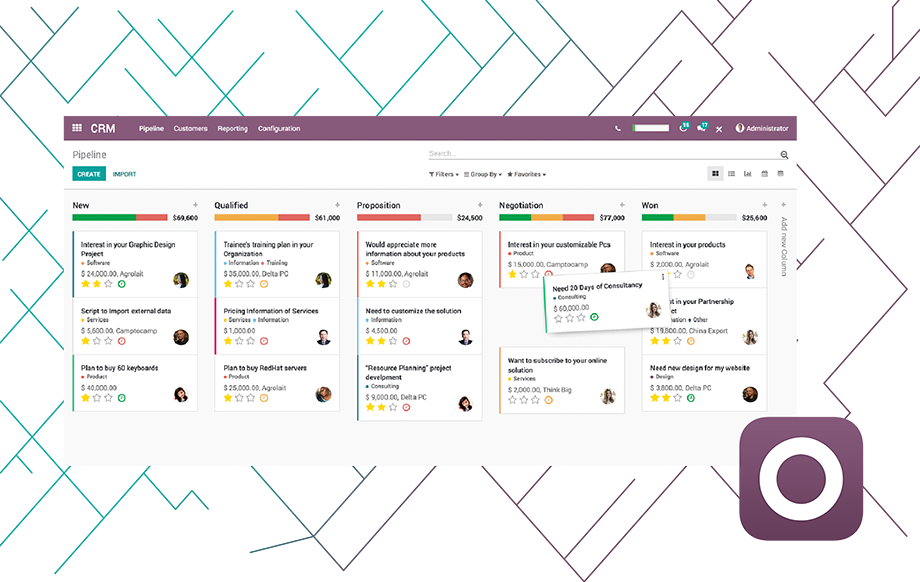 Benefits:
Odoo is all about 'extensible architecture,' with a modular design that lets you mix and match different features. The open source Community Edition of Odoo CRM plugs into the 10,000+ apps in the vendor's orbit, which are configured to integrate with one another seamlessly.
If you're in retail, restaurants, or other brick-and-mortar enterprises, you may be interested to know Odoo has a very useful point of sale app. Working with other Odoo apps, point of sale data can easily flow into your inventory management, email marketing, and sales operations.
Drawbacks:
The open source version of Odoo CRM has a significant learning curve, and you'll have to pay special attention to setting it up and implementing it to prevent headaches later. The invoicing tool is a bit more complicated than necessary (you have to create a quote, followed by an order in order to generate an invoice), and reporting options are limited. Customer support is dependent on app community members.
Pricing:
Open source CRM is free. Paid add-ons available.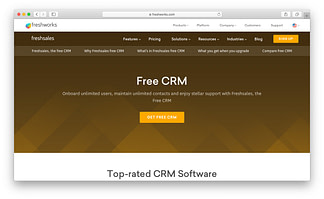 Open source:
Upgrade price: $12 per user per month (billed yearly)
CRM emails:
Number of users: unlimited ️
Unlimited leads and contacts:
Analytics and reports:
Top features: unlimited users, unlimited support, lead scoring insights
Many of the best free and open source CRM software out there aim to be all-in-one suites – handling everything from getting a new lead to then nurturing it throughout its life cycle.
However, Freshsales have their focus narrowed down to sales. You can use it to engage with customers, close more deals, and attract new sales.
Freshsales offers a free forever plan for startups with limited budgets. With this plan, you will get unlimited users, contacts, and premium support, including email, chat, and phone support. Feature-wise there is a lot there for startups and new businesses, especially since they aren't charging anything at all.
On the flip side, Freshsales free is missing out on some advanced features like email tracking, behavior analytics, and reports. All that's available is a basic overview via the sales dashboard.
There is a minimal learning curve, so companies that are new to CRM software can get started quickly. To sum it up, I'd say Freshsales is a good CRM to start with. It focuses solely on scalability and sales to help you grow your business faster. The free plan is best for startups, but you might want to skip on this one if you are running a small to mid-sized business.
Conclusion
With so many CRM software systems available, it's hard to know which is best for your needs. Finding the open source crm software for small business can be a challenge unless you take the time to research all of your options. If you're looking for an inexpensive but powerful crm software application for your company, X2CRM may be just what you need.