Free and Open Source Software (FOSS) helps you reduce your software implementation costs and development time. In this page, we're sharing some of the available free scripts for PHP. Our goal is to make this a thriving community for everyone who is on the same mission: create a global platform where you can share, improve or use PHP free scripts easily.
Looking for great web scripts? Our Q and A area offers you valuable information and support on the hottest topics involving web scripts. Find scripts and your answers here, submit your script if it's not already listed, and discuss your favorite scripts with other users and AddOns authors.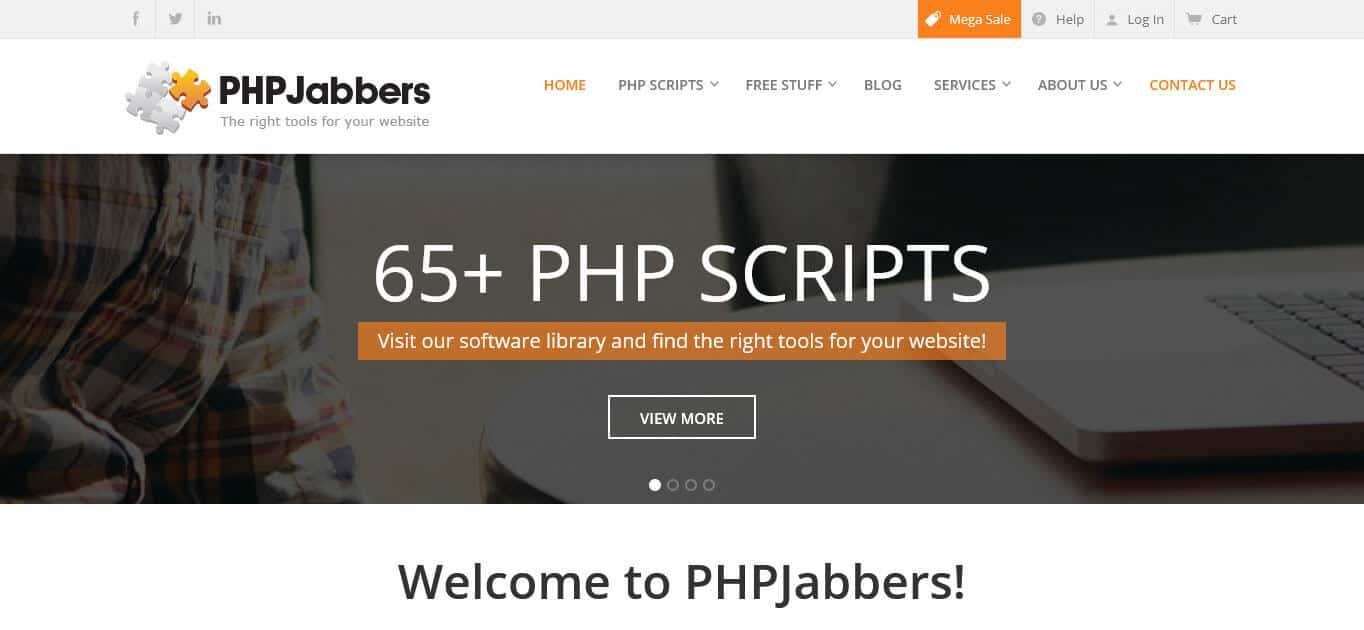 PHPJabbers is a provider of web development services and solutions based in Bulgaria. They serve clients from all over the world and have been around for 10+ years.
Their site offers a large library of more than 65 PHP scripts. These span from booking applications over content management, and e-commerce to calendars and polling scripts.
Prices range from $4.29 to $129. You can also get all 65 scripts in a bundle together for $299. This comes out as $4.29 per script, so it's a pretty good deal. Especially since you get a 30-day money-back guarantee together with it. If you want to test drive their work, you can take a crack at their free scripts first.
Top 3 Scripts on PHPJabbers
The website focuses a lot on e-commerce scripts and booking modules so it's no wonder that their top scripts are coming from these areas. Most also include support for installation and you can check live demos to see what the end product will look like. The two different prices mentioned are for normal and developer licenses respectively.
Food Delivery Script ($79/$129)– An online ordering system for takeout restaurants. It allows you to create a menu, set up food categories and lets your customers choose choice between pickup and delivery. The script also comes with email and SMS notifications, different payment options, the ability to create vouchers, and more.
Appointment Scheduler ($65/$125) — This Allows you to add an appointment calendar to your website where clients can self-book time slots. It's mobile responsive, comes with different color schemes out of the box, and can automatically update timesheets and availability for you and your staff. You also get detailed reports and the script sends confirmation and reminder messages to both you and your clients.
Simple CMS ($17/$27) — If you are not using WordPress, you can also go for this PHP-based content management system. It comes with the TinyMCE content editor, allows file uploads, logs all site changes, includes the ability to back up your site, set user permissions, include multiple languages, and more.
HotScripts runs the largest collection of free scripts on the web. The PHP category alone has over 9,700 scripts that you can download, but you'll also find other categories like HTML5, JavaScript, and Flash which can prove useful as well.
The PHP scripts are divided into dozens of subcategories — far too many to list here. All we can say is that this repository is massive. Each script can be rated and reviewed, so you know which ones are worth trying or skipping.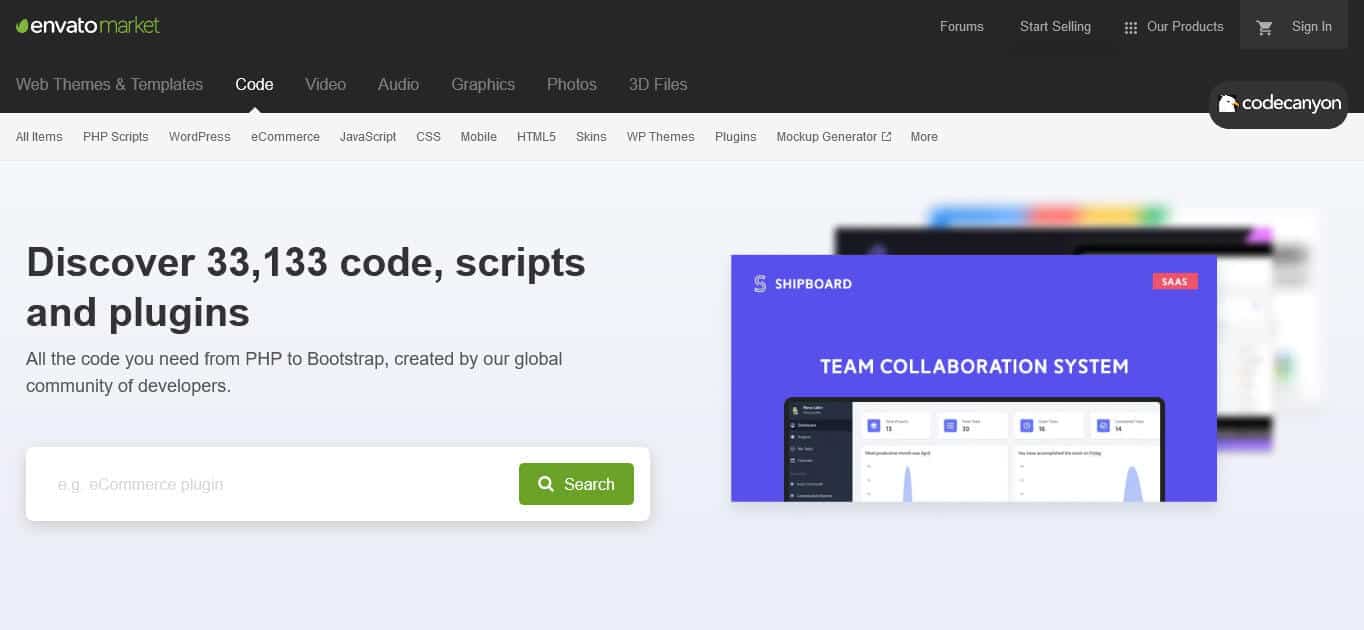 Next up we have this online shop that sells all sorts of digital products. From WordPress themes and plugins, over-stock images, music, and videos to fonts and logos — there is very little you can not buy.
They are also a big fish in the PHP scripts pond with more than 3,000 available. Their offers cover many categories: social networking, shopping carts, forms, loaders and uploaders, calendars, navigation, etc. The shop also has detailed filter options to help you find what you are looking for. Prices range from just $6 to several thousand.
Top 3 Scripts on CodeCanyon
To help you quickly find your way in the wide range of products that CodeCanyon offers, here are three of their best-selling and/or best-rated PHP scripts. Prices are for a regular license. You can also always have a look at the live preview or demo for each product.
TASKLY ($19) — Keep on top of work with this project management tool. It offers a slick dashboard that helps you visually get an overview of your projects. Create shared and individual workspaces, set up and assign tasks, and attach important files to projects. TASKLY also allows you to create PDF invoices and even comes with payment options for clients for completed work.
Instant Blog ($39) — Quickly create a simple blog, Facebook Instant Articles, or Google AMP pages. Features include mobile responsiveness, support for categories, auto embeds, social logins, translations, ad management, and more.
Themeqx Advanced Classified Ads CMS ($49) — PHP-based CMS to create classified ads. It has different themes available, can integrate YouTube and Vimeo videos, and accept payment for ads and other monetization options.
SeekScripts is similar to the aforementioned sites with one big difference. You'll find dozens of script categories — including Ad Management, Chat Scripts, Financial Tools, News Publishing, and more — but the site itself doesn't host the scripts. Instead, it links out to the creators' sites.
As such, you'll see some scripts here that aren't available in the other repositories. The downside is that the site's interface leaves much to be desired. No script ratings, no reviews, nothing but a short paragraph description.

This shop is similar to CodeCanyon. You can buy many different products from themes and plugins for different CMS to interfaces and app templates. However, it also offers over a thousand PHP scripts for many different purposes.
The most expensive goes for $650, the cheapest for $4. They also sometimes offer free scripts as part of their free files of the week offer, so be sure to check that out.
Top 3 Scripts on Codester
So, what can kind of PHP scripts can you get on Codester? To give you an impression, here are some of their top products. Again, the prices given are for a regular license. Be sure to check out the live demos for any PHP scripts you are thinking of purchasing.
PHP Contact Form Script ($9) — A simple but feature-rich PHP form. It's responsive, translatable, and stylable. The form also comes with built-in spam protection via CAPTCHA or honey pot. It supports file attachments, can send to multiple recipients, and also send auto-responses.
PHP Easy Lock ($10) — A very simple but effective script to lock down web pages from access. It's responsive, offers several skins, and you can activate it with just one line of code.
Short-Zero ($29) — This is a PHP script to shorten URLs and earn money by offering it as a service. It has an admin portal with a user, ad, campaign, and rate management as well as detailed reports. The script is easy to install and customize.
Conclusion
Are you looking for free php scripts? If yes, then rest assured you will find them in this post! This post includes 30 free php scripts that are best to be used by web developers due to the fact that they are interested in developing awesome websites.