Best Free Open Source Video Editing Software for Windows 10
Did you know there are tons of video editing software for Windows 10 out there? Searching for the best one takes time and effort. That's why we've done the job for you. In this article, we listed down the best free open source video editing software for Windows 10/8/7.
There are a variety of free video editing software for Windows 10 computers. Each piece comes with its own set of features and attributes. Therefore, when choosing the best video editing software for Windows 10, it is wise to know about the different options available on the market.
It might not look overly impressive at a first glance, but Shotcut is actually a robust non-linear video editor with enough tools to satisfy most levels of video editing skill. The free cross-platform program—available on Windows, Mac, and Linux—opens up to a clean, minimal interface, ideal for new or casual editors who want to keep things simple. But once you start adding more modules depending on the functions you want to use, Shotcut starts to show its depth. Each panel can be un-docked, moved around, and re-docked or left floating, giving you nice control over how to arrange your workspace across one or more monitors.
Shotcut can work with a wide range of video and image formats, including 4K-resolution content. You won't see an "Import" button, though; the software boasts "native timeline editing" with no import required. But you can still open and preview files in Shotcut just like in other editors, create a "playlist" of the media you're using for the project, and drag clips into your timeline. The timeline has a full range of editing capabilities including adding tracks, splitting and trimming clips, and shortcut keys for these functions. There is also a strong selection of video/audio transitions and stackable filters, from stabilization to chroma key (green-screen effects).
The advanced features have some learning curve to them, but the Shotcut YouTube channel offers a collection of video tutorials to help. There's also an online course available for purchase that has been reviewed and officially approved by Shotcut's lead developer.
Kdenlive
Key Features:
Multi-track Video Editing
All kinds of audio/video format supported with the help of FFmpeg libraries
2D Title maker
Customizable Interface and shortcuts
Proxy editing to make things faster
Automatic backup
Timeline preview
Keyframeable effects
Audiometer, Histogram, Waveform, etc.
Platforms available on: Linux, macOS and Windows.
Kdenlive is an open source video editor (and free) available for Windows, Mac OSX, and Linux distros.
If you are on a Mac, you will have to manually compile and install it. However, if you are on Windows, you can download the EXE file and should have no issues installing it.
(Source: Pitivi)
With the latest released version 0.999, the free and open source video editing software – Pitivi is constantly ranking among the top software programs in the list. The beautiful and intuitive user interface of the software keeps its audience engaged. The software is capable of displaying hundreds of animated effects, filters, and transitions. It is flexible and efficient and it works under frame-rated and independent timeline. It is an easy to learn software and exciting to master as well.
Features:
Pitivi is supported by the GStreamer Multimedia Framework and so, it can accept any format of videos for editing.
It facilitates accessing more than 70 industry-standard transitions and filters, a hundred video and audio effects and animated effects.
The software is flexible and efficient and it always works on the basis of true precision.
It comprises some time-saving features like rippled and roll editing, real-time trimming previews, real-time searching and assets management, grouping and snapping, non modal cutting, play-head centric zooming and editing, smooth scrolling and automatic zoom adjustment.
Accurate to nanosecond that is much better than being frame-accurate.
Pitivi represents loudness in a clear and accurate manner so that it becomes easier to balance things or detect pattern for beat matching and clap synchronization easily.
This software is available in different languages.
The intuitive user-interface and self-documenting ability provide the user all contextual hints that one requires knowing about the essentials so that it does not require to checking the user manual every now and then.
Pitivi perfectly integrates with the GNOME desktop or any Linux desktop environment.
It facilitates background processing and automatic project backups.
(Source: Virtualdub)
Designed for Microsoft Windows, Linux and Mac OS X, Virtualdub is a popular free and open-source video capturing software and video processing software. This software is basically designed to process the linear video streams like recompression and filtering. To store the captured video, it uses AVI container format.
Features:
Virtualdub supports your video capturing with fractional frame-rates.
It lets you create AVI2 (OpenDML) files and multi-segment AVI clips with real-time downsizing, field swapping and noise reduction.
Clean interface layout comprising status bar, menu bar, caption and info panel.
MPEG-1 integrated and Motion-JPEG decoders.
Without even touching the video, you can remove as well as replace the audio track.
Decompressing and recompressing facility for both audio and video.
Facility of previewing the video while live streaming.
Easy adjustment of frame rates, frame decimation and 3:2 pull-down removals.
High speed video editing, both in the processing pipeline and in the interface. It captures with 1.3x times the real-time speed i.e. 40 frames per second on a C450 and the speed rises up to 1.8x times i.e. 55 fps with a little tweaking.
It is a 'no risk involved' kind of software where source code can also be made available if requested.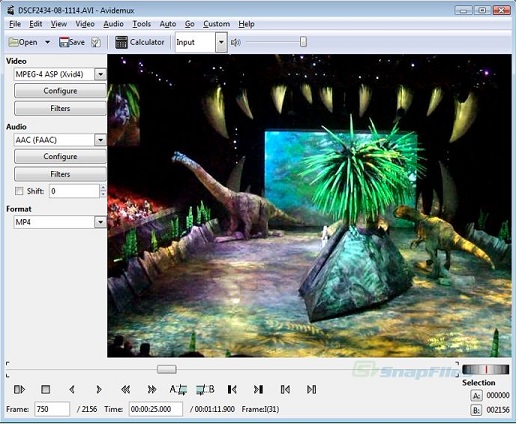 (Source: Avidemux)
A free video editor and a simple tool to cut, edit, filter and encode video related stuffs – best known as Avidemux video editor. It supports a wide variety of file formats like AVI and DVD compatible MPEG files, ASF and MP4 files along with a diverse range of codecs as well. This exceptionally designed program for video editing and video processing is written in C++ language and use Qt or GTK for its user interface.
Features:
One of the best programs for non-linear video edits requirements.
Applies visual effects to videos and transforms videos into different video formats.
It can also insert audio streams into a video file.
It is a Linux, BSD, Mac OS X, and MS Windows based software and is available under GNU GPL license.
It supports English language and is in immense preference of the small business owners and freelancers.
It works on the Open API and Cloud Hosted based deployment platforms.
Facility to use custom scripts as a task automation feature to let the users easily store as well as apply the configurations and settings they want while editing videos.
Easy video image resizing, sharpening, colour profiles and titles adding and interlacing features makes Avidemux different from other video editors.
Conclusion
There are various free software for Windows 10, allowing users to create amazing videos ready for sharing. The best free video editing software for Windows 10 can be effortlessly navigated and used. Video editing often needs powerful and convenient tools, stable workflows and a good amount of creativity from both the application user and editor. If you want to be able to create videos on your PC, here are the top three video editing applications that will make the process easier and much more fun.