Best Free Open Source Tools
There are way too many free tools available today. And so you might be having trouble deciding which ones you should choose. And sometimes it's even hard to find which tools you like, or know where to start. So we've done the hard part for you and compiled a full list of the best free open source tools on the Internet today to help you!
We've scoured the Internet and compiled a list of free open source tools that can help finish any job. Whether you're building your website on a shoestring budget or looking to grow your audience, these tools are bound to be an invaluable asset.
LibreOffice
LibreOffice is a complete office suite that offers presentations, documents, spreadsheets and databases.
Unlike Microsoft Office, which is not accessible for everyone due to its pricing model, LibreOffice is totally free.
To support it, its users can make donations when they download. So, it has a huge community of contributors.
It is available for Mac, Linux and Windows and it also has a live chat and a forum where you can turn to when searching for help.
GIMP
GIMP celebrated its 20th anniversary in 2015, making it one of the oldest open source creative applications out there. GIMP is a solid program for photo manipulation, basic graphic creation, and illustration. You can start using GIMP by trying simple tasks, such as cropping and resizing images, and over time work into a deep set of functionality. Available for Linux, Mac OS X, and Windows, GIMP is cross-platform and can open and export to a wide breadth of file formats, including those popularized by its proprietary analogue, Photoshop.
The GIMP team is currently working toward the 2.10 release; 2.8.18 is the latest stable version. More exciting is the unstable version, 2.9.4, with a revamped user interface featuring space-saving symbolic icons and dark themes, improved color management, more GEGL-based filters with split-preview, MyPaint brush support (shown in screenshot below), symmetrical drawing, and command-line batch processing. For more details, check out the full release notes.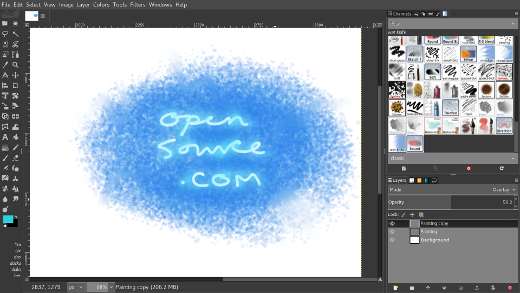 VLC Media Player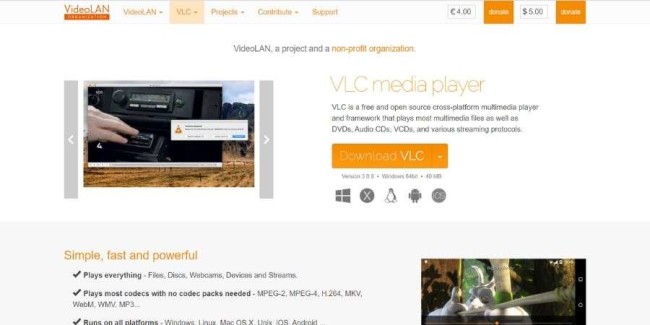 VLC Media Player is one of the most popular open source software examples that you can use for free.
This multimedia player is used for video, media and audio files and it plays discs, webcams, streams and devices. Most of the users use it for streaming podcasts as well.
It allows you to optimize your audio and video files for a particular hardware configuration and also offers a plethora of extensions and skins which allows you to create customized designs.
What's more, it runs on different platforms such as Android, Mac OS X, Linux, Windows, iOS and more.
Inkscape
Inkscape is a richly featured vector-based graphic design workhorse. Use it to create simple graphics, diagrams, layouts, or icon art.
The latest stable version is 0.91; similarly to GIMP, more excitement can be found in a pre-release version, 0.92pre3, which was released November 2016. The premiere feature of the latest pre-release is the gradient mesh feature (demonstrated in screenshot below); new features introduce in the 0.91 release include power stroke for fully configurable calligraphic strokes (the "open" in "opensource.com" in the screenshot below uses powerstroke), the on-canvas measure tool, and the new symbols dialog (shown in the right side of the screenshot below). (Many symbol libraries for Inkscape are available on GitHub; Xaviju's inkscape-open-symbols set is fantastic.) A new feature available in development/nightly builds is the Objects dialog that catalogs all objects in a document and provides tools to manage them.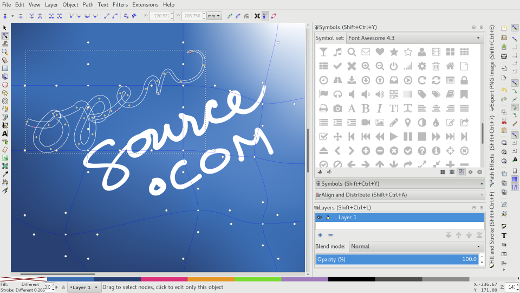 Notepad++
Notepad++ is a replacement for the Windows notepad app, which is a much more advanced text editor. I personally use Notepad++ to manage my notes and content ideas as it automatically saves all the changes offline, and numbered lines are extremely useful.
Although coders mostly use it to write code, most of its features help with coding, including auto-complete based on the current context.
Linux
According to a Stack Overflow survey, 83.1% of developers claimed that Linux is the most wanted platform.
Linux is one of the most user-friendly open source software on the market. It is most commonly used on Android devices and desktops.
What makes this operating system different from the others is that it costs nothing and it is incredibly customizable.
Most companies also choose it because it is highly secure and offers excellent community support. 
Thunderbird
If you want to use an email client to manage all your email accounts, Thunderbird is far super than most of the premium options. It doesn't require any setup, just provide your email and password, and it will automatically manage all the settings.
Some of the highlight features include attachment reminders, managing multiple emails at once, powerful search, sending huge files, and add-ons support.
Alternatively, you can try premium solution such as eM Client or other mentioned here.
Blender
Blender is another of the best open source software examples of 2022.
It is a 3D graphics and animation tool that supports motion tracking, simulation, animation, video editing, rendering, modeling and much more.
It also offers a set of modeling tools and features including real-time viewpoint prereview, multi-resolution and support for Planar tracking and Tripod solvers.
VeraCrypt
VeraCrypt can help create encrypted storage space to securely store and manage that data if you have sensitive information. VeraCrypt can encrypt a whole disk or even a specific amount of space on your PC to store sensitive data. It can even encrypt USB drives to carry around data securely.
Scribus
Scribus is a powerful desktop publishing and page layout tool. Scribus enables you to create sophisticated and beautiful items, including newsletters, books, and magazines, as well as other print pieces. Scribus has color management tools that can handle and output CMYK and spot colors for files that are ready for reliable reproduction at print shops.
1.4.6 is the latest stable release of Scribus; the 1.5.x series of releases is the most exciting as they serve as a preview to the upcoming 1.6.0 release. Version 1.5.3 features a Krita file (*.KRA) file import tool; other developments in the 1.5.x series include the Table tool, text frame welding, footnotes, additional PDF formats for export, improved dictionary support, dockable palettes, a symbols tool, and expanded file format support.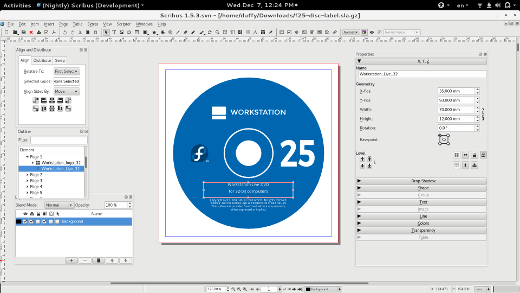 Conclusion
We are going to list the best free and open source tools available on the net. You may also use this post for your reference.