Best Free Open Source Software Websites
There is a wide variety of applications that can fulfill our computer needs, but it is important to use only the best. The following top 12 best free open source software websites are some of the most powerful and easy to use freeware available to date. If you are tired of paying high prices, these sites are sure to provide you with an abundance of choice computer programs.
Choosing an open source software for your business is not something that you do everyday, so it would be a better idea to use one of these websites to find the best one. They are all free, and come with a lot of useful information that will help you make the right choice.
FossHub
FossHub was founded in 2007 with the goal of becoming "reliable place for users who wish to download their favorite software titles and as a trustworthy partner for certain free projects".
It provides fast worldwide servers and optimized pages for a fast load and download of open source software. They have only direct download links so no further redirection or waiting time there.
Project page lists the total number of downloads. It also shows the supported operating systems.
You can also rate and review the software, even if you are not a registered member.
Just to be clear, FossHub also hosts selected few closed-source freeware. This may confuse some people as they might expect FossHub to host only free and open source software.
SourceForge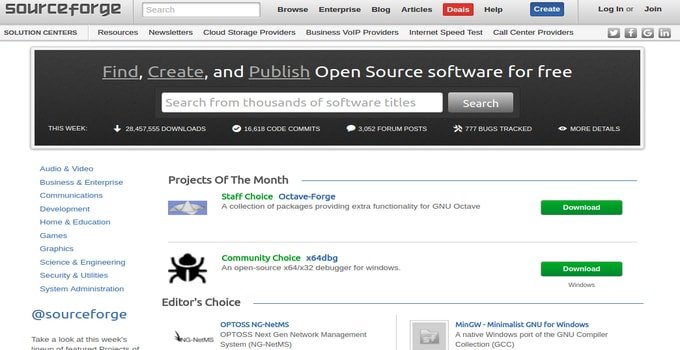 SourceForge is known as one of the best websites to provide free open source software. It will be your premier resource to have open source projects at all. This website has 30 million monthly users containing 500000 open source projects. You can download a lot of open source projects from its homepage. There is a search option there, which helps you to choose your best open source software at all.
You can easily see the favorite download lists of open source software that will help you determine which one is better. You will also see the licensed software based on your operating system. If you are a registered member of SourceForge, you can write a review of the apps like Google Play Store or App Store.
In 2013-14 SourceForge ran the software downloading process with Adware. But when Slashdot Media owns it, software downloading remains free of cost and Ads-free at the same time. The president of SourceForge declared that SourceForge would have a modern look and will become more user-friendly.
F-Droid
F-Droid is a platform to list and distribute free and open source software for Android.
You can browse FOSS Android apps in various categories. You can also download the APK files directly from the website but it is recommended to use F-Droid client for installing the apps.
With F-Droid client, your installed Android app will get updates. If you directly use the APK, it won't get updates and thus will pose a security risk.
BitBucket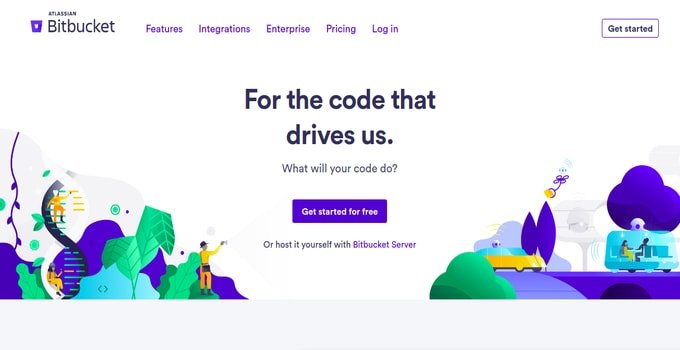 BitBucket is just like GitHub, where users can host their development projects. But it hosts both public and private open source project. So you can understand that it offers a versatile project management system for private uses. But for up to 5 users, it's free. More than 480000 application repositories are there in the hub of BitBucket, and many of them are searchable.
GIMP
Another of the best open software source examples that is worth mentioning is the photo editing tool GIMP.
It offers similar features like some of the expensive tools on the market including various filters and effects, and yet it is free.
GIMP is available across different platforms including Windows and Linux and it has different 3d party plugins and customization options.
Plenty of illustrators, graphic designers and photographers use it to improve their pictures and enhance their work.
Tigris
Tigris is a bit different open source software management host site like GitHub or SourceForge. It has a defined small goal – "building better tools for collaborative software development." You will not find any unrelated and dead projects here. Every software development project is reviewed to test the community commitment towards that specific app development.
Blender
Blender is another of the best open source software examples of 2021.
It is a 3D graphics and animation tool that supports motion tracking, simulation, animation, video editing, rendering, modeling and much more.
It also offers a set of modeling tools and features including real-time viewpoint prereview, multi-resolution and support for Planar tracking and Tripod solvers.
Shotcut
Shotcut is a video editor that offers powerful features including audio and webcam capture, color, text, noise, and counter generators, support of popular image formats, EDL export and much more.
It is a great tool to edit your audio and video files with and it is available for Windows, macOS and Linux.
On its website, you can also find great resources and tutorials on how to use this free open source software.
GNU Compiler Collection
GNU Compiler Collection is a collection of compilation tools for software development in the C, C++, Ada, Fortran and other programming languages.
It provides high-quality releases regularly and works with native and cross targets.
The sources it offers are freely available via weekly snapshots as well as SVN.
Freecode
Freecode is one of the best and most significant open source directory sites for hosting Unix and multi-cross platform software. The same owner of SourceForge also founds this open source software website.
Python
Python is common programming and scripting language used by custom software developers.
According to IEEE, it was the most popular language in 2019. In recent years, it attracts plenty of new users because of its fast-growing field of machine learning.
It is also easy to use which is why most of the developers also choose this open source software.
Conclusion
There is no denying that open source software is a powerful and popular development platform. Not only do thousands of educational institutions make use of open source software, but the majority of IT professionals choose free open source software to run their businesses.