Best Free Open Source Software Tool
Windows has thousands of programs that are devoted to sorting and manipulating files. And today, we are going to highlight the best 5 Open Source Software (OSS) tools for Windows Vista, 7 and 8. So buckle up for a ride on our "Best Free OSS Tool" car which would take you through some geeky stuff. You may have heard about some of these programs before but in this article, we will detail their features as well as how they compare with their commercial counterparts.
That is a question we asked ourselves this past year. We browsed dozens of software web sites. We carefully evaluated stats, features and last but not least, reviews from users worldwide. The result is this free list of the best free open source software tools around. We hope you'll enjoy it!
Linux
According to a Stack Overflow survey, 83.1% of developers claimed that Linux is the most wanted platform.
Linux is one of the most user-friendly open source software on the market. It is most commonly used on Android devices and desktops.
What makes this operating system different from the others is that it costs nothing and it is incredibly customizable.
Most companies also choose it because it is highly secure and offers excellent community support.
GIMP
GIMP was launched in 1996 and is one of the most popular open-source image editing software present in the market right now.
This platform gives tough competition to Adobe Photoshop; unlike Adobe Photoshop, it's completely free. Users can create new graphic design elements and take advantage of the built-in support for filters, layers, and photo enhancement features.
To make the project more appealing, the users can download plugins developed by GIMP open source community.
Features –
It can operate on Windows, macOS, as well as on Linux.
The interface can be fully customized.
Various advanced editing tools are present.
Layers, Filters, and automatic picture enhancements are the cream on top.
150 standard effects and filters are available.
Shotcut
Shotcut is a video editor that offers powerful features including audio and webcam capture, color, text, noise, and counter generators, support of popular image formats, EDL export and much more.
It is a great tool to edit your audio and video files with and it is available for Windows, macOS and Linux.
On its website, you can also find great resources and tutorials on how to use this free open source software.
Mozilla Firefox
Mozilla Firefox is said to be one of the most successful open source projects globally.
It is a web browser just like google chrome and was released in 2002. It helps the users with a simplistic user interface and an intelligent address bar.
For various Linux distributions, it is the default web browser. Earlier, it lost some of its customer bases after the launch of Google Chrome, but recently Mozilla gave a wonderful transformation to Firefox, and now it gives tough competition to the former.
Features –
The browser is equipped with phishing and malware protection.
Outdated plugins can be automatically detected.
Interrupted downloads are automatically continued.
It has fast graphics acceleration for videos and images.
Provision of tabbed browsing is also available.
Audacity
Audacity is a free multi-track audio editor and recorder; provides numerous effects to be applied on audio to make it more appealing to ears.
The versatility makes it unique- one can edit recordings, conversations and can make music also. The key features of this software include recording audio from different sources, processing audio, and many more.
There are many examples of open-source software, but with over 110 million downloads, Audacity is the most popular download from FossHub.
Features –
It can record live audio.
One can cut, slice, mix and copy the sounds.
Has the ability to convert tape recordings into digital sounds.
Sound files of various formats like AIFF, FLAC, MP2, MP3, or Ogg Vorbis can be edited using this software.
Windows, Mac OS X, GNU/Linux, and other operating systems support this software.
PHP
When talking about the best open source software examples of 2021, we shouldn't miss PHP.
It is a software development language used for creating websites and other digital platforms.
It is fast and flexible and powers some of the most popular websites around the globe including Slack and Spotify.
Bittorent
Bittorent is specifically for peer-to-peer file sharing(P2P). It allows the users to distribute files via the Internet, which is done in a decentralized manner. It is one of the most common and efficient communication protocols.
To make use of this, a person has to use a Bittorent client on their Internet-connected computer systems. It is also used to share files like TV shows and video clips or songs. Various organizations are using Bittorent to distribute their own or licensed works.
Features –
Primarily used to minimize the pressure on the server.
One can download torrents in bulk quantity.
Analysis indicates that it accounts for about 35% of all Internet traffic.
Large software, and ISO-images, operating systems can be downloaded at a higher speed.
Best suited for popular and new files which interest many people.
VLC Media Player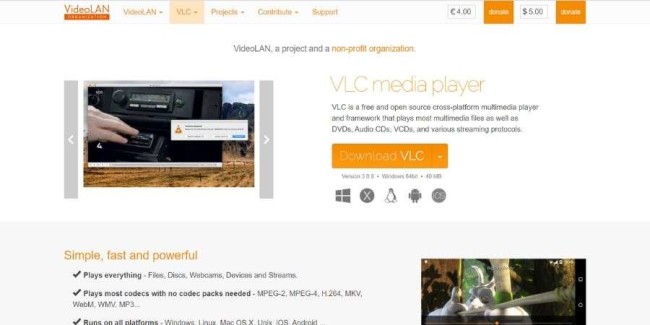 VLC Media Player is one of the most popular open source software examples that you can use for free.
This multimedia player is used for video, media and audio files and it plays discs, webcams, streams and devices. Most of the users use it for streaming podcasts as well.
It allows you to optimize your audio and video files for a particular hardware configuration and also offers a plethora of extensions and skins which allows you to create customized designs.
What's more, it runs on different platforms such as Android, Mac OS X, Linux, Windows, iOS and more.
Brave Browser
Brave is a privacy-focused open-source browser developed by Brave Software. The feature that differentiates it from other browsers is that in the default settings Brave Browser automatically blocks online ads and website trackers.
If the users want to turn on the ads, they can alter the default settings. The May 2021 statistics indicate that Brave has 32.4 million are active monthly on Brave, and a network of 1.2 million content creators are also active.
Features –
It offers a peer-to-peer networking protocol.
Blocks trackers, ads, and scripts by default.
Provides automatic HTTPS connection upgrades.
Replaces the removed ads with ads from its own network.
Its financial foundation is dependent on its' share of ad revenue value.
Conclusion
Hi there! Know of a great open source software tool that might be of use to other coders? Well, then, it's time to submit your suggestion and get the recognition you deserve for sharing your favorite tools with everyone.