Best Free Open Source Software Development
This article is intended to provide a review of some of the best free open source software development tools available. Open source software has become an important part of enterprise computing, and the tools provided by these vendors are often vital to the successful deployment and management of open source solutions
There are many different open source alternatives to traditional paid software, but not all of them can be considered best. In this article we will discuss the six criteria that must exist for a solution to be considered best.
LibreOffice
LibreOffice is a complete office suite that offers presentations, documents, spreadsheets and databases.
Unlike Microsoft Office, which is not accessible for everyone due to its pricing model, LibreOffice is totally free.
To support it, its users can make donations when they download. So, it has a huge community of contributors.
It is available for Mac, Linux and Windows and it also has a live chat and a forum where you can turn to when searching for help.
GIMP
GIMP was launched in 1996 and is one of the most popular open-source image editing software present in the market right now.
This platform gives tough competition to Adobe Photoshop; unlike Adobe Photoshop, it's completely free. Users can create new graphic design elements and take advantage of the built-in support for filters, layers, and photo enhancement features.
To make the project more appealing, the users can download plugins developed by GIMP open source community.
Features –
It can operate on Windows, macOS, as well as on Linux.
The interface can be fully customized.
Various advanced editing tools are present.
Layers, Filters, and automatic picture enhancements are the cream on top.
150 standard effects and filters are available.
VLC Media Player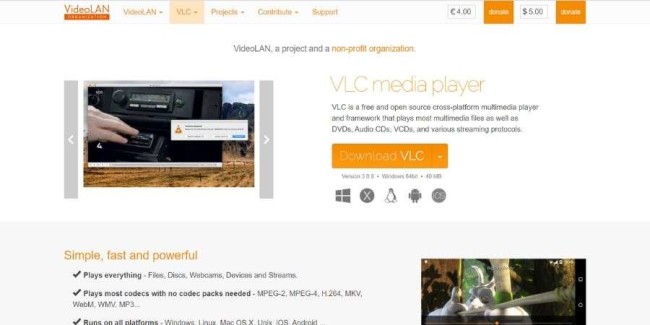 VLC Media Player is one of the most popular open source software examples that you can use for free.
This multimedia player is used for video, media and audio files and it plays discs, webcams, streams and devices. Most of the users use it for streaming podcasts as well.
It allows you to optimize your audio and video files for a particular hardware configuration and also offers a plethora of extensions and skins which allows you to create customized designs.
What's more, it runs on different platforms such as Android, Mac OS X, Linux, Windows, iOS and more.
Python
Python is a programming and scripting language commonly used by developers. That's why it is said to be one of the best open-source software for developers.
It is used to create web applications, mobile applications, video games and many more. Due to the presence of extensive standard libraries, Python is often considered the battery-included language.
Today, it is a widely-used programming language. All the renowned industries leverage Python as it allows programming in Object-Oriented and Procedural paradigms.
Features –
The programs are generally smaller as compared to that of Java.
The USP of Python is a huge collection of the standard library.
Big tech companies like – Google, Amazon, Facebook, Instagram, Dropbox, Uber leverage Python.
Most widely used multi-purpose, high-level programming language.
Easy to code.
Blender
Blender is another of the best open source software examples of 2021.
It is a 3D graphics and animation tool that supports motion tracking, simulation, animation, video editing, rendering, modeling and much more.
It also offers a set of modeling tools and features including real-time viewpoint prereview, multi-resolution and support for Planar tracking and Tripod solvers.
PyTorch
Pytorch is an open-source machine learning framework based on the Torch library. It is developed by Facebook's AI Research lab (FAIR) and is used for applications such as computer vision and NLP.
It also gives a Python package specifically for advanced-level features like tensor computation and TorchScript. Various deep learning software is built on Pytorch like Tesla Autopilot, PyTorch Lightning, and Catalyst.
Features –
Provides a rich ecosystem of tools and libraries.
It is well supported on a majority of the cloud platforms.
C++ interface is also available.
Provides high-level features like Tensor Computing and Deep Neural Networks.
Provides ease of use and flexibility in eager mode with the help of TorchScript.
Shotcut
Shotcut is a video editor that offers powerful features including audio and webcam capture, color, text, noise, and counter generators, support of popular image formats, EDL export and much more.
It is a great tool to edit your audio and video files with and it is available for Windows, macOS and Linux.
On its website, you can also find great resources and tutorials on how to use this free open source software.
Audacity
Audacity is a free multi-track audio editor and recorder; provides numerous effects to be applied on audio to make it more appealing to ears.
The versatility makes it unique- one can edit recordings, conversations and can make music also. The key features of this software include recording audio from different sources, processing audio, and many more.
There are many examples of open-source software, but with over 110 million downloads, Audacity is the most popular download from FossHub.
Features –
It can record live audio.
One can cut, slice, mix and copy the sounds.
Has the ability to convert tape recordings into digital sounds.
Sound files of various formats like AIFF, FLAC, MP2, MP3, or Ogg Vorbis can be edited using this software.
Windows, Mac OS X, GNU/Linux, and other operating systems support this software.
WordPress
WordPress is a free, open-source CMS (content management system) written in PHP which uses MySQL database.
Earlier it was only known as a blogging platform but now it has evolved to be much more than that. 41.4% of the top 10 million websites use WordPress now.
Thes best thing about WordPress is, it handles both, the backend as well as the frontend of the websites. With the use of WordPress, one can create blogs, E-commerce websites, Business websites, E-learning websites, Portfolio websites, and many more.
Features –
Thousands of plugins are available.
Available in more than 70 languages.
Already optimized for search engines, and there are various SEO plugins available also.
One can browse for different themes to make your website or blog more attractive.
It's very user-friendly.
Conclusion
Developing an open source is hard. To make difficult tasks easier, things can be developed together by separate developers making a release happen faster. This software contains Assembla's hosted version control systems that added to the open source development tools that allow more productive workflow.