Best Free Open Source Network Monitoring Tools
Creating a great network monitoring program can make your network easy to manage and reduce down time by allowing you to watch what's happening as it happens. Having a solid network monitoring program also helps administrators locate problem areas and help eliminate them before any damage is done. With so many options available, it can be difficult to make the right choice over which program is best for you. Here are 6 of the most popular and well-rated Open Source Network Monitoring Tools for your consideration.
Network monitoring is critical in today's business market. In a competitive world, you have to make sure that the network runs quickly and efficiently. There are several applications available that will help monitor your network and fix any problems that arise. Below is a list of some of the best open source network monitoring tools on the market today.
Prometheus
Prometheus is an open-source network monitoring tool that alerts users about all kinds of network-related issues such as low latency, memory utilization, and cyber crime. Built at SoundCloud, Prometheus searches for metrics from network tasks and displays them in an easy-to-use dashboard for analysis.
It runs on Windows operating systems and supports a variety of networking infrastructure such as Cisco. Other features include Netflow flow analysis. Network problems range in severity, and Prometheus distinguishes between minor issues and major problems so you won't receive hundreds of notifications. (The platform only alerts you about serious network vulnerabilities.)
Pro-tip: Optimize Prometheus with better scalability, long-term storage, and full support. Discover MetricFire's hosted Prometheus solution for growing enterprises like yours.
Nagios Core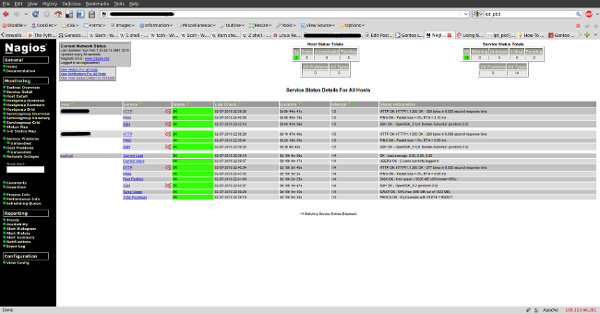 Nagios Core is one of the most well-known open source monitoring tools. It provides a network monitoring experience that combines open source extensibility with a top-of-the-line user interface. With Nagios Core, you can auto-discover devices, monitor connected systems, and generate sophisticated performance graphs.
Support for customization is one of the main reasons Nagios Core has become so popular. For example, Nagios V-Shell was added as a PHP web interface built in AngularJS, searchable tables and a RESTful API designed with CodeIgniter.
If you need more versatility, you can check the Nagios Exchange, which features a range of add-ons that can incorporate additional features into your network monitoring. These range from the strictly cosmetic to monitoring enhancements like nagiosgraph. You can try it out by downloading Nagios Core for free.
Icinga 2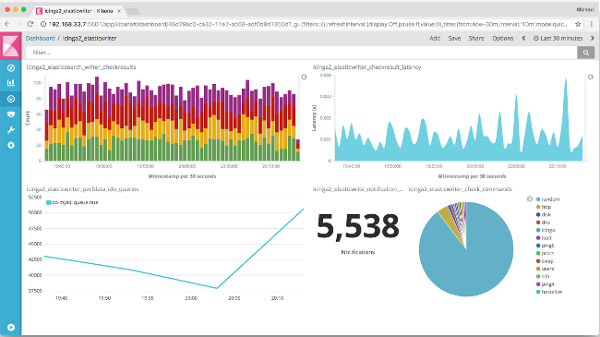 Icinga 2 is another widely used open source network monitoring tool. It builds on the groundwork laid by Nagios Core. It has a flexible RESTful API that allows you to enter your own configurations and view live performance data through the dashboard. Dashboards are customizable, so you can choose exactly what information you want to monitor in your network.
Visualization is an area where Icinga 2 performs particularly well. It has native support for Graphite and InfluxDB, which can turn performance data into full-featured graphs for deeper performance analysis.
Icinga2 also allows you to monitor both live and historical performance data. It offers excellent alerts capabilities for live monitoring, and you can configure it to send notifications of performance problems by email or text. You can download Icinga 2 for free for Windows, Debian, DHEL, SLES, Ubuntu, Fedora, and OpenSUSE.
Observium
Observium is network monitoring software that supports Cisco, Windows, Dell, HP, VMware, and other network types and devices. With a simple user interface, add-ons, and lots of alerting features, you can optimize network infrastructure and network performance.
Adding devices to Observium is easy. However, if you do run into any problems, there are a lot of help and troubleshooting resources to help you sort it all out.
LibreNMS
LibreNMS uses Simple Network Management Protocol (SNMP), which means the devices it monitors must have SNMP agents installed or enabled. It supports a broad range of operating systems, including Linux and FreeBSD, as well as network devices including Cisco, Juniper, Brocade, Foundry, and Hewlett-Packard, making it among the best open-source SNMP monitoring software available.
Supported Platforms: Apache and Nginx Web Servers.
Price to Upgrade: LibreNMS is an open source network monitoring tool.
Cacti
Cacti is a web-based RRDTool-based graphing solution and networking monitoring platform that generates accurate network metrics for your organization. Features include unlimited graph items, graph data manipulation, customizable data gathering scripts, SNMP support, and auto-padding for graphs.
The front end is able to handle multiple users, allowing each their own graph sets. This makes it an ideal choice for web hosting providers, because it allows them to display bandwidth statistics for their customers.
If you're new to network monitoring, you might find Cacti has quite a difficult learning curve. But, because this is an open-source solution, it won't cost you anything to try Cacti with your network devices.
Monitorix
Monitorix is a network monitoring solution for the Linux ecosystem that shows network-related information as basic graphs for further analysis. As a free solution, Monitorix has limitations, but the platform is effective at detecting failures, long response times, and network security issues.
Monitorix describes itself as "lightweight." Users might notice the platform doesn't have many of the advanced network monitoring features or performance capabilities of Zabbix and Nagios.
New Relic One: Helps with infrastructure maintenance
New Relic One is a network performance monitoring tool built for application and network infrastructure maintenance. This software offers performance analysis, real-time network and SNMP monitoring, application management, and transaction diagnostics for network admins.
New Relic One can scan through an entire network system to find the root cause of server malfunctions. It also offers a network dashboard that provides greater visibility into internal switches, bandwidth usage, and network data.
You can also create custom visualizations of your network system to make it easier to understand each node and connection, as well as diagnose server issues more efficiently.
New Relic One offers email, phone, and live chat support. There is a mobile app available for both iOS and Android devices.
Obkio: Automates network scanning and reporting
Obkio is a network and application performance monitoring solution. This tool offers a monitoring agent to measure network and application performance and availability. You can also use Obkio to collect historical data and create a performance baseline for your network.
This tool continuously scans your network system and immediately sends out an alert in case of abnormal behavior or a problem, such as a spike in traffic or failed connections between devices.
Obkio also keeps an eye on latency and packet loss with the help of automatic speed tests; it eliminates nodes with slow speeds in your network to create an efficient system.
Obkio offers email, phone, and live chat support. There is a mobile app available for both iOS and Android devices.
Conclusion
Network monitoring tools/open source software allow us to monitor the network we are either running or maintaining in order to ensure its runningability or maybe to contain security threats. Network monitoring tools/ open source software like Nagios , MRTG which stands for Multi Router Traffic Grapher and Ntop are all useful in the right hands. If you want to learn more about network monitoring tools then this is probably a good webpage to visit.