A plethora of open source tools are available online that make creation of interactive, beautiful and performant dashboards a simple process. This article aims to make the selection process of these tools easier by discussing their strengths and weaknesses, as well as a handful of cases where they can be utilized.
One of the most difficult problems facing companies today is how to effectively collect, organize, and analyze their data. But with the right software, you can easily collate, compare, and manipulate large amounts of information. And the good news is that there are many free business intelligence tools out there.
Launched by Tibco in 2014, the Jaspersoft Community BI tools is one of the most robust Open Source Business Intelligence software programs available for free. It is an embeddable suite that provides interactive reports and analytics that can embed in a mobile or web app as well. The suite comprises several tools, all of which feature unique options for your convenience. These are,
JasperReports Server
Jaspersoft ETL
JasperReports Library
Jaspersoft Studio
Visualize.JS
Among these, the JasperReports Server is one of the key BI tools in this suite. It is a standalone reporting server that creates unique web-based reports with an intuitive user interface. The suite is also accompanied by Jaspersoft community where you can share your queries, ideas, and other discussions. The only problem here is that you are addressing the entire community of developers at large. Hence, you remain unassured of getting a response. However, if you receive a reply from someone, you are likely to get a few more replies to your query.
Tableau Public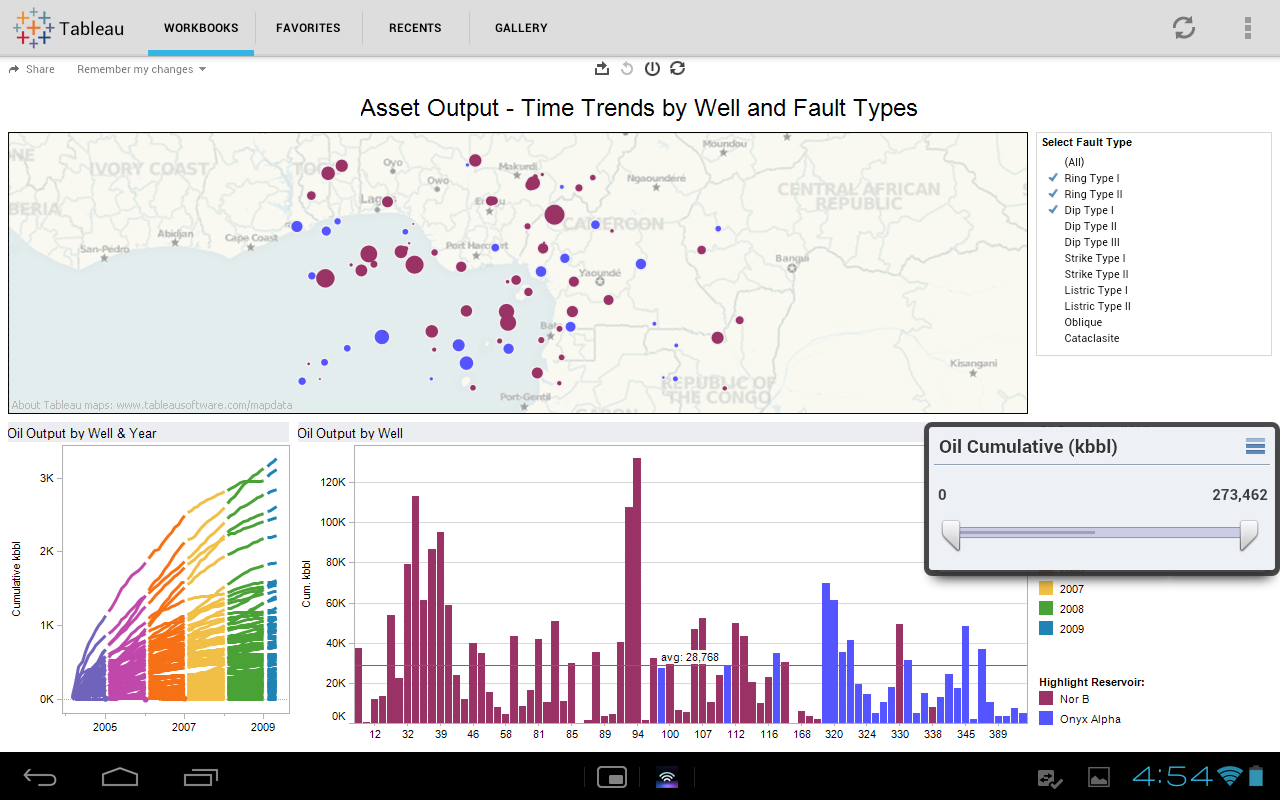 Tableau public offers free bi tools for creative people to learn the products with minimal investment, as well as provides a platform to share data visualizations and insights within the world. It is used by potential customers to evaluate both the Desktop and Server applications.
Tableau Public is similar but removes the download functionality.
The biggest cons of the Tableau Public is that any data used in the program is 'public' and therefore not secure. And, with Tableau Public, published workbooks are "disconnected" from the underlying data sources and require periodic updates when the data changes.
Business Intelligence and Reporting Tools (BIRT) is an impressive BI suite from Eclipse that is being used by some of the business giants of the world, such as Cisco, IBM, and S1, while being sponsored by IBM and Innovent Solutions along with Actuate. Launched in 2004, BIRT indeed is the most used open-source business intelligence software, as depicted from its 12 million downloads and more than 2.5 million developers across 157 countries.
An impressive user-interface and user-friendly features are the things which make this software an industry standard. It is an embeddable tool that can generate a range of comprehensive reports including textual details, graphs, and various charts. In addition to the report layout, it also features data access and scripting tools.
Although this software is mainly designed to fulfill the requirements for intuitive reporting, it can go slightly further to include data analysis as well, and to present the data in a more grouped and analytical way by performing various functions such as summing, totals, percentage. Moreover, it can be embedded in multiple other applications. Hence, if you are already using some other business apps, no worries – this software can easily integrate with all such apps. Precisely, BIRT can be easily embedded with JAVA/JAVA EE to create riveting reports.
Following are the main components of BIRT, each of which lets you avail a unique feature to satisfy your business needs.
Visual report designer for creating BIRT reports
Runtime environment for generating embeddable reports
Chart engine
Chart designer
Viewer
Databox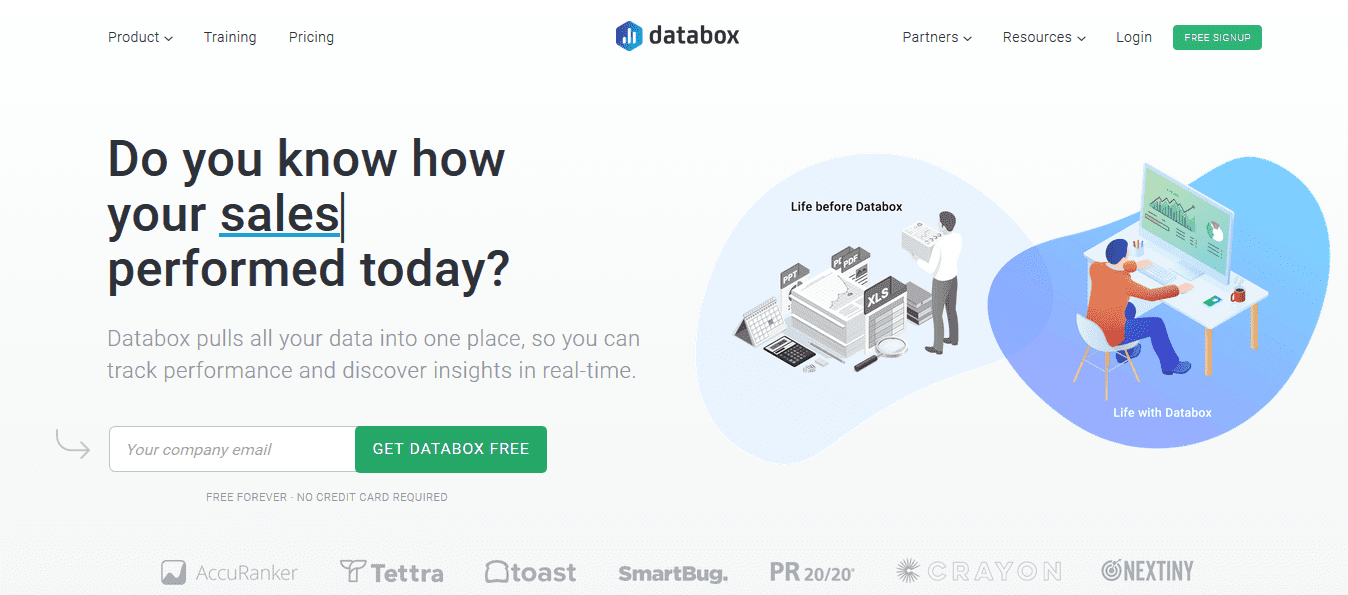 Databox is a free cloud-based BI tool that provides a single interface for marketers, CEOs, analysts to track KPIs and generate reports.
It is best for tracking marketing activities because DataBox supports dozens of one-click integrations with sources such as Google Analytics, Facebook, Salesforce, Shopify.
And data calculation function makes calculate ratios such as visit-to-signup rate, signup-to-paid rate quickly, which can help you identify significant trends.
Besides, Databox can be deployed via the cloud, SaaS, and the web, and offers mobile applications for iOS and Android.
However, it lacks customization and visual effects compared to other bit tools.
Pentaho is a designated Business Intelligence tool that combines analytics with data integration to create logical reports by visualizing the data. Owned by Hitachi, Pentaho is one of the most interactive Open-Source Business Intelligence software programs that offer a lot of BI options that satisfy your business needs and generate output in multiple formats, such as Excel, PDFs, and HTML.
This business suite is offered in two different editions. One of them is the Pentaho Enterprise Edition, which is a subscription-based program that features slightly more features than the other variant. Whereas, the other is the Pentaho Community Edition which is an open-source business intelligence software, featuring almost all necessary features and options you may require to create comprehensive analytical reports.
The prominent features of this software include,
OLAP Analysis
ETL
Data Mining
Metadata
Reporting
Dashboards
Solutions for business problems
Wondering how does this software carry out all these functions? Well, the Pentaho Community Edition is adorned with some fantastic tools that make this software a robust one. Here is a quick view of the portfolio of this BI program.
Data Integration
Business Analytics Platform
Aggregation Designer
Report Designer
Meta Editor
Schema Workbench
Hadoop Shims
Although the Pentaho Community Edition features somewhat complex UI and programming tools, and the novices may find it difficult to work on. Nevertheless, if you have a coder with you, or know a bit about coding yourself, then this software program is indeed the best option for you since the range of customizability you get in return for a little coding is simply impressive. The software sports Pentaho's CTools that let you create personalized dashboards and visualization in the reports by coding. If you get perplexed at any point while coding or you have any questions regarding the CTools options, the Pentaho's community forum is a nice place to discuss.
Conclusion
Opinionated list of free and open source business intelligence tools. BI is a vital ingredient for most businesses, but it's an area that so many small and medium-sized businesses (SMBs) get wrong.